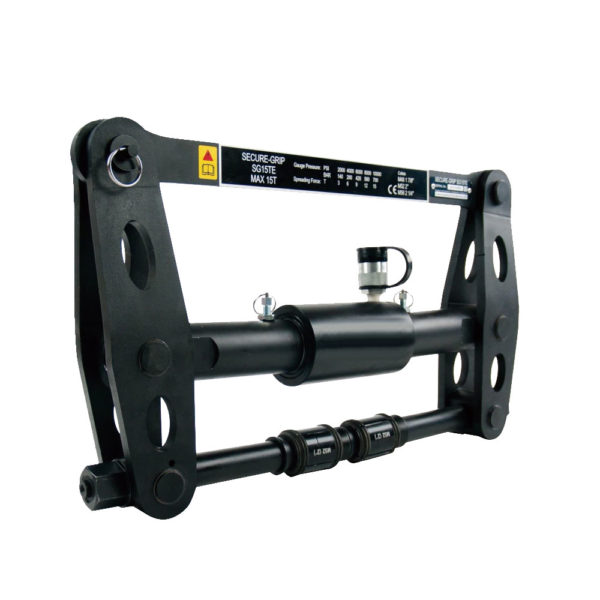 Mechanical & Hydraulic Secure-Grip Flange Spreader
Compared with other flange separators, the collect style flange spreaders can separate flanges with 0mm gaps and has a larger output option (up to 25 tons). It is suitable for pipeline maintenance, repair, testing, and flange replacement applications while causing no flange damage.
Product Description
Product Lines: Collect Style Flange Spreaders
Suitable for pipeline maintenance,repair,testing and flange replacement applications without causing flange damage
Compared with other flange seperators,it can seperate flanges with zero clearance and has a larger output option(up to 25 tons)
Think Safety

Manufacturer's rating of load and stroke are maximum safe limits. Good practice encourages using only 80% of these ratings!
Image Gallery
Series Specifications
| | |
| --- | --- |
| Maximum Spreading Force (ton) | 4-25 |
| Maximum Spread (mm) | 75-120 |
| Tip Clearance (mm) | 0 |
| Weight: | 12.8-50 |
Series Comparison
| Model | Capacity(Ton) | Max Spread(mm) | Tip Clearance(mm) | Type | Usable On Flanges Specified To Accept The Following Bolt Sizes | Oil Capacity (cm3) | Weight(Kg) |
| --- | --- | --- | --- | --- | --- | --- | --- |
| FSG4TM | 4 | 75 | 0 | Mechanical | M16,M20,5/8",3/4" | * | 12.8 |
| FSG6TM | 6 | 80 | 0 | Mechanical | M24,M27,7/8",1" | * | 16 |
| FSG11TM | 11 | 90 | 0 | Mechanical | M30,M33,M36,1 1/8",1 1/4",1 3/8" | * | 20 |
| FSG13TE | 13 | 115 | 0 | Hydraulic | M39(1 1/2"),N42(1 5/8"),M45(1 3/4") | 300 | 40.5 |
| FSG15TE | 15 | 100 | 0 | Hydraulic | M48(1 7/8"),M52(2"),M56(2 1/4") | 400 | 45 |
| FSG18TE | 18 | 100 | 0 | Hydraulic | M60(2 3/8"),M64(2 1/2"),M70(2 3/4") | 400 | 45 |
| FSG25TE | 25 | 120 | 0 | Hydraulic | M76(3"),M80(3 1/4"),M84(3 3/8"),M90(3 1/2"),M95(3 3/4"),M100(4") | 500 | 50 |