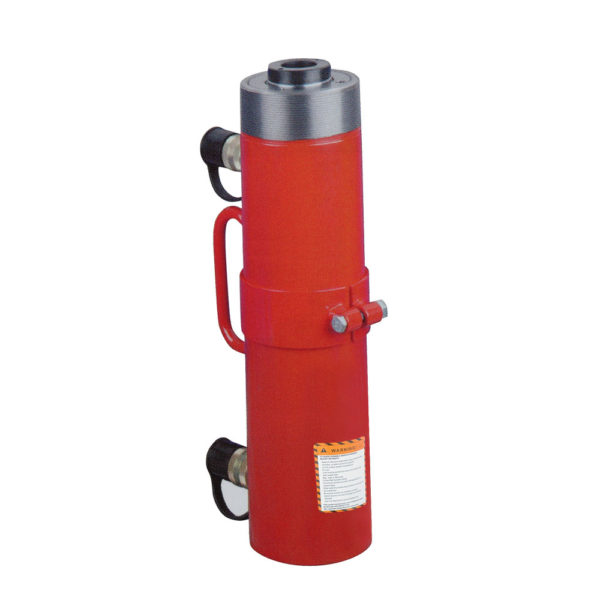 Double Acting Hollow Plunger Hydraulic Cylinders
Pullertop double-acting hollow hydraulic cylinders are designed with capacities from 30 tons to 200 tons. The hollow center design allows both pull and push forces for tensioning, load testing, bush extracting, and maintenance applications.
Product Description
Series: RH Series
Product Lines: Hollow Plunger Hydraulic Cylinders
Plated piston rod resists wear and superior packings provide high cycle life without leakage.
Built-in safety feature prevents over-pressurization of the retraction circuit
The corrosion-resistant standpipe has a "Power-Tech" treatment.
30, 60, 100 Ton Double-Acting Models Feature Threaded Collar
The aluminum cylinder body and piston are featured on the RHA604D cylinder.
Each cylinder has 3/8" NPTF female half couplers. The 60-ton thru 200-ton steel models are equipped with removable carrying handles.
Think Safety

Manufacturer's rating of load and stroke are maximum safe limits. Good practice encourages using only 80% of these ratings!
Series Specifications
| | |
| --- | --- |
| Capacity: | 30-200 Ton |
| Stroke: | 38.1-257.2mm |
| Collapsed Height: | 165.1-495.3mm |
| Maximum Operating Pressure : | 70Mpa |
| Weight: | 13.5-142Kg |
Series Comparison
| Model Number | Capacity(Push)/Ton | Capacity(Pull)/Ton | Stroke/mm | Collapsed Height/mm | Cylinder Dia/mm | Center Hole Dia/mm | Oil Capacity(Push)/cm3 | Weight/Kg |
| --- | --- | --- | --- | --- | --- | --- | --- | --- |
| RH303 | 30 | 15 | 76.2 | 179.4 | 120.7 | 32,5 | 289 | 13.5 |
| RH306D | 30 | 15 | 152.4 | 281 | 120.7 | 32,5 | 580 | 20.4 |
| RH3010 | 30 | 20 | 257.2 | 438.2 | 114.3 | 33,3 | 1082 | 27.7 |
| RH604D | 60 | 25 | 101.6 | 241.3 | 177.8 | 54 | 807 | 16.2 |
| RH605* | 60 | 25 | 127 | 241.3 | 165.9 | 54 | 1009 | 33.1 |
| RH6010* | 60 | 40 | 257.2 | 458.8 | 158.8 | 54.4 | 2181 | 54.5 |
| RH1001* | 100 | 45 | 38.1 | 165.1 | 212.7 | 79.8 | 526 | 38.6 |
| RH1006* | 100 | 50 | 152.4 | 314.3 | 184.2 | 52.4 | 1971 | 43.1 |
| RH10010* | 100 | 45 | 257.2 | 495.3 | 215.9 | 79.8 | 3552 | 109 |
| RH1505* | 150 | 70 | 127 | 311.2 | 215.9 | 65.1 | 2475 | 67.2 |
| RH1508* | 150 | 75 | 203.2 | 349.3 | 247.7 | 80.2 | 3929 | 103.1 |
| RH2008* | 200 | 75 | 203.2 | 408 | 273.1 | 103.2 | 5307 | 142 |