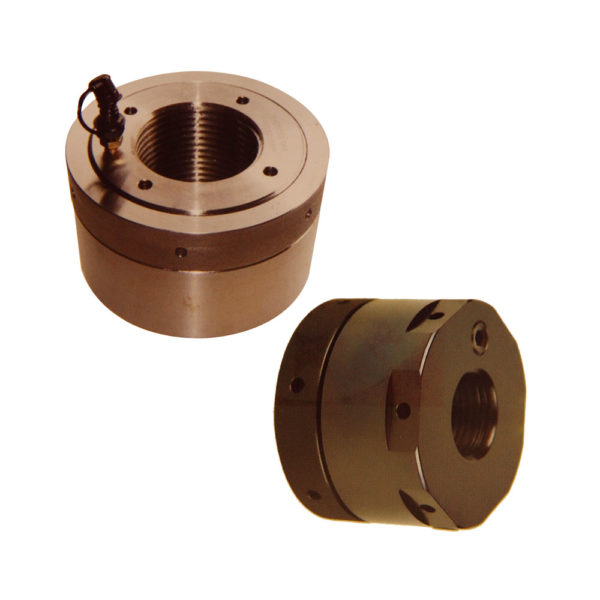 HN Series, Hydraulic Nut
Pullertop hydraulic nuts are designed to tighten large-diameter bolts without causing the damage that occurs when hammer wrenches are employed. With hydraulic nut solutions, customers can tighten large bolts with little to no effort without causing any damage.
Product Description
Product Lines: Hydraulic Nut
Suitable for confined areas and tightness of vibration machinery of heavy load.
Protect for the stroke over the maximum value, this will reduce the possibility of a broken seal by incorrect operation.
No torque design to avoid friction and bolt distortion and such factors that influence the pretension force of bolts.
The clamped bolts undergo pure tensile force.
Precisely preload with its accuracy is as high as ±3%.
A stroke indicator allows observing, measuring, and controlling piston stroke.
Think Safety

Manufacturer's rating of load and stroke are maximum safe limits. Good practice encourages using only 80% of these ratings!
Series Comparison
| Model | Bolt/mm | Max Load/KN | OD/mm | Min. Height/mm | Stroke/mm | Weight/Kg |
| --- | --- | --- | --- | --- | --- | --- |
| HN-30 | 30 | 259 | 75 | 61 | 6 | 0.9 |
| HN-33 | 33 | 338 | 83 | 64 | 6 | 1.1 |
| HN-36 | 36 | 368 | 88 | 67 | 6 | 1.3 |
| HN-39 | 39 | 397 | 94 | 70 | 6 | 1.5 |
| HN-42 | 42 | 427 | 100 | 73 | 6 | 1.9 |
| HN-45 | 45 | 486 | 106 | 77 | 6 | 2.4 |
| HN-48 | 46 | 600 | 118 | 80 | 6 | 2.8 |
| HN-52 | 52 | 636 | 123 | 84 | 8 | 3.6 |
| HN-56 | 56 | 804 | 135 | 88 | 8 | 4.9 |
| HN-60 | 60 | 989 | 147 | 93 | 8 | 5.6 |
| HN-64 | 64 | 1036 | 153 | 99 | 8 | 6.7 |
| HN-68 | 68 | 1086 | 159 | 105 | 8 | 8.8 |
| HN-72 | 72 | 1298 | 170 | 109 | 10 | 9.7 |
| HN-76 | 76 | 1351 | 176 | 117 | 10 | 11.7 |
| HN-80 | 80 | 1590 | 194 | 124 | 10 | 14.9 |
| HN-85 | 85 | 1708 | 200 | 130 | 10 | 16.4 |
| HN-90 | 90 | 1978 | 212 | 140 | 10 | 19.6 |
| HN-95 | 95 | 2261 | 223 | 148 | 10 | 23.4 |
| HN-100 | 100 | 2450 | 236 | 154 | 15 | 28.5 |