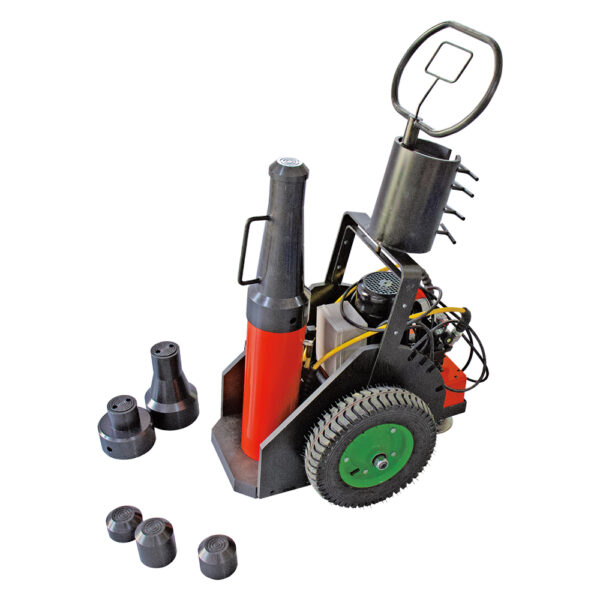 Portable High Tonnage Hydraulic Jacks
Portable High Tonnage Hydraulic Jacks from Pullertop feature a load-lowering valve that enables the safe and smooth lowering of loads through the removal of load chatter and bounce. These jacks have a maximum lifting height of 1778 mm.
Product Description
Product Lines: Portable High Tonnage Jacks
Load lowering valve. Lowers load smoothly and safely. Eliminates dangerous chatter and bounce.
Full range of rod extensions. Jack comes fully equipped with extensions to match lifting pad heights on most rolling stock. Max. lifting height to 1778 mm.
Low collapsed height, long stroke. 610mm collapsed height for low-clearance lift pads.360 mm stroke for maximum lift.
Adjustable, ergonomic handle. The handle tilts to start the job and is easily locked/unlocked without moving from the operating position.
Cribbing block set with handles and convenient storage rack. Provides solid mechanical load holding.
High-profile, low rolling resistance, foam-filled tires. Jack can be moved and positioned with minimal effort. No chance of downtime due to punctured tires.
Electric and air motor options. Quiet, powerful air and electric motor-powered units are available.
Think Safety

Manufacturer's rating of load and stroke are maximum safe limits. Good practice encourages using only 80% of these ratings!
Series Specifications
| | |
| --- | --- |
| Capacity: | 60-100 Ton |
| Stroke: | 354mm |
| Extended Height: | 1493-1771mm |
| Maximum Operating Pressure : | 70Mpa |
| Weight: | 265Kg |
Series Comparison
| Model Number | Capacity/Ton | Stroke/mm | Extended Height/mm | Weight/Kg |
| --- | --- | --- | --- | --- |
| 6014 | 60 | 354 | 1771 | 265 |
| 10014 | 100 | 354 | 1493 | 265 |