RC Series, Single Acting General Purpose Hydraulic Cylinders
Pullertop RC-SERIES is a general-purpose spring return cylinder designed for use in production, Maintenance, and fabrication applications.
Product Description
Series: RC Series
Product Lines: General Purpose Hydraulic Cylinders
Hardened alloy steel guide ring eliminates overtravel and provides support to reduce wear from off-center loads
Designed for use in all positions
Baked enamel finish for increased corrosion resistance
Collar threads, plunger threads, and base mounting holes for easy fixturing.
Heavy-duty return springs.
The plunger wiper reduces contamination, extending cylinder life.
Think Safety

Manufacturer's rating of load and stroke are maximum safe limits. Good practice encourages using only 80% of these ratings!
Series Specifications
| | |
| --- | --- |
| Capacity: | 5-95 Ton |
| Stroke: | 16-362mm |
| Collapsed Height: | 41-492mm |
| Maximum Operating Pressure : | 70Mpa |
| Weight: | 1-72.6Kg |
Dimension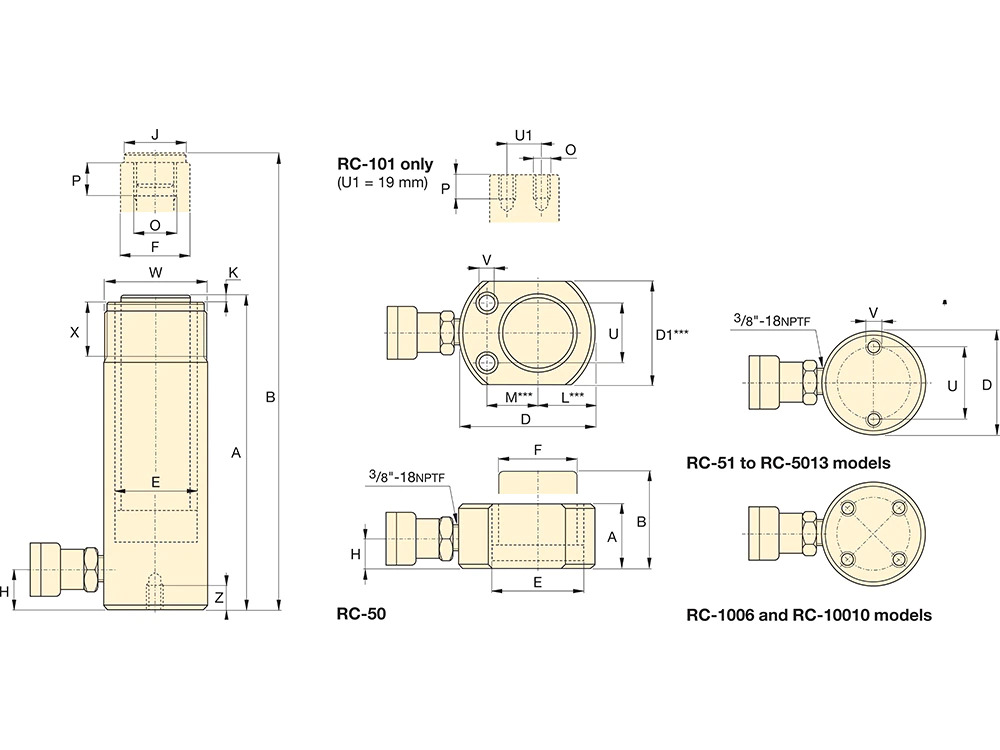 Series Comparison
| Model Number | Capacity/Ton | Stroke/mm | Cylinder Effective Area/cm2 | Oil Capacity/cm3 | Collapsed Height/mm(A) | Extended Height/mm(B) | Outside Dia/mm(D) | Cylinder Bore Dia/mm(E) | Plunger Dia/mm(F) | Base To Advance Port/mm(H) | Saddle Dia/mm(J) | Saddle Protri. From Plgr./mm(K) | Plunger Internal Thread(O) | Plunger Thread Length/mm(P) | Base Mounting Holes Bolt Circle/mm(U) | Base Mounting Holes Thread(V) | Base Mounting Holes Thread Depth/mm(Z) | Collar Thread(W) | Collar Thread Length/mm(X) | Weight/Kg |
| --- | --- | --- | --- | --- | --- | --- | --- | --- | --- | --- | --- | --- | --- | --- | --- | --- | --- | --- | --- | --- |
| RC-50 | 5 | 16 | 6.5 | 10 | 41 | 57 | 58 | 28.7 | 25.4 | 19 | * | * | * | * | 28 | 5,6MM | * | * | * | 1 |
| RC-51 | 5 | 25 | 6.5 | 16 | 110 | 135 | 38 | 28.7 | 25.4 | 19 | 25 | 6 | 3/4"-16UN | 14 | 25 | 1/4"-20UN | 14 | 1 1/2"-16UN | 28 | 1 |
| RC-53 | 5 | 76 | 6.5 | 50 | 165 | 241 | 38 | 28.7 | 25.4 | 19 | 25 | 6 | 3/4"-16UN | 14 | 25 | 1/4"-20UN | 14 | 1 1/2"-16UN | 28 | 1.5 |
| RC-55 | 5 | 127 | 6.5 | 83 | 215 | 342 | 38 | 28.7 | 25.4 | 19 | 25 | 6 | 3/4"-16UN | 14 | 25 | 1/4"-20UN | 14 | 1 1/2"-16UN | 28 | 1.9 |
| RC-57 | 5 | 177 | 6.5 | 115 | 273 | 450 | 38 | 28.7 | 25.4 | 19 | 25 | 6 | 3/4"-16UN | 16 | 25 | 1/4"-20UN | 14 | 1 1/2"-16UN | 28 | 2.4 |
| RC-59 | 5 | 232 | 6.5 | 151 | 323 | 555 | 38 | 28.7 | 25.4 | 19 | 25 | 6 | 3/4"-16UN | 16 | 25 | 1/4"-20UN | 14 | 1 1/2"-16UN | 28 | 2.8 |
| RC-101 | 10 | 26 | 14.5 | 38 | 89 | 115 | 57 | 42.9 | 38.1 | 19 | * | * | #10-24UN | 6 | 39 | 5/16"-18UN | 12 | 2 1/4"-14UN | 26 | 1.8 |
| RC-102 | 10 | 54 | 14.5 | 78 | 121 | 175 | 57 | 42.9 | 38.1 | 19 | 35 | 6 | 1"-8UN | 19 | 39 | 5/16"-18UN | 12 | 2 1/4"-14UN | 26 | 2.3 |
| RC-104 | 10 | 105 | 14.5 | 152 | 171 | 276 | 57 | 42.9 | 38.1 | 19 | 35 | 6 | 1"-8UN | 19 | 39 | 5/16"-18UN | 12 | 2 1/4"-14UN | 26 | 3.3 |
| RC-106 | 10 | 156 | 14.5 | 226 | 247 | 403 | 57 | 42.9 | 38.1 | 19 | 35 | 6 | 1"-8UN | 19 | 39 | 5/16"-18UN | 12 | 2 1/4"-14UN | 26 | 4.4 |
| RC-108 | 10 | 203 | 14.5 | 294 | 298 | 501 | 57 | 42.9 | 38.1 | 19 | 35 | 6 | 1"-8UN | 19 | 39 | 5/16"-18UN | 12 | 2 1/4"-14UN | 26 | 5.4 |
| RC-1010 | 10 | 257 | 14.5 | 373 | 349 | 606 | 57 | 42.9 | 38.1 | 19 | 35 | 6 | 1"-8UN | 19 | 39 | 5/16"-18UN | 12 | 2 1/4"-14UN | 26 | 6.4 |
| RC-1012 | 10 | 304 | 14.5 | 441 | 400 | 704 | 57 | 42.9 | 38.1 | 19 | 35 | 6 | 1"-8UN | 19 | 39 | 5/16"-18UN | 12 | 2 1/4"-14UN | 26 | 6.8 |
| RC-1014 | 10 | 356 | 14.5 | 516 | 450 | 806 | 57 | 42.9 | 38.1 | 19 | 35 | 6 | 1"-8UN | 19 | 39 | 5/16"-18UN | 12 | 2 1/4"-14UN | 26 | 8.2 |
| RC-151 | 15 | 25 | 20.3 | 51 | 124 | 149 | 69 | 50.8 | 41.4 | 19 | 38 | 9 | 1"-8UN | 25 | 48 | 3/8"-16UN | 12 | 2 3/4"-16UN | 30 | 3.3 |
| RC-152 | 15 | 51 | 20.3 | 104 | 149 | 200 | 69 | 50.8 | 41.4 | 19 | 38 | 9 | 1"-8UN | 22 | 48 | 3/8"-16UN | 12 | 2 3/4"-16UN | 30 | 4.1 |
| RC-154 | 15 | 101 | 20.3 | 205 | 200 | 301 | 69 | 50.8 | 41.4 | 19 | 38 | 9 | 1"-8UN | 22 | 48 | 3/8"-16UN | 12 | 2 3/4"-16UN | 30 | 5 |
| RC-156 | 15 | 152 | 20.3 | 308 | 271 | 423 | 69 | 50.8 | 41.4 | 25 | 38 | 9 | 1"-8UN | 25 | 48 | 3/8"-16UN | 12 | 2 3/4"-16UN | 30 | 6.8 |
| RC-158 | 15 | 203 | 20.3 | 411 | 322 | 525 | 69 | 50.8 | 41.4 | 25 | 38 | 9 | 1"-8UN | 25 | 48 | 3/8"-16UN | 12 | 2 3/4"-16UN | 30 | 8.2 |
| RC-1510 | 15 | 254 | 20.3 | 516 | 373 | 627 | 69 | 50.8 | 41.4 | 25 | 38 | 9 | 1"-8UN | 25 | 48 | 3/8"-16UN | 12 | 2 3/4"-16UN | 30 | 9.5 |
| RC-1512 | 15 | 305 | 20.3 | 619 | 423 | 728 | 69 | 50.8 | 41.4 | 25 | 38 | 9 | 1"-8UN | 25 | 48 | 3/8"-16UN | 12 | 2 3/4"-16UN | 30 | 10.9 |
| RC-1514 | 15 | 356 | 20.3 | 723 | 474 | 830 | 69 | 50.8 | 41.4 | 25 | 38 | 9 | 1"-8UN | 25 | 48 | 3/8"-16UN | 12 | 2 3/4"-16UN | 30 | 11.8 |
| RC-251 | 25 | 26 | 33.2 | 86 | 139 | 165 | 85 | 65 | 57.2 | 25 | 50 | 10 | 1 1/2"-16UN | 25 | 58 | 1/2"-13UN | 19 | 3 5/16"-12UN | 49 | 5.9 |
| RC-252 | 25 | 50 | 33.2 | 166 | 165 | 215 | 85 | 65 | 57.2 | 25 | 50 | 10 | 1 1/2"-16UN | 25 | 58 | 1/2"-13UN | 19 | 3 5/16"-12UN | 49 | 6.4 |
| RC-254 | 25 | 102 | 33.2 | 339 | 215 | 317 | 85 | 65 | 57.2 | 25 | 50 | 10 | 1 1/2"-16UN | 25 | 58 | 1/2"-13UN | 19 | 3 5/16"-12UN | 49 | 8.2 |
| RC-256 | 25 | 158 | 33.2 | 525 | 273 | 431 | 85 | 65 | 57.2 | 25 | 50 | 10 | 1 1/2"-16UN | 25 | 58 | 1/2"-13UN | 19 | 3 5/16"-12UN | 49 | 10 |
| RC-258 | 25 | 210 | 33.2 | 697 | 323 | 533 | 85 | 65 | 57.2 | 25 | 50 | 10 | 1 1/2"-16UN | 25 | 58 | 1/2"-13UN | 19 | 3 5/16"-12UN | 49 | 12.2 |
| RC-2510 | 25 | 261 | 33.2 | 867 | 374 | 635 | 85 | 65 | 57.2 | 25 | 50 | 10 | 1 1/2"-16UN | 25 | 58 | 1/2"-13UN | 19 | 3 5/16"-12UN | 49 | 14.1 |
| RC-2512 | 25 | 311 | 33.2 | 1033 | 425 | 736 | 85 | 65 | 57.2 | 25 | 50 | 10 | 1 1/2"-16UN | 25 | 58 | 1/2"-13UN | 19 | 3 5/16"-12UN | 49 | 16.3 |
| RC-2514 | 25 | 362 | 33.2 | 1202 | 476 | 838 | 85 | 65 | 57.2 | 25 | 50 | 10 | 1 1/2"-16UN | 25 | 58 | 1/2"-13UN | 19 | 3 5/16"-12UN | 49 | 17.7 |
| RC-308 | 30 | 209 | 42.1 | 880 | 387 | 596 | 101 | 73.2 | 57.2 | 57 | 50 | 10 | 1 1/2"-16UN | 25 | * | * | * | 3 5/16"-12UN | 49 | 18.1 |
| RC-502 | 50 | 51 | 71.2 | 362 | 176 | 227 | 127 | 95.2 | 79.5 | 33 | 71 | 2 | * | * | 95 | 1/2"-13UN | 19 | 5"-12UN | 55 | 15 |
| RC-504 | 50 | 101 | 71.2 | 719 | 227 | 328 | 127 | 95.2 | 79.5 | 33 | 71 | 2 | * | * | 95 | 1/2"-13UN | 19 | 5"-12UN | 55 | 19.1 |
| RC-506 | 50 | 159 | 71.2 | 1131 | 282 | 441 | 127 | 95.2 | 79.5 | 35 | 71 | 2 | * | * | 95 | 1/2"-13UN | 19 | 5"-12UN | 55 | 23.1 |
| RC-5013 | 50 | 337 | 71.2 | 2399 | 460 | 797 | 127 | 95.2 | 79.5 | 35 | 71 | 2 | * | * | 95 | 1/2"-13UN | 19 | 5"-12UN | 55 | 37.6 |
| RC-756 | 75 | 156 | 102.6 | 1601 | 285 | 441 | 146 | 114.3 | 95.2 | 30 | 71 | 5 | * | * | * | * | * | 5 3/4"-12UN | 44 | 29.5 |
| RC-7513 | 75 | 33 | 102.6 | 3417 | 492 | 825 | 146 | 114.3 | 95.2 | 30 | 71 | 5 | * | * | * | * | * | 5 3/4"-12UN | 44 | 59 |
| RC-1006 | 100 | 168 | 133.3 | 2239 | 357 | 525 | 177 | 130.3 | 104.9 | 41 | 71 | 2 | * | * | 140 | 3/4"-10UN | 25 | 6 7/8"-12UN | 44 | 59 |
| RC-10010 | 100 | 260 | 133.3 | 3466 | 449 | 709 | 177 | 130.3 | 104.9 | 41 | 71 | 2 | * | * | 140 | 3/4"-10UN | 25 | 6 7/8"-12UN | 44 | 72.6 |