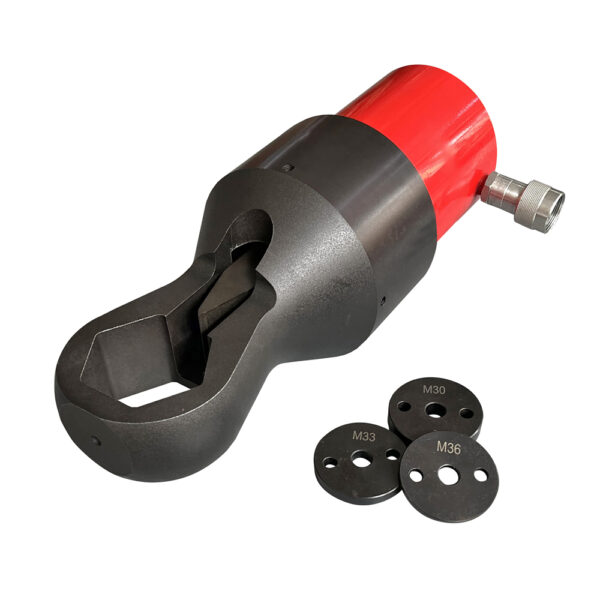 AutoSPLITTER Series,Standard Hydraulic Nut Splitter
Pullertop hydraulic nut splitters are a simple, fast, safe, and efficient tool to remove the bolt and nut. In the open-air high temperature or corrosive environment, the bolt is usually bitten by rust and damaged by smashing, It is very difficult to remove them In the past. With the help of our hydraulic bolt cutters, engineers are able to remove nuts ranging from M8 to M100 easily under different work conditions.
Product Description
Product Lines: Hydraulic Nut Splitters
Cuts through the hardest of nuts – quickly & safely
Precision, re-sharpenable chisel cuts only the nut
PRECISE – You can easily calibrate the cutting chisel so only
the nut is cut, with no damage to the bolt or stud threads.
Double Cutting & Angle Head &Double Acting models also available
Think Safety

Manufacturer's rating of load and stroke are maximum safe limits. Good practice encourages using only 80% of these ratings!
Image Gallery
Series Specifications
| | |
| --- | --- |
| Hexagon Nut: | 16-155mm |
| Bolt Range: | M8-M100 |
| Maximum Operating Pressure : | 700Bar |
| Weight: | 9-176Kg |
Dimension

Series Comparison
Model
Bolt range inch
(metric)
Nut Size inch
(mm)
A
in(mm)
B
in (mm)
C
in(mm)
D
in (mm)
E
in(mm)
F
in(mm)
G
in (mm)
H
in (mm)
J
in (mm)
Weight (kg)
AS105 STR
5/16 – 7/8
(M8-M22)
1 1/16 – 1 7/16
(16-36)
1.50
(39)
11.5
(292)
3.40
(86)
0.42
(11)
2.87
(73)
3.39
(86)
7.48
(190)
3.97
(100)
1.08
(27)
9
AS200 STR
7/8 – 1-1/4
(M22-M33)
1 7/16 – 2
(36-55)
1.50
(39)
12
(305)
3.40
(86)
0.50
(13)
3.63
(92)
3.88
(99)
8.00
(203)
3.97
(100)
1.63
(41)
10
AS204 STR
1 1/4 – 1 1/2
(M30-M39)
1 3/16 – 2 3/8
(50-65)
2.25
(58)
15.8
(401)
5.00
(127)
0.69
(18)
4.42
(112)
5.05
(128)
11.47
(292)
5.87
(149)
1.74
(44)
28
AS210 STR
1 3/8 – 1 3/4
(M36-M45)
2 7/16 – 2 3/4
(60-75)
2.25
(58)
15.7
(399)
5.00
(127)
0.67
(17)
4.50
(114)
5.44
(138)
11.38
(289)
5.97
(149)
2.06
(52)
28
AS308 STR
1 3/4 – 2 1/4
(M45-M56)
2 3/4 – 3 1/2
(75-90)
2.93
(74)
19.1
(485)
6.25
(159)
0.88
(22)
6.28
(160)
6.00
(152)
13.12
(333)
7.25
(184)
2.63
(67)
43
AS314 STR
2 – 2 1/2
(M52-M64)
3 1/8 – 3 7/8
(85-100)
3.13
(80)
19.3
(490)
6.25
(159)
0.88
(22)
6.25
(159)
6.19
(157)
13.31
(338)
7.38
(187)
2.81
(71)
45
AS404 STR
2 1/2 – 2 3/4
(M64-M72)
3 3/4 – 4 1/4
(95-110)
3.75
(95)
19.4
(493)
8.50
(216)
1.13
(29)
7.50
(191)
6.73
(171)
13.66
(347)
9.44
(240)
3.25
(83)
93
AS500 STR
3 – 3 1/4
(M76-M85)
4 7/8 – 5
(115-135)
4.13
(105)
19.6
(498)
8.50
(216)
1.13
(29)
9.00
(229)
7.06
(179)
19.92
(506)
9.94
(240)
3.59
(91)
95
AS506 STR
3 1/4 – 3 1/2
(M85-M90)
4 7/8 – 5 3/8
(125-135)
4.13
(105)
19.9
(505)
8.50
(216)
1.13
(29)
9.31
(236)
7.29
(185)
14.23
(361)
9.94
(240)
3.81
(97)
98
AS608 STR
3 3/4 – 4
(M95-M100)
5 3/4 – 6 1/8
(140-155)
5.00
(127)
22.8
(579)
10.5
(267)
1.41
(36)
11.72
(298)
9.55
(243)
16.97
(431)
12.5
(318)
4.77
(121)
176