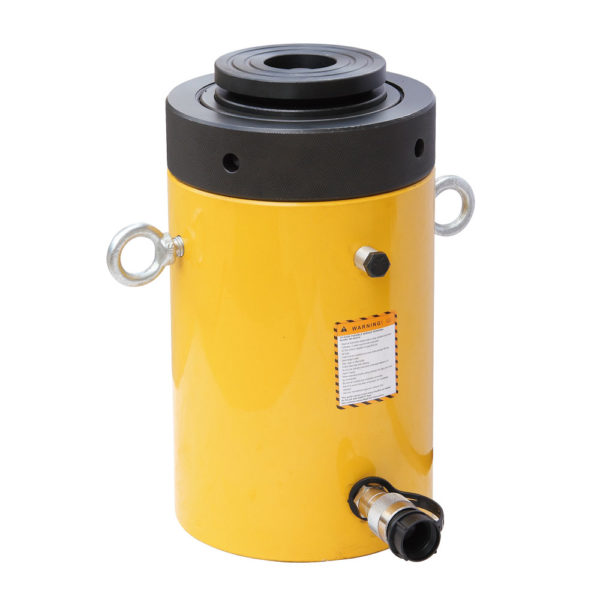 CLL Series, Single Acting Lock Nut Hydraulic Cylinders
Pullertop CLL series single-acting lock nut hydraulic cylinders are available from 50 tons to 1000 tons capacity and features a mechanical lock nut design for load holding over a long period of time.
Product Description
Series: CLL Series
Product Lines: Lock Nut Hydraulic Cylinders
Safety lock nut for mechanical load holding for a long period of time.
Single-acting, load return.
Designed to withstand up to 10% side-load of maximum capacity.
Overflow port as stroke limiter to prevent plunger blow-out.
Baked enamel finish for increased corrosion resistance.
Think Safety

Manufacturer's rating of load and stroke are maximum safe limits. Good practice encourages using only 80% of these ratings!
Series Specifications
| | |
| --- | --- |
| Capacity: | 50-1000 Ton |
| Stroke: | 50-300mm |
| Collapsed Height: | 164-745mm |
| Maximum Operating Pressure : | 70Mpa |
| Weight: | 15-1430Kg |
Dimension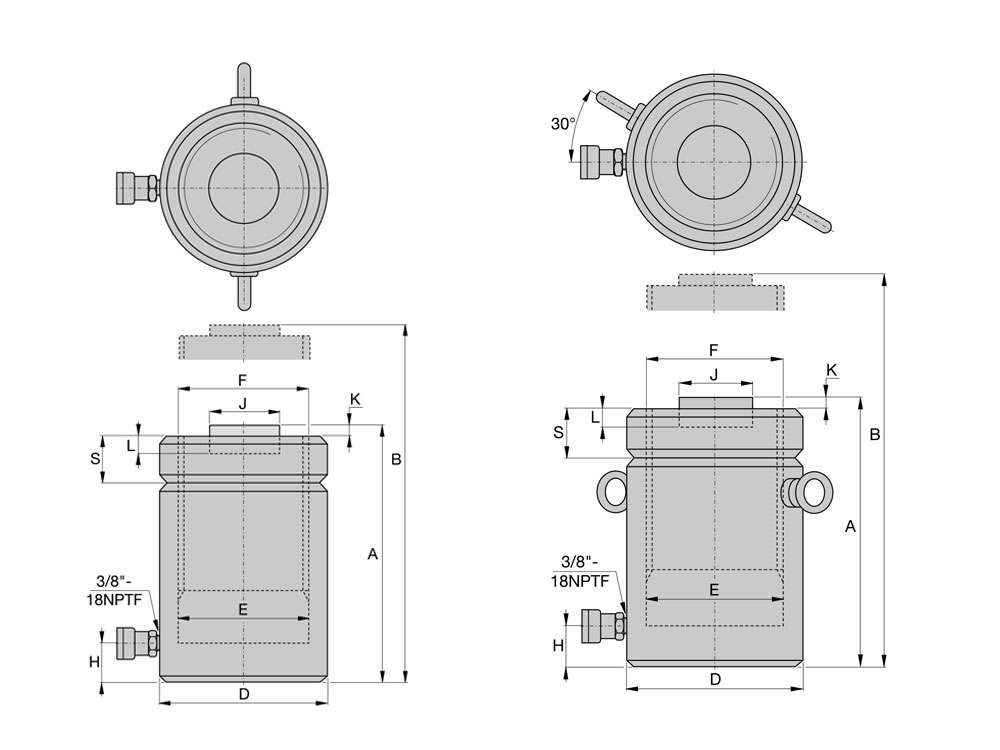 Series Comparison
| Model Number | Capacity/Ton | Stroke/mm | Cylinder Effective Area/cm2 | Oil Capacity/cm3 | Collapsed Height/mm(A) | Extended Height/mm(B) | Outside Dia/mm(D) | Cylinder Bore Dia/mm(E) | Plunger Dia/mm(F) | Base To Advance Port/mm(H) | Standard Saddle Dia/mm(J) | Saddle Protri. From Plgr./mm(K) | Depth of Plunger Hole/mm(L) | Lock Nut Height/mm(S) | Saddle Dia/mm(J1) | Saddle Height/mm(K1) | Saddle Model Number | Weight/Kg |
| --- | --- | --- | --- | --- | --- | --- | --- | --- | --- | --- | --- | --- | --- | --- | --- | --- | --- | --- |
| CLL-502 | 50 | 50 | 70.8 | 354 | 164 | 214 | 125 | 71 | Tr 95×4 | 30 | 71 | 2 | 13 | 36 | 71 | 24 | CAT-100 | 15 |
| CLL-504 | 50 | 100 | 70.8 | 708 | 214 | 314 | 125 | 71 | Tr 95×4 | 30 | 71 | 2 | 13 | 36 | 71 | 24 | CAT-100 | 20 |
| CLL-506 | 50 | 150 | 70.8 | 1062 | 264 | 414 | 125 | 71 | Tr 95×4 | 30 | 71 | 2 | 13 | 36 | 71 | 24 | CAT-100 | 25 |
| CLL-508 | 50 | 200 | 70.8 | 1416 | 314 | 514 | 125 | 71 | Tr 95×4 | 30 | 71 | 2 | 13 | 36 | 71 | 24 | CAT-100 | 30 |
| CLL-5010 | 50 | 250 | 70.8 | 1770 | 364 | 614 | 125 | 71 | Tr 95×4 | 30 | 71 | 2 | 13 | 36 | 71 | 24 | CAT-100 | 35 |
| CLL-5012 | 50 | 300 | 70.8 | 2124 | 414 | 714 | 125 | 71 | Tr 95×4 | 30 | 71 | 2 | 13 | 36 | 71 | 24 | CAT-100 | 40 |
| CLL-1002 | 100 | 50 | 132.7 | 663.5 | 187 | 237 | 165 | 71 | Tr 130×6 | 30 | 71 | 2 | 13 | 44 | 71 | 24 | CAT-100 | 30 |
| CLL-1004 | 100 | 100 | 132.7 | 1327 | 237 | 337 | 165 | 71 | Tr 130×6 | 30 | 71 | 2 | 13 | 44 | 71 | 24 | CAT-100 | 39 |
| CLL-1006 | 100 | 150 | 132.7 | 1990.5 | 287 | 437 | 165 | 71 | Tr 130×6 | 30 | 71 | 2 | 13 | 44 | 71 | 24 | CAT-100 | 48 |
| CLL-1008 | 100 | 200 | 132.7 | 2654 | 337 | 537 | 165 | 71 | Tr 130×6 | 30 | 71 | 2 | 13 | 44 | 71 | 24 | CAT-100 | 56 |
| CLL-10010 | 100 | 250 | 132.7 | 3317.5 | 387 | 637 | 165 | 71 | Tr 130×6 | 30 | 71 | 2 | 13 | 44 | 71 | 24 | CAT-100 | 64 |
| CLL-10012 | 100 | 300 | 132.7 | 3981 | 437 | 737 | 165 | 71 | Tr 130×6 | 30 | 71 | 2 | 13 | 44 | 71 | 24 | CAT-100 | 73 |
| CLL-1502 | 150 | 50 | 201 | 1005 | 209 | 259 | 205 | 130 | Tr160×6 | 39 | 130 | 2 | 25 | 44 | 130 | 20 | CAT-200 | 53 |
| CLL-1504 | 150 | 100 | 201 | 2010 | 259 | 359 | 205 | 130 | Tr160×6 | 39 | 130 | 2 | 25 | 44 | 130 | 20 | CAT-200 | 66 |
| CLL-1506 | 150 | 150 | 201 | 3015 | 309 | 459 | 205 | 130 | Tr160×6 | 39 | 130 | 2 | 25 | 44 | 130 | 20 | CAT-200 | 78 |
| CLL-1508 | 150 | 200 | 201 | 4020 | 359 | 559 | 205 | 130 | Tr160×6 | 39 | 130 | 2 | 25 | 44 | 130 | 20 | CAT-200 | 92 |
| CLL-15010 | 150 | 250 | 201 | 5025 | 409 | 659 | 205 | 130 | Tr160×6 | 39 | 130 | 2 | 25 | 44 | 130 | 20 | CAT-200 | 104 |
| CLL-15012 | 150 | 300 | 201 | 6030 | 459 | 759 | 205 | 130 | Tr160×6 | 39 | 130 | 2 | 25 | 44 | 130 | 20 | CAT-200 | 117 |
| CLL-2002 | 200 | 50 | 268.8 | 1417 | 243 | 293 | 235 | 130 | Tr185×6 | 50 | 130 | 2 | 25 | 50 | 130 | 20 | CAT-200 | 83 |
| CLL-2006 | 200 | 150 | 268.8 | 4251 | 343 | 493 | 235 | 130 | Tr185×6 | 50 | 130 | 2 | 25 | 50 | 130 | 20 | CAT-200 | 118 |
| CLL-20012 | 200 | 300 | 268.8 | 7085 | 443 | 693 | 235 | 130 | Tr185×6 | 50 | 130 | 2 | 25 | 50 | 130 | 20 | CAT-200 | 153 |
| CLL-2502 | 250 | 50 | 362.9 | 1814.5 | 249 | 299 | 275 | 150 | Tr 215×6 | 50 | 150 | 2 | 25 | 56 | 150 | 21 | CAT-250 | 116 |
| CLL-2506 | 250 | 150 | 362.9 | 5443.5 | 349 | 499 | 275 | 150 | Tr 215×6 | 50 | 150 | 2 | 25 | 56 | 150 | 21 | CAT-250 | 163 |
| CLL-25012 | 250 | 300 | 362.9 | 9072.5 | 449 | 699 | 275 | 150 | Tr 215×6 | 50 | 150 | 2 | 25 | 56 | 150 | 21 | CAT-250 | 210 |
| CLL-3002 | 300 | 50 | 452.2 | 2261 | 295 | 345 | 310 | 139 | Tr 240×6 | 59 | 139 | 5 | 25 | 60 | 195 | 75 | CAT-300 | 173 |
| CLL-3006 | 300 | 150 | 452.2 | 6783 | 395 | 545 | 310 | 139 | Tr 240×6 | 59 | 139 | 5 | 25 | 60 | 195 | 75 | CAT-300 | 233 |
| CLL-30012 | 300 | 300 | 452.2 | 11305 | 495 | 745 | 310 | 139 | Tr 240×6 | 59 | 139 | 5 | 25 | 60 | 195 | 75 | CAT-300 | 293 |
| CLL-4002 | 400 | 50 | 572 | 2905 | 335 | 385 | 350 | 159 | Tr 265×6 | 70 | 159 | 5 | 25 | 70 | 225 | 85 | CAT-400 | 251 |
| CLL-4006 | 400 | 150 | 572 | 8715 | 435 | 585 | 350 | 159 | Tr 265×6 | 70 | 159 | 5 | 25 | 70 | 225 | 85 | CAT-400 | 327 |
| CLL-40012 | 400 | 300 | 572 | 14525 | 535 | 785 | 350 | 159 | Tr 265×6 | 70 | 159 | 5 | 25 | 70 | 225 | 85 | CAT-400 | 403 |
| CLL-5002 | 500 | 50 | 730.2 | 3651 | 375 | 425 | 400 | 179 | Tr 305×6 | 80 | 179 | 5 | 25 | 80 | 250 | 91 | CAT-500 | 367 |
| CLL-5006 | 500 | 150 | 730.2 | 10953 | 475 | 625 | 400 | 179 | Tr 305×6 | 80 | 179 | 5 | 25 | 80 | 250 | 91 | CAT-500 | 467 |
| CLL-50012 | 500 | 300 | 730.2 | 18255 | 575 | 825 | 400 | 179 | Tr 305×6 | 80 | 179 | 5 | 25 | 80 | 250 | 91 | CAT-500 | 568 |
| CLL-6002 | 600 | 50 | 854.9 | 4274.5 | 395 | 445 | 430 | 194 | Tr 330×6 | 85 | 194 | 5 | 25 | 85 | 275 | 96 | CAT-600 | 447 |
| CLL-6006 | 600 | 150 | 854.9 | 12823.5 | 495 | 645 | 430 | 194 | Tr 330×6 | 85 | 194 | 5 | 25 | 85 | 275 | 96 | CAT-600 | 563 |
| CLL-60012 | 600 | 300 | 854.9 | 21372.5 | 595 | 845 | 430 | 194 | Tr 330×6 | 85 | 194 | 5 | 25 | 85 | 275 | 96 | CAT-600 | 680 |
| CLL-8002 | 800 | 50 | 1163.6 | 5818 | 455 | 505 | 505 | 224 | Tr 385×6 | 100 | 224 | 5 | 25 | 100 | 320 | 123 | CAT-800 | 711 |
| CLL-8006 | 800 | 150 | 1163.6 | 17454 | 555 | 705 | 505 | 224 | Tr 385×6 | 100 | 224 | 5 | 25 | 100 | 320 | 123 | CAT-800 | 871 |
| CLL-80012 | 800 | 300 | 1163.6 | 29090 | 655 | 905 | 505 | 224 | Tr 385×6 | 100 | 224 | 5 | 25 | 100 | 320 | 123 | CAT-800 | 1031 |
| CLL-10002 | 1000 | 50 | 1451.5 | 7257.5 | 495 | 545 | 560 | 249 | Tr 430×6 | 110 | 249 | 5 | 25 | 110 | 360 | 136 | CAT-1000 | 951 |
| CLL-10006 | 1000 | 150 | 1451.5 | 21772.5 | 595 | 745 | 560 | 249 | Tr 430×6 | 110 | 249 | 5 | 25 | 110 | 360 | 136 | CAT-1000 | 1143 |
| CLL-100012 | 1000 | 300 | 1451.5 | 36287.5 | 695 | 945 | 560 | 249 | Tr 430×6 | 110 | 249 | 5 | 25 | 110 | 360 | 136 | CAT-1000 | 1335 |