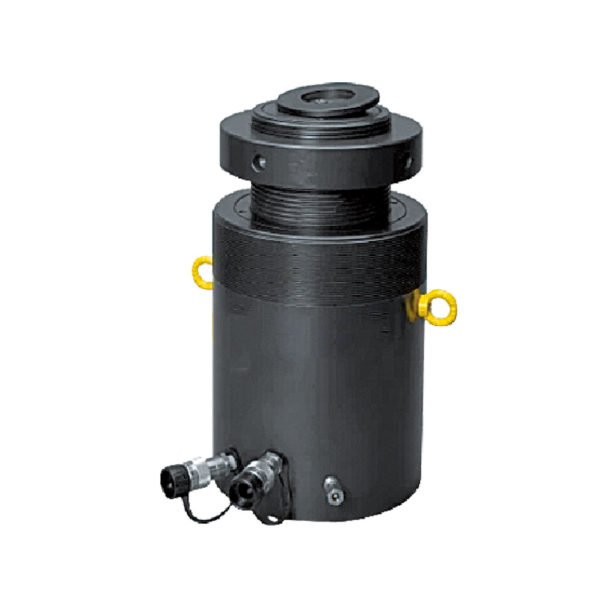 HCRL Series, Double Acting Lock Nut Hydraulic Cylinders
Pullertop HCRL-SERIES is a design that features a threaded piston rod and lock ring. When the lock ring is screwed down and engaged with the cylinder body, the load can be held mechanically for extended periods. These cylinders are ideally suited to bridge construction and maintenance and jacking applications requiring safe extended load holding.
Product Description
Series: HCRL Series
Product Lines: Lock Nut Hydraulic Cylinders
Hydraulically controlled fast retraction
Lock nut provides mechanical load holding for a safe work environment
Designed to withstand up to 10% side-load of maximum capacity
Integrated tilt saddle allows up to 5 degrees of misalignment
Hardened surface resists side-loading and cyclic wear
Weather protected, inside and out
Replaceable bearings enclose the plunger external and internally for support
Certified lifting eyes, base mounting holes and collar thread as standard
Stop-ring to prevent plunger blow-out
Low friction lock nut, spin easy, save time and effort
The HCRL-Series Cylinders are available up to 1000-ton capacity and 24-inch stroke upon request. Contact us for more information.
Think Safety

Manufacturer's rating of load and stroke are maximum safe limits. Good practice encourages using only 80% of these ratings!
Series Specifications
| | |
| --- | --- |
| Capacity: | 50-300 Ton |
| Stroke: | 150-300mm |
| Collapsed Height: | 310-596mm |
| Maximum Operating Pressure : | 70Mpa |
| Weight: | 30-319Kg |
Dimension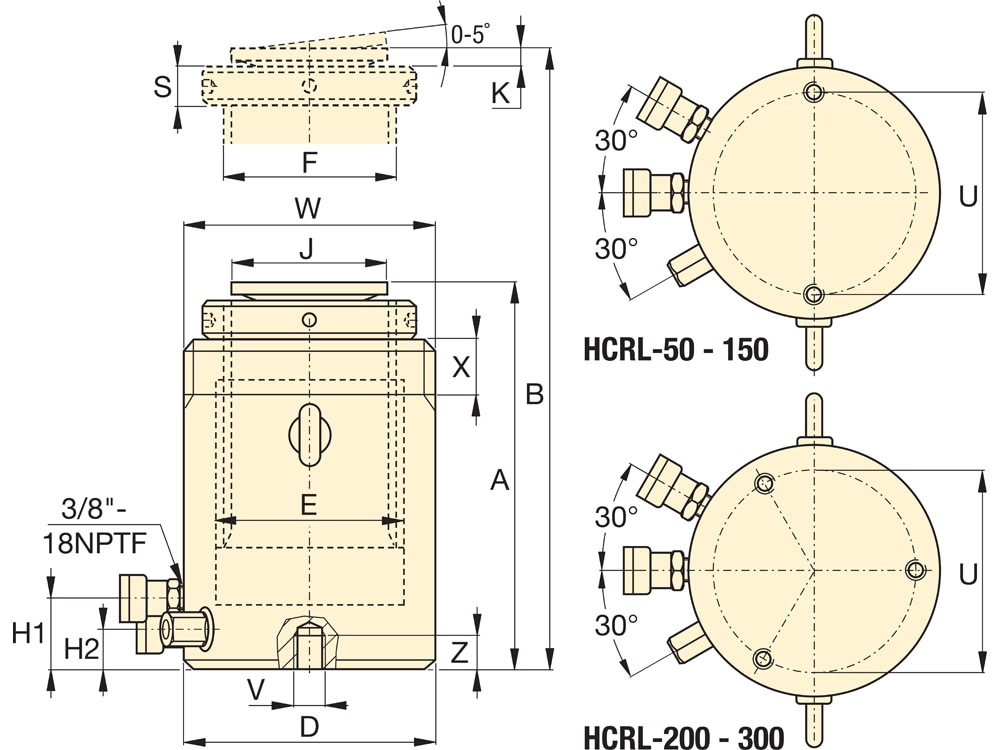 Series Comparison
| Model Number | Capacity/Ton | Stroke/mm | Cylinder Effective Area/cm2 | Push Oil Capacity/cm3 | Pill Oil Capacity/cm3 | Collapsed Height/mm(A) | Extended Height/mm(B) | Outside Dia/mm(D) | Cylinder Bore Dia/mm(E) | Plunger Dia/mm(F) | Base To Advance Port/mm(H1) | Base To Retract Port/mm(H2) | Saddle Dia/mm(J) | Saddle Protr. /mm(K) | Lock Nut Height/mm(S) | Base Mounting Holes Bolt Circle/mm(U) | Base Mounting Holes Thread(V) | Base Mounting Holes Min Thread Depth/mm(Z) | Thread Size(W) | Thread Length/mm(X) | Weight/Kg |
| --- | --- | --- | --- | --- | --- | --- | --- | --- | --- | --- | --- | --- | --- | --- | --- | --- | --- | --- | --- | --- | --- |
| HCRL506 | 50 | 150 | 68.4 | 1025 | 86 | 310 | 460 | 130 | 100 | Tr90X4 | 41 | 27 | 77 | 15 | 26 | 105 | M12X1.75 | 22 | M130X2 | 42 | 30 |
| HCRL508 | 50 | 200 | 68.4 | 1367 | 115 | 377 | 577 | 130 | 100 | Tr90X4 | 41 | 27 | 77 | 15 | 26 | 105 | M12X1.75 | 22 | M130X2 | 42 | 36 |
| HCRL5010 | 50 | 250 | 68.4 | 1709 | 143 | 427 | 677 | 130 | 100 | Tr90X4 | 41 | 27 | 77 | 15 | 26 | 105 | M12X1.75 | 22 | M130X2 | 42 | 40 |
| HCRL5012 | 50 | 300 | 68.4 | 2051 | 172 | 477 | 777 | 130 | 100 | Tr90X4 | 41 | 27 | 77 | 15 | 26 | 105 | M12X1.75 | 22 | M130X2 | 42 | 45 |
| HCRL1006 | 100 | 150 | 141.4 | 2121 | 236 | 346 | 496 | 185 | 140 | TR120X60 | 50 | 36 | 77 | 15 | 36 | 150 | M12X1.75 | 22 | M185X2 | 57 | 64 |
| HCRL1008 | 100 | 200 | 141.4 | 2827 | 314 | 421 | 621 | 185 | 140 | TR120X60 | 50 | 36 | 77 | 15 | 36 | 150 | M12X1.75 | 22 | M185X2 | 57 | 77 |
| HCRL10010 | 100 | 250 | 141.4 | 3534 | 393 | 471 | 721 | 185 | 140 | TR120X60 | 50 | 36 | 77 | 15 | 36 | 150 | M12X1.75 | 22 | M185X2 | 57 | 85 |
| HCRL10012 | 100 | 300 | 141.4 | 4241 | 471 | 521 | 821 | 185 | 140 | TR120X60 | 50 | 36 | 77 | 15 | 36 | 150 | M12X1.75 | 22 | M185X2 | 57 | 94 |
| HCRL1506 | 150 | 150 | 214.4 | 3216 | 236 | 359 | 509 | 222 | 170 | Tr150X6 | 46 | 32 | 126 | 13 | 45 | 185 | M12X1.75 | 22 | M222X3 | 70 | 97 |
| HCRL1508 | 150 | 200 | 214.4 | 4288 | 314 | 434 | 634 | 222 | 170 | Tr150X6 | 46 | 32 | 126 | 13 | 45 | 185 | M12X1.75 | 22 | M222X3 | 70 | 116 |
| HCRL15010 | 150 | 250 | 214.4 | 5360 | 393 | 484 | 734 | 222 | 170 | Tr150X6 | 46 | 32 | 126 | 13 | 45 | 185 | M12X1.75 | 22 | M222X3 | 70 | 129 |
| HCRL15012 | 150 | 300 | 214.4 | 6432 | 471 | 534 | 834 | 222 | 170 | Tr150X6 | 46 | 32 | 126 | 13 | 45 | 185 | M12X1.75 | 22 | M222X3 | 70 | 142 |
| HCRL2006 | 200 | 150 | 285.9 | 4288 | 530 | 399 | 549 | 260 | 200 | Tr170X6 | 71 | 49 | 126 | 13 | 50 | 215 | M12X1.75 | 22 | M260X3 | 79 | 145 |
| HCRL2008 | 200 | 200 | 285.9 | 5718 | 707 | 469 | 669 | 260 | 200 | Tr170X6 | 71 | 49 | 126 | 13 | 50 | 215 | M12X1.75 | 22 | M260X3 | 79 | 168 |
| HCRL20010 | 200 | 250 | 285.9 | 7147 | 884 | 519 | 769 | 260 | 200 | Tr170X6 | 71 | 49 | 126 | 13 | 50 | 215 | M12X1.75 | 22 | M260X3 | 79 | 184 |
| HCRL20012 | 200 | 300 | 285.9 | 8577 | 1060 | 569 | 869 | 260 | 200 | Tr170X6 | 71 | 49 | 126 | 13 | 50 | 215 | M12X1.75 | 22 | M260X3 | 79 | 200 |
| HCRL2506 | 250 | 150 | 351.9 | 5278 | 530 | 416 | 566 | 290 | 220 | Tr190X6 | 71 | 49 | 160 | 15 | 55 | 245 | M12X1.75 | 22 | M290X3 | 85 | 190 |
| HCRL2508 | 250 | 200 | 351.9 | 7037 | 707 | 491 | 691 | 290 | 220 | Tr190X6 | 71 | 49 | 160 | 15 | 55 | 245 | M12X1.75 | 22 | M290X3 | 85 | 224 |
| HCRL25010 | 250 | 250 | 351.9 | 8796 | 884 | 541 | 791 | 290 | 220 | Tr190X6 | 71 | 49 | 160 | 15 | 55 | 245 | M12X1.75 | 22 | M290X3 | 85 | 244 |
| HCRL25012 | 250 | 300 | 351.9 | 10556 | 1060 | 591 | 891 | 290 | 220 | Tr190X6 | 71 | 49 | 160 | 15 | 55 | 245 | M12X1.75 | 22 | M290X3 | 85 | 265 |
| HCRL3006 | 300 | 150 | 424.1 | 6362 | 530 | 421 | 571 | 315 | 240 | Tr210X6 | 71 | 49 | 160 | 15 | 55 | 260 | M16X2 | 25 | M315X3 | 94 | 230 |
| HCRL3008 | 300 | 200 | 424.1 | 8482 | 707 | 496 | 696 | 315 | 240 | Tr210X6 | 71 | 49 | 160 | 15 | 55 | 260 | M16X2 | 25 | M315X3 | 94 | 269 |
| HCRL30010 | 300 | 250 | 424.1 | 10603 | 884 | 546 | 796 | 315 | 240 | Tr210X6 | 71 | 49 | 160 | 15 | 55 | 260 | M16X2 | 25 | M315X3 | 94 | 294 |
| HCRL30012 | 300 | 300 | 424.1 | 12723 | 1060 | 596 | 896 | 315 | 240 | Tr210X6 | 71 | 49 | 160 | 15 | 55 | 260 | M16X2 | 25 | M315X3 | 94 | 319 |