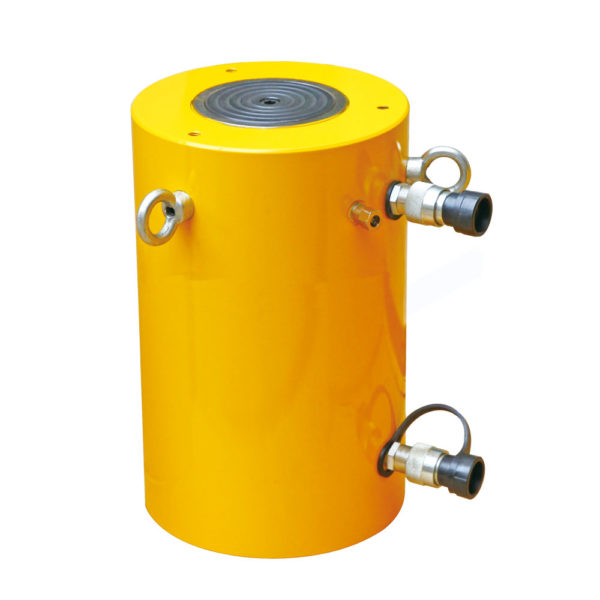 CLRG Series, Double Acting High Tonnage Hydraulic Cylinders
Pullertop CLRG series hydraulic cylinders are high-tonnage hydraulic jacks with a capacity from 50 tons to 1000 tons. It features a double-acting design for fast lifting and lowering operation and a safety relief valve for overpressurization protection.
Product Description
Series: CLRG Series
Product Lines: High Tonnage Hydraulic Cylinders
The integral stop ring provides piston blow-out protection
Double-acting, for positive retraction
The safety valve on retracting side of the cylinder helps to prevent damage in case of accidental over-pressurization
Plunger wiper reduces contamination, extending cylinder life
Baked enamel finish and plated pistons provide superior corrosion resistance
Think Safety

Manufacturer's rating of load and stroke are maximum safe limits. Good practice encourages using only 80% of these ratings!
Product Picture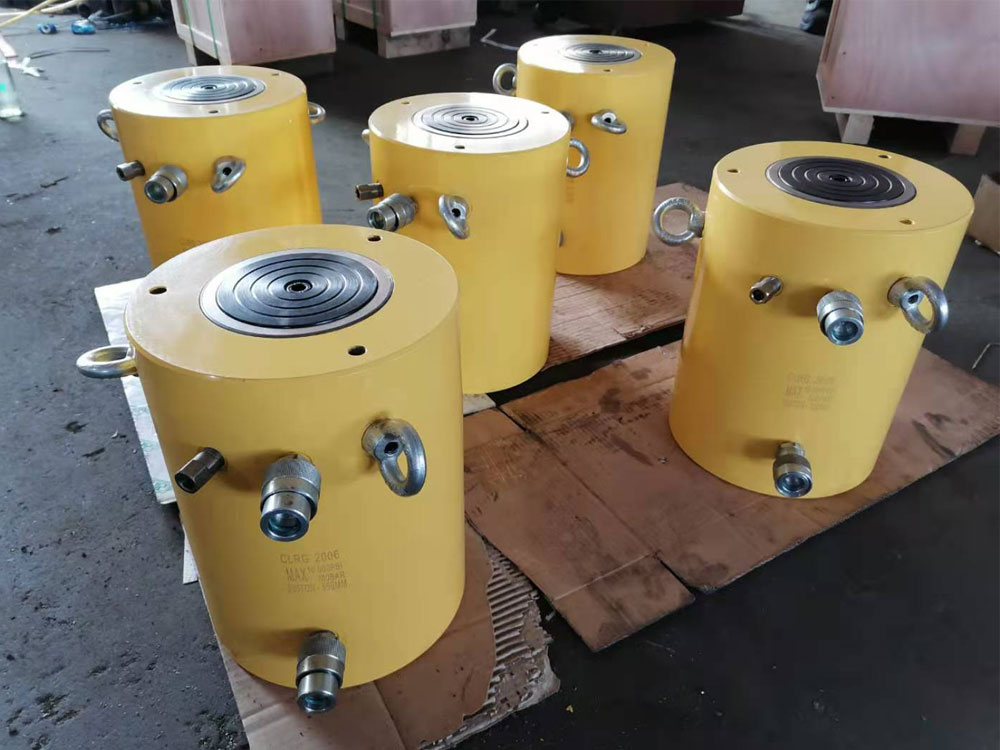 Series Specifications
| | |
| --- | --- |
| Capacity: | 50-1000 Ton |
| Stroke: | 50-300mm |
| Collapsed Height: | 162-814mm |
| Maximum Operating Pressure : | 70Mpa |
| Weight: | 17-1439Kg |
Dimension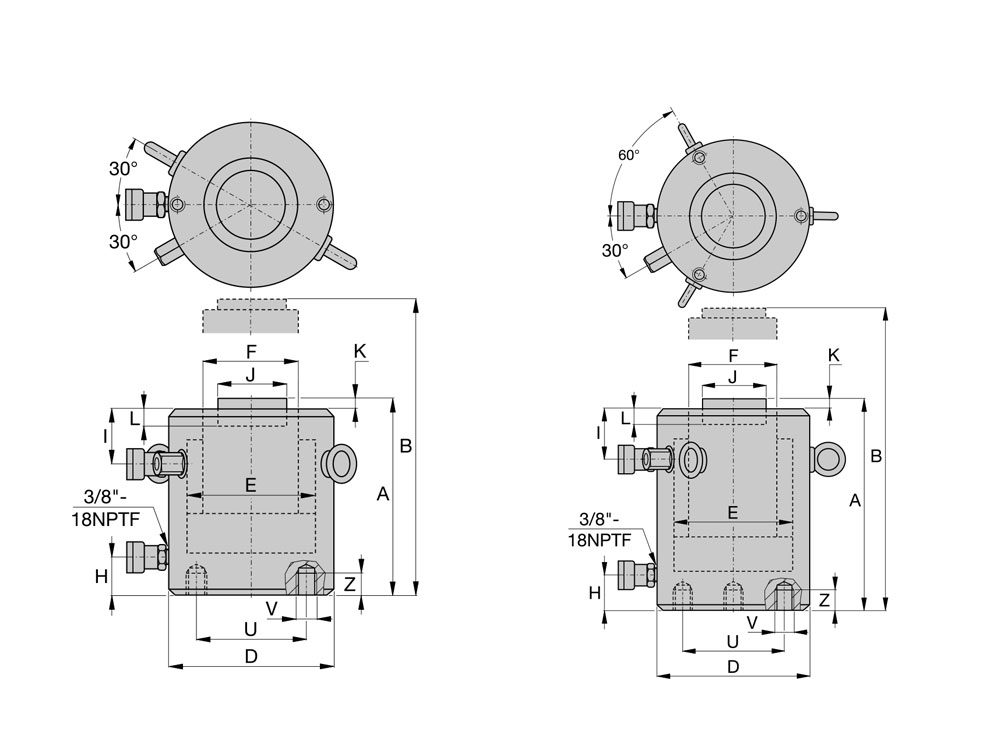 Series Comparison
| Model Number | Capacity/Ton | Stroke/mm | Push Max Cylinder Capacity/KN | Pull Max Cylinder Capacity/KN | Push Cylinder Effective Area/cm2 | Pull Cylinder Effective Area/cm2 | Push Oil Capacity/cm3 | Pull Oil Capacity/cm3 | Collapsed Height/mm(A) | Extended Height/mm(B) | Outside Dia/mm(D) | Cylinder Bore Dia/mm(E) | Plunger Dia/mm(F) | Base To Advance Port/mm(H) | Top To Retract Port/mm(I) | Saddle Dia/mm(J) | Saddle Protri. From Page./mm(K) | Depth of Plunger Hole/mm(L) | Saddle Dia/mm(J1) | Saddle Height/mm(K1) | Saddle Model | Weight/Kg |
| --- | --- | --- | --- | --- | --- | --- | --- | --- | --- | --- | --- | --- | --- | --- | --- | --- | --- | --- | --- | --- | --- | --- |
| CLRG-502 | 50 | 50 | 539 | 269 | 77 | 38.5 | 385 | 192 | 162 | 212 | 130 | 99 | 70 | 52 | 33 | 50 | 1 | 19 | 50 | 24 | CATG-50 | 17 |
| CLRG-504 | 50 | 100 | 539 | 269 | 77 | 38.5 | 770 | 385 | 212 | 312 | 130 | 99 | 70 | 52 | 33 | 50 | 1 | 19 | 50 | 24 | CATG-50 | 20 |
| CLRG-506 | 50 | 150 | 539 | 269 | 77 | 38.5 | 1155 | 577 | 262 | 412 | 130 | 99 | 70 | 52 | 33 | 50 | 1 | 19 | 50 | 24 | CATG-50 | 23 |
| CLRG-508 | 50 | 200 | 539 | 269 | 77 | 38.5 | 1540 | 770 | 312 | 512 | 130 | 99 | 70 | 52 | 33 | 50 | 1 | 19 | 50 | 24 | CATG-50 | 27 |
| CLRG-5010 | 50 | 250 | 539 | 269 | 77 | 38.5 | 1924 | 962 | 362 | 612 | 130 | 99 | 70 | 52 | 33 | 50 | 1 | 19 | 50 | 24 | CATG-50 | 31 |
| CLRG-5012 | 50 | 300 | 539 | 269 | 77 | 38.5 | 2309 | 1155 | 412 | 712 | 130 | 99 | 70 | 52 | 33 | 50 | 1 | 19 | 50 | 24 | CATG-50 | 34 |
| CLRG-1002 | 100 | 50 | 929 | 433 | 132.7 | 61.9 | 664 | 309 | 179 | 229 | 165 | 130 | 95 | 54 | 48 | 75 | 1 | 19 | 73 | 29 | CATG-100 | 29 |
| CLRG-1004 | 100 | 100 | 929 | 433 | 132.7 | 61.9 | 1327 | 619 | 229 | 329 | 165 | 130 | 95 | 54 | 48 | 75 | 1 | 19 | 73 | 29 | CATG-100 | 34 |
| CLRG-1006 | 100 | 150 | 929 | 433 | 132.7 | 61.9 | 1991 | 928 | 279 | 429 | 165 | 130 | 95 | 54 | 48 | 75 | 1 | 19 | 73 | 29 | CATG-100 | 40 |
| CLRG-1008 | 100 | 200 | 929 | 433 | 132.7 | 61.9 | 2655 | 1237 | 329 | 529 | 165 | 130 | 95 | 54 | 48 | 75 | 1 | 19 | 73 | 29 | CATG-100 | 46 |
| CLRG-10010 | 100 | 250 | 929 | 433 | 132.7 | 61.9 | 3318 | 1546 | 379 | 629 | 165 | 130 | 95 | 54 | 48 | 75 | 1 | 19 | 73 | 29 | CATG-100 | 52 |
| CLRG-10012 | 100 | 300 | 929 | 433 | 132.7 | 61.9 | 3982 | 1856 | 429 | 729 | 165 | 130 | 95 | 54 | 48 | 75 | 1 | 19 | 73 | 29 | CATG-100 | 58 |
| CLRG-1502 | 150 | 50 | 1390 | 675 | 198.6 | 96.5 | 993 | 482 | 196 | 246 | 205 | 159 | 114 | 61 | 56 | 94 | 1 | 19 | 91 | 31 | CATG-150 | 39 |
| CLRG-1504 | 150 | 100 | 1390 | 675 | 198.6 | 96.5 | 1986 | 965 | 246 | 346 | 205 | 159 | 114 | 61 | 56 | 94 | 1 | 19 | 91 | 31 | CATG-150 | 52 |
| CLRG-1506 | 150 | 150 | 1390 | 675 | 198.6 | 96.5 | 2978 | 1447 | 296 | 446 | 205 | 159 | 114 | 61 | 56 | 94 | 1 | 19 | 91 | 31 | CATG-150 | 65 |
| CLRG-1508 | 150 | 200 | 1390 | 675 | 198.6 | 96.5 | 3971 | 1930 | 346 | 546 | 205 | 159 | 114 | 61 | 56 | 94 | 1 | 19 | 91 | 31 | CATG-150 | 78 |
| CLRG-15010 | 150 | 250 | 1390 | 675 | 198.6 | 96.5 | 4964 | 2412 | 396 | 646 | 205 | 159 | 114 | 61 | 56 | 94 | 1 | 19 | 91 | 31 | CATG-150 | 92 |
| CLRG-15012 | 150 | 300 | 1390 | 675 | 198.6 | 96.5 | 5957 | 2895 | 446 | 746 | 205 | 159 | 114 | 61 | 56 | 94 | 1 | 19 | 91 | 31 | CATG-150 | 105 |
| CLRG-2002 | 200 | 50 | 1861 | 889 | 265.9 | 127 | 1330 | 635 | 212 | 262 | 235 | 184 | 133 | 67 | 66 | 113 | 1 | 24 | 118 | 35 | CATG-200 | 55 |
| CLRG-2006 | 200 | 150 | 1861 | 889 | 265.9 | 127 | 3989 | 1905 | 312 | 462 | 235 | 184 | 133 | 67 | 66 | 113 | 1 | 24 | 118 | 35 | CATG-200 | 91 |
| CLRG-20012 | 200 | 300 | 1861 | 889 | 265.9 | 127 | 7977 | 3809 | 462 | 762 | 235 | 184 | 133 | 67 | 66 | 113 | 1 | 24 | 118 | 35 | CATG-200 | 146 |
| CLRG-2502 | 250 | 50 | 2565 | 1068 | 366.4 | 152.6 | 1832 | 763 | 235 | 285 | 275 | 216 | 165 | 73 | 78 | 145 | 1 | 24 | 144 | 46 | CATG-250 | 89 |
| CLRG-2506 | 250 | 150 | 2565 | 1068 | 366.4 | 152.6 | 5497 | 2289 | 335 | 485 | 275 | 216 | 165 | 73 | 78 | 145 | 1 | 24 | 144 | 46 | CATG-250 | 136 |
| CLRG-25012 | 250 | 300 | 2565 | 1068 | 366.4 | 152.6 | 10993 | 4578 | 485 | 785 | 275 | 216 | 165 | 73 | 78 | 145 | 1 | 24 | 144 | 46 | CATG-250 | 207 |
| CLRG-3002 | 300 | 50 | 3193 | 1060 | 456.2 | 151.4 | 2281 | 757 | 322 | 372 | 310 | 241 | 197 | 101 | 75 | 177 | 1 | 19 | 160 | 62 | CATG-300 | 184 |
| CLRG-3006 | 300 | 150 | 3193 | 1060 | 456.2 | 151.4 | 6843 | 2270 | 422 | 572 | 310 | 241 | 197 | 101 | 75 | 177 | 1 | 19 | 160 | 62 | CATG-300 | 232 |
| CLRG-30012 | 300 | 300 | 3193 | 1060 | 456.2 | 151.4 | 13685 | 4541 | 572 | 872 | 310 | 241 | 197 | 101 | 75 | 177 | 1 | 19 | 160 | 62 | CATG-300 | 303 |
| CLRG-4002 | 400 | 50 | 3919 | 1354 | 559.9 | 193.5 | 2800 | 967 | 374 | 424 | 350 | 267 | 216 | 114 | 105 | 196 | 3 | 27 | 193 | 51 | CATG-400 | 270 |
| CLRG-4006 | 400 | 150 | 3919 | 1354 | 559.9 | 193.5 | 8399 | 2902 | 474 | 624 | 350 | 267 | 216 | 114 | 105 | 196 | 3 | 27 | 193 | 51 | CATG-400 | 330 |
| CLRG-40012 | 400 | 300 | 3919 | 1354 | 559.9 | 193.5 | 16797 | 5804 | 624 | 924 | 350 | 267 | 216 | 114 | 105 | 196 | 3 | 27 | 193 | 51 | CATG-400 | 421 |
| CLRG-5002 | 500 | 50 | 5114 | 1733 | 730.6 | 247.6 | 3653 | 1238 | 419 | 469 | 400 | 305 | 248 | 114 | 135 | 228 | 3 | 27 | 228 | 63 | CATG-500 | 401 |
| CLRG-5006 | 500 | 150 | 5114 | 1733 | 730.6 | 247.6 | 10959 | 3713 | 519 | 669 | 400 | 305 | 248 | 114 | 135 | 228 | 3 | 27 | 228 | 63 | CATG-500 | 480 |
| CLRG-50012 | 500 | 300 | 5114 | 1733 | 730.6 | 247.6 | 21918 | 7427 | 669 | 969 | 400 | 305 | 248 | 114 | 135 | 228 | 3 | 27 | 228 | 63 | CATG-500 | 599 |
| CLRG-6002 | 600 | 50 | 5987 | 2068 | 855.3 | 295.4 | 4276 | 1477 | 429 | 479 | 430 | 330 | 267 | 114 | 135 | 247 | 3 | 27 | 241 | 76 | CATG-600 | 474 |
| CLRG-6006 | 600 | 150 | 5987 | 2068 | 855.3 | 295.4 | 12829 | 4431 | 529 | 679 | 430 | 330 | 267 | 114 | 135 | 247 | 3 | 27 | 241 | 76 | CATG-600 | 565 |
| CLRG-60012 | 600 | 300 | 5987 | 2068 | 855.3 | 295.4 | 25659 | 8862 | 679 | 979 | 430 | 330 | 267 | 114 | 135 | 247 | 3 | 27 | 241 | 76 | CATG-600 | 701 |
| CLRG-8002 | 800 | 50 | 8234 | 2709 | 1176.3 | 387 | 5881 | 1935 | 484 | 534 | 505 | 387 | 317 | 149 | 135 | 297 | 3 | 27 | 287 | 75 | CATG-800 | 741 |
| CLRG-8006 | 800 | 150 | 8234 | 2709 | 1176.3 | 387 | 17644 | 5806 | 584 | 734 | 505 | 387 | 317 | 149 | 135 | 297 | 3 | 27 | 287 | 75 | CATG-800 | 868 |
| CLRG-80012 | 800 | 300 | 8234 | 2709 | 1176.3 | 387 | 35288 | 11611 | 734 | 1034 | 505 | 387 | 317 | 149 | 135 | 297 | 3 | 27 | 287 | 75 | CATG-800 | 1058 |
| CLRG-10002 | 1000 | 50 | 10260 | 3792 | 3792 | 541.7 | 7329 | 2709 | 564 | 614 | 560 | 432 | 343 | 174 | 170 | 323 | 3 | 27 | 311 | 93 | CATG-1000 | 1062 |
| CLRG-10006 | 1000 | 150 | 10260 | 3792 | 3792 | 541.7 | 21986 | 8126 | 664 | 814 | 560 | 432 | 343 | 174 | 170 | 323 | 3 | 27 | 311 | 93 | CATG-1000 | 1213 |
| CLRG-100012 | 1000 | 300 | 10260 | 3792 | 3792 | 541.7 | 43972 | 16252 | 814 | 1114 | 560 | 432 | 343 | 174 | 170 | 323 | 3 | 27 | 311 | 93 | CATG-1000 | 1439 |