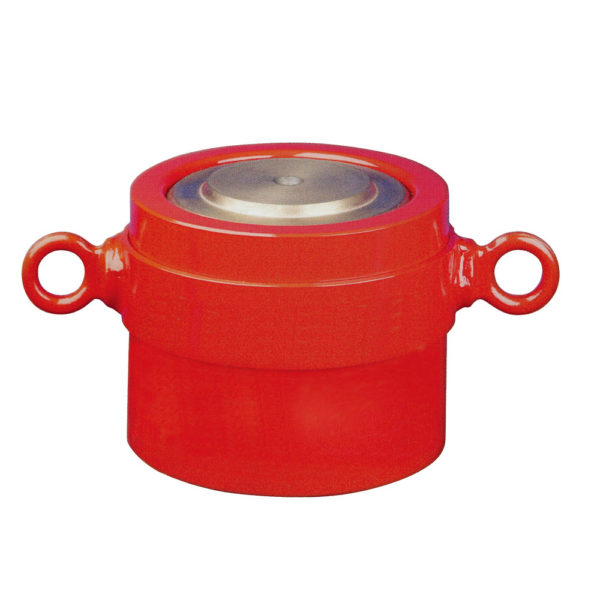 R Series, Single Acting High Tonnage Hydraulic Cylinders
Pullertop R series hydraulic cylinders are high-tonnage hydraulic jacks with a capacity from 55 tons to 565 tons. It features a single-acting load return design and is ideally suited for construction, civil engineering, heavy fabrication, and maintenance applications. 
Product Description
Series: R Series
Product Lines: High Tonnage Hydraulic Cylinders
Visible indicator band alerts when the stroke limit is reached. The overflow port (weep hole) stroke limiter prevents the piston from being overextended.
Alloy heat-treated piston and body for reliability and strength.
Plated piston rod increases corrosion resistance and gives superior bearing support.
Optional swivel load caps reduce the effects of off-center loading tilts up to 5 degrees. Radial grooves on top of the cap reduce load slippage.
Single-acting load return.
Think Safety

Manufacturer's rating of load and stroke are maximum safe limits. Good practice encourages using only 80% of these ratings!
Product Picture
Series Specifications
| | |
| --- | --- |
| Capacity: | 55-565 Ton |
| Stroke: | 50.8-304.8mm |
| Collapsed Height: | 125.4-546.1mm |
| Maximum Operating Pressure : | 70Mpa |
| Weight: | 12.3-539.2Kg |
Series Comparison
| Model Number | Capacity/Ton | Stroke/mm | Oil Capacity/cm3 | Collapsed Height/mm(A) | Cylinder Dia/mm(D) | Piston Dia/mm(E) | Weight/Kg |
| --- | --- | --- | --- | --- | --- | --- | --- |
| R552C | 55 | 50.8 | 362 | 125.4 | 127 | 95.3 | 12.3 |
| R554C | 55 | 101.6 | 725 | 212.7 | 127 | 95.3 | 17.5 |
| R556C | 55 | 152.4 | 1087 | 227 | 127 | 95.3 | 22.7 |
| R558C | 55 | 203.2 | 1449 | 277.8 | 127 | 95.3 | 27.9 |
| R5510C | 55 | 254 | 1811 | 328.6 | 127 | 95.3 | 32.7 |
| R5512C | 55 | 304.8 | 2174 | 379.4 | 127 | 95.3 | 37.9 |
| R1002C | 100 | 50.8 | 677 | 139.7 | 165.1 | 130.2 | 23.6 |
| R1004C | 100 | 101.6 | 1353 | 190.5 | 165.1 | 130.2 | 32 |
| R1006C | 100 | 152.4 | 2030 | 241.3 | 165.1 | 130.2 | 40.4 |
| R1008C | 100 | 203.2 | 2705 | 292.1 | 165.1 | 130.2 | 48.8 |
| R10010C | 100 | 254 | 3382 | 342.9 | 165.1 | 130.2 | 57.2 |
| R10012C | 100 | 304.8 | 4058 | 393.7 | 165.1 | 130.2 | 65.6 |
| R1502C | 150 | 50.8 | 1007 | 161.9 | 204.8 | 158.8 | 41.8 |
| R1504C | 150 | 101.6 | 2012 | 212.7 | 204.8 | 158.8 | 55.3 |
| R1506C | 150 | 152.4 | 3019 | 263.5 | 204.8 | 158.8 | 68.6 |
| R1508C | 150 | 203.2 | 4025 | 314.3 | 204.8 | 158.8 | 82 |
| R15010C | 150 | 254 | 5032 | 365.1 | 204.8 | 158.8 | 95.3 |
| R15012C | 150 | 304.8 | 6037 | 415.9 | 204.8 | 158.8 | 108.8 |
| R2002C | 200 | 50.8 | 1355 | 190.5 | 235 | 184.2 | 65.8 |
| R2004C | 200 | 101.6 | 2707 | 241.3 | 235 | 184.2 | 83 |
| R2006C | 200 | 152.4 | 4062 | 292.1 | 235 | 184.2 | 100.3 |
| R2008C | 200 | 203.2 | 5415 | 342.9 | 235 | 184.2 | 117.6 |
| R20010C | 200 | 254 | 6769 | 393.7 | 235 | 184.2 | 134.9 |
| R20012C | 200 | 304.8 | 8122 | 444.5 | 235 | 184.2 | 152.7 |
| R2802C | 280 | 50.8 | 1860 | 190.5 | 260.4 | 215.9 | 91.6 |
| R2804C | 280 | 101.6 | 3720 | 241.3 | 260.4 | 215.9 | 114.2 |
| R2806C | 280 | 152.4 | 5579 | 292.1 | 260.4 | 215.9 | 136.7 |
| R2808C | 280 | 203.2 | 7439 | 342.7 | 260.4 | 215.9 | 159.3 |
| R28010C | 280 | 254 | 9299 | 393.5 | 260.4 | 215.9 | 181.9 |
| R28012C | 280 | 304.8 | 11159 | 444.3 | 260.4 | 215.9 | 204.5 |
| R3552C | 355 | 50.8 | 2326 | 231.8 | 298.5 | 241.3 | 137.1 |
| R3554C | 355 | 101.6 | 4646 | 282.6 | 298.5 | 241.3 | 167 |
| R3556C | 355 | 152.4 | 6975 | 333.4 | 298.5 | 241.3 | 197 |
| R3558C | 355 | 203.2 | 9292 | 384.2 | 298.5 | 241.3 | 227 |
| R35510C | 355 | 254 | 11616 | 435 | 298.5 | 241.3 | 256.5 |
| R35512C | 355 | 304.8 | 13939 | 485.3 | 298.5 | 241.3 | 287 |
| R4302C | 430 | 50.8 | 2841 | 263.5 | 330.2 | 266.7 | 199.8 |
| R4304C | 430 | 101.6 | 5676 | 314.3 | 330.2 | 266.7 | 238.2 |
| R4306C | 430 | 152.4 | 8520 | 365.1 | 330.2 | 266.7 | 276.5 |
| R4308C | 430 | 203.2 | 11352 | 415.9 | 330.2 | 266.7 | 315 |
| R43010C | 430 | 254 | 14190 | 466.7 | 330.2 | 266.7 | 353.4 |
| R43012C | 430 | 304.8 | 17028 | 517.5 | 330.2 | 266.7 | 391.8 |
| R5652C | 565 | 50.8 | 3710 | 292.1 | 377.8 | 304.8 | 289.7 |
| R5654C | 565 | 101.6 | 7413 | 342.9 | 377.8 | 304.8 | 339.6 |
| R5656C | 565 | 152.4 | 11129 | 393.7 | 377.8 | 304.8 | 389.5 |
| R5658C | 565 | 203.2 | 14827 | 444.5 | 377.8 | 304.8 | 439.4 |
| R56510C | 565 | 254 | 18548 | 495.3 | 377.8 | 304.8 | 489.4 |
| R56512C | 565 | 304.8 | 22240 | 546.1 | 377.8 | 304.8 | 539.2 |