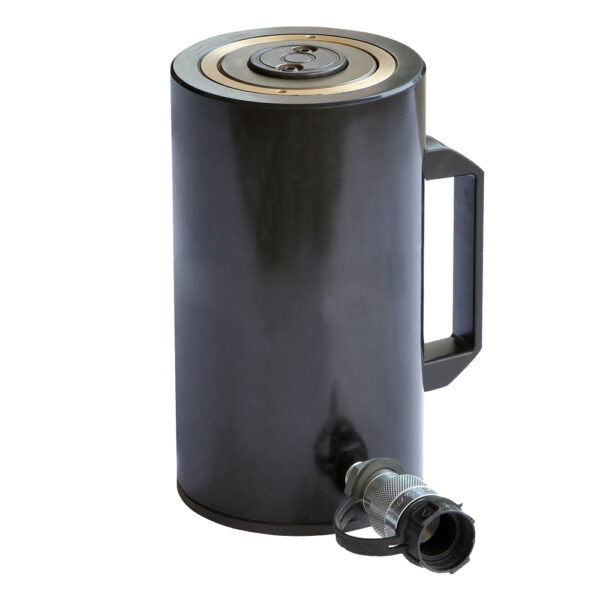 RAC Series, Single Acting Aluminum Hydraulic Cylinders
Pullertop RAC series aluminum hydraulic cylinders feature a single-acting lightweight design and are suitable for lifting operations up to 150 tons.
Product Description
Series: RAC Series
Product Lines: Aluminum Hydraulic Cylinders
Lightweight aluminum design for maximum portability.
Single-acting, spring return.
A hard coat finish on all surfaces resists damage and extends cylinder life.
Think Safety

Manufacturer's rating of load and stroke are maximum safe limits. Good practice encourages using only 80% of these ratings!
Product Picture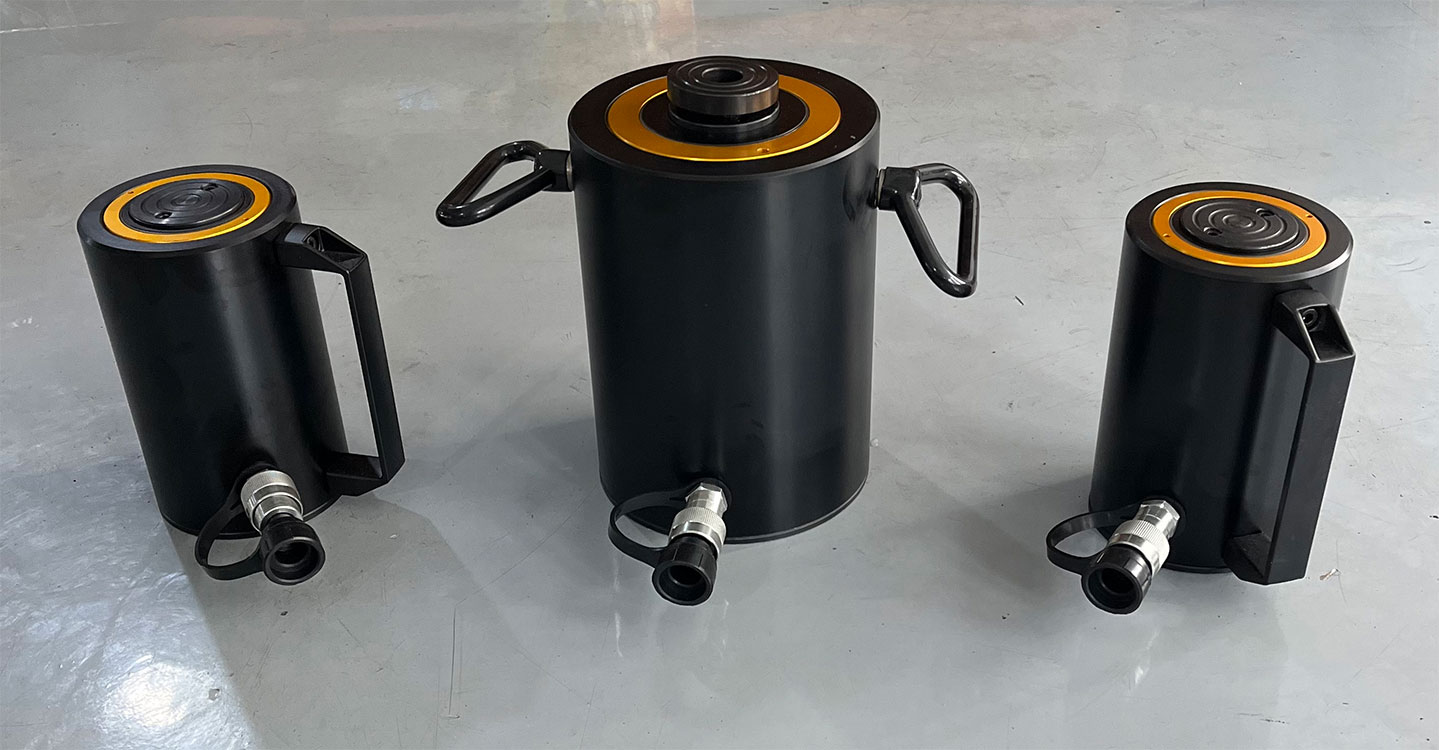 Series Specifications
| | |
| --- | --- |
| Capacity: | 20-150 Ton |
| Stroke: | 50-150mm |
| Collapsed Height: | 174-443mm |
| Maximum Operating Pressure : | 70Mpa |
| Weight: | 3.6-41.3Kg |
Series Comparison
| Model Number | Capacity/Ton | Stroke/mm | Cylinder Effective Area/cm2 | Oil Capacity/cm3 | Collapsed Height/mm(A) | Extended Height/mm(B) | Outside Dia/mm(D) | Cylinder Bore Dia/mm(E) | Plunger Dia/mm(F) | Base To Advance Port/mm(H) | Saddle Dia/mm(J) | Saddle Protri. From Plgr./mm(K) | Base Mounting Holes Bolt Circle/mm(U) | Base Mounting Holes Thread(V) | Base Mounting Holes Thread Depth/mm(Z) | Weight/Kg |
| --- | --- | --- | --- | --- | --- | --- | --- | --- | --- | --- | --- | --- | --- | --- | --- | --- |
| RAC-202 | 20 | 50 | 31.2 | 156 | 174 | 224 | 85 | 63 | 50 | 27 | 40 | 3 | 70 | M6 | 12 | 3.6 |
| RAC-204 | 20 | 100 | 31.2 | 312 | 224 | 324 | 85 | 63 | 50 | 27 | 40 | 3 | 70 | M6 | 12 | 4.1 |
| RAC-206 | 20 | 150 | 31.2 | 468 | 274 | 424 | 85 | 63 | 50 | 27 | 40 | 3 | 70 | M6 | 12 | 4.6 |
| RAC-208 | 20 | 200 | 31.2 | 624 | 324 | 524 | 85 | 63 | 50 | 27 | 40 | 3 | 70 | M6 | 12 | 5.1 |
| RAC-2010 | 20 | 250 | 31.2 | 780 | 374 | 624 | 85 | 63 | 50 | 27 | 40 | 3 | 70 | M6 | 12 | 5.6 |
| RAC-302 | 30 | 50 | 44.2 | 221 | 181 | 231 | 100 | 75 | 60 | 32 | 40 | 3 | 80 | M6 | 12 | 4.5 |
| RAC-304 | 30 | 100 | 44.2 | 442 | 231 | 331 | 100 | 75 | 60 | 32 | 40 | 3 | 80 | M6 | 12 | 5.2 |
| RAC-306 | 30 | 150 | 44.2 | 663 | 281 | 431 | 100 | 75 | 60 | 32 | 40 | 3 | 80 | M6 | 12 | 5.9 |
| RAC-308 | 30 | 200 | 44.2 | 884 | 331 | 531 | 100 | 75 | 60 | 32 | 40 | 3 | 80 | M6 | 12 | 6.6 |
| RAC-3010 | 30 | 250 | 44.2 | 1105 | 381 | 631 | 100 | 75 | 60 | 32 | 40 | 3 | 80 | M6 | 12 | 7.3 |
| RAC-502 | 50 | 50 | 70.9 | 354 | 186 | 236 | 130 | 95 | 80 | 30 | 50 | 3 | 110 | M6 | 12 | 8.5 |
| RAC-504 | 50 | 100 | 70.9 | 709 | 236 | 336 | 130 | 95 | 80 | 30 | 50 | 3 | 110 | M6 | 12 | 9.8 |
| RAC-506 | 50 | 150 | 70.9 | 1063 | 286 | 436 | 130 | 95 | 80 | 30 | 50 | 3 | 110 | M6 | 12 | 11.1 |
| RAC-508 | 50 | 200 | 70.9 | 1417 | 336 | 536 | 130 | 95 | 80 | 30 | 50 | 3 | 110 | M6 | 12 | 12.4 |
| RAC-5010 | 50 | 250 | 70.9 | 1771 | 386 | 636 | 130 | 95 | 80 | 30 | 50 | 3 | 110 | M6 | 12 | 13.7 |
| RAC-1002 | 100 | 50 | 143.1 | 715 | 221 | 271 | 180 | 135 | 110 | 46 | 94 | 3 | 150 | M10 | 12 | 17.3 |
| RAC-1004 | 100 | 100 | 143.1 | 1431 | 271 | 371 | 180 | 135 | 110 | 46 | 94 | 3 | 150 | M10 | 12 | 19.6 |
| RAC-1006 | 100 | 150 | 143.1 | 2147 | 321 | 471 | 180 | 135 | 110 | 46 | 94 | 3 | 150 | M10 | 12 | 21.9 |
| RAC-1008 | 100 | 200 | 143.1 | 2863 | 371 | 571 | 180 | 135 | 110 | 46 | 94 | 3 | 150 | M10 | 12 | 24.2 |
| RAC-10010 | 100 | 250 | 143.1 | 3578 | 421 | 671 | 180 | 135 | 110 | 46 | 94 | 3 | 150 | M10 | 12 | 26.5 |
| RAC-1502 | 150 | 50 | 227 | 1135 | 243 | 293 | 230 | 170 | 140 | 51 | 113 | 3 | 200 | M10 | 12 | 25.3 |
| RAC-1504 | 150 | 100 | 227 | 2270 | 293 | 393 | 230 | 170 | 140 | 51 | 113 | 3 | 200 | M10 | 12 | 29.3 |
| RAC-1506 | 150 | 150 | 227 | 3405 | 343 | 493 | 230 | 170 | 140 | 51 | 113 | 3 | 200 | M10 | 12 | 33.3 |
| RAC-1508 | 150 | 200 | 227 | 4540 | 393 | 593 | 230 | 170 | 140 | 51 | 113 | 3 | 200 | M10 | 12 | 37.3 |
| RAC-15010 | 150 | 250 | 227 | 5675 | 443 | 693 | 230 | 170 | 140 | 51 | 113 | 3 | 200 | M10 | 12 | 41.3 |