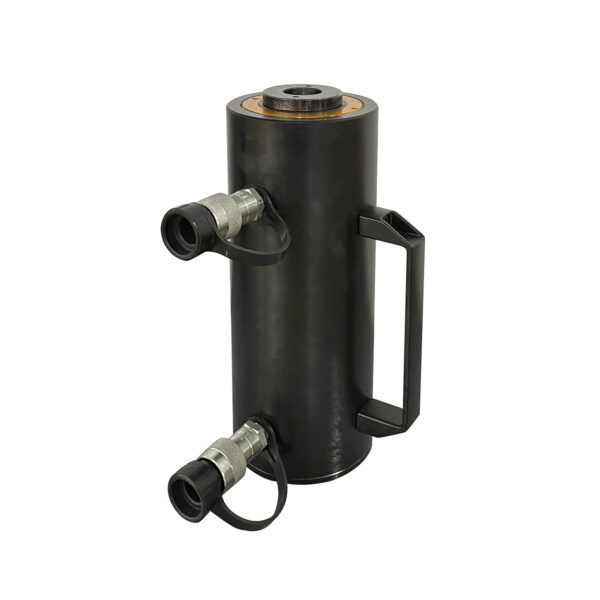 RARH Series, Double Acting Aluminum Hollow Plunger Hydraulic Cylinders
Pullertop RARH series aluminum hydraulic cylinders feature a hollow plunger design, which provides both push and pull forces for applications such as tensioning, load testing, bush extracting, and maintenance. 
Product Description
Series: RARH Series
Product Lines: Aluminum Hydraulic Cylinders
Double-acting for rapid retraction,built-in safety valve prevents accidental over-pressurization.
Hollow plunger design allows for both pull and push forces.
Hard coat finish on all surfaces resists damage and extends cylinder life.
Steel baseplate and saddle for protection against load-induced damage.
Think Safety

Manufacturer's rating of load and stroke are maximum safe limits. Good practice encourages using only 80% of these ratings!
Series Specifications
| | |
| --- | --- |
| Capacity: | 30-150 Ton |
| Stroke: | 50-250mm |
| Collapsed Height: | 209-464mm |
| Maximum Operating Pressure : | 70Mpa |
| Weight: | 8.9-70Kg |
Series Comparison
| Model Number | Capacity/Ton | Stroke/mm | Collapsed Height/mm | Oil Capacity Advance/cm3 | Oil Capacity Retract/cm3 | Outside Dia/mm | Plunger Dia/mm | Hollow Dia/mm | Weight/Kg |
| --- | --- | --- | --- | --- | --- | --- | --- | --- | --- |
| RARH-302 | 30 | 50 | 209 | 256 | 134 | 135 | 75 | 34 | 8.9 |
| RARH-306 | 30 | 150 | 309 | 769 | 401 | 135 | 75 | 34 | 11.9 |
| RARH-3010 | 30 | 250 | 409 | 1281 | 668 | 135 | 75 | 34 | 14.9 |
| RARH-602 | 60 | 50 | 246 | 425 | 189 | 180 | 110 | 54 | 16.8 |
| RARH-606 | 60 | 150 | 346 | 1274 | 566 | 180 | 110 | 54 | 22.2 |
| RARH-6010 | 60 | 250 | 446 | 2124 | 943 | 180 | 110 | 54 | 27.6 |
| RARH-1002 | 100 | 50 | 254 | 715 | 405 | 235 | 130 | 79 | 28.9 |
| RARH-1006 | 100 | 150 | 354 | 2144 | 1216 | 235 | 130 | 79 | 38.3 |
| RARH-10010 | 100 | 250 | 454 | 3574 | 2027 | 235 | 130 | 79 | 47.7 |
| RARH-1502 | 150 | 50 | 264 | 1063 | 534 | 280 | 150 | 79 | 42.4 |
| RARH-1506 | 150 | 150 | 364 | 3190 | 1602 | 280 | 150 | 79 | 56.2 |
| RARH-15010 | 150 | 250 | 464 | 5316 | 2670 | 280 | 150 | 79 | 70 |