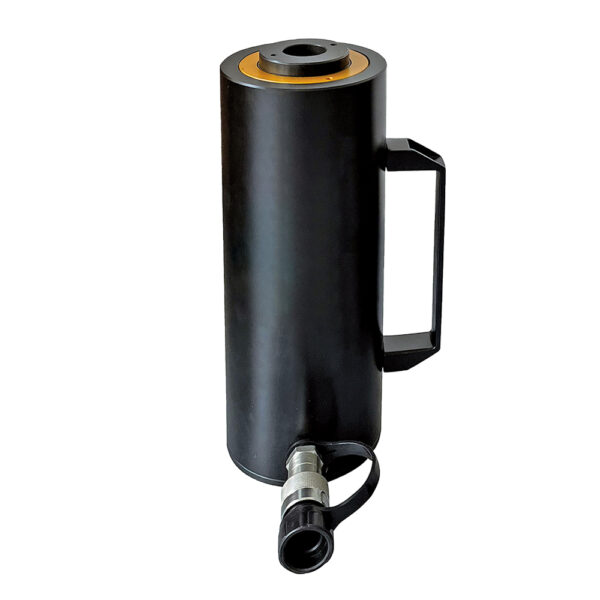 RACH Series, Single Acting Aluminum Hollow PLunger Hydraulic Cylinders
Pullertop RACH series aluminum hydraulic cylinders feature a hollow plunger design, which provides both push and pull forces for applications such as tensioning, load testing, bush extracting, and maintenance. 
Product Description
Series: RACH Series
Product Lines: Aluminum Hydraulic Cylinders
Lightweight aluminum design for maximum portability.
Single-acting, spring return.
Hollow plunger design for both pulls and push forces.
Think Safety

Manufacturer's rating of load and stroke are maximum safe limits. Good practice encourages using only 80% of these ratings!
Product Picture
Series Specifications
| | |
| --- | --- |
| Capacity: | 20-150 Ton |
| Stroke: | 50-250mm |
| Collapsed Height: | 188-570mm |
| Maximum Operating Pressure : | 70Mpa |
| Weight: | 5.2-77.2Kg |
Series Comparison
| Model Number | Capacity/Ton | Stroke/mm | Cylinder Effective Area/cm2 | Oil Capacity/cm3 | Collapsed Height/mm(A) | Extended Height/mm(B) | Outside Dia/mm(D) | Cylinder Bore Dia/mm(E) | Plunger Dia/mm(F) | Base To Advance Port/mm(H) | Saddle Dia/mm(J) | Saddle Protri. From Plgr./mm(K) | Center Hole Dia/mm(Y) | Base Mounting Holes Bolt Circle/mm(U) | Base Mounting Holes Thread(V) | Base Mounting Holes Thread Depth/mm(Z) | Weight/Kg |
| --- | --- | --- | --- | --- | --- | --- | --- | --- | --- | --- | --- | --- | --- | --- | --- | --- | --- |
| RACH-202 | 20 | 50 | 32.7 | 164 | 188 | 238 | 100 | 75 | 55 | 29 | 55 | 10 | 27 | 70 | M6 | 12 | 5.2 |
| RACH-204 | 20 | 100 | 32,7 | 327 | 251 | 351 | 100 | 75 | 55 | 29 | 55 | 10 | 27 | 70 | M6 | 12 | 6.1 |
| RACH-206 | 20 | 150 | 32.7 | 491 | 315 | 465 | 100 | 75 | 55 | 29 | 55 | 10 | 27 | 70 | M6 | 12 | 7.1 |
| RACH-208 | 20 | 200 | 32.7 | 654 | 378 | 578 | 100 | 75 | 55 | 29 | 55 | 10 | 27 | 70 | M6 | 12 | 8 |
| RACH-2010 | 20 | 250 | 32.7 | 818 | 442 | 692 | 100 | 75 | 55 | 29 | 55 | 10 | 27 | 70 | M6 | 12 | 9 |
| RACH-302 | 30 | 50 | 51.1 | 256 | 208 | 258 | 130 | 95 | 70 | 29 | 70 | 10 | 34 | 110 | M6 | 12 | 8 |
| RACH-304 | 30 | 100 | 51.1 | 511 | 267 | 367 | 130 | 95 | 70 | 29 | 70 | 10 | 34 | 110 | M6 | 12 | 9.5 |
| RACH-306 | 30 | 150 | 51.1 | 766 | 333 | 483 | 130 | 95 | 70 | 29 | 70 | 10 | 34 | 110 | M6 | 12 | 11.2 |
| RACH-308 | 30 | 200 | 51.1 | 1022 | 395 | 595 | 130 | 95 | 70 | 29 | 70 | 10 | 34 | 110 | M6 | 12 | 12.9 |
| RACH-3010 | 30 | 250 | 51.1 | 1277 | 458 | 708 | 130 | 95 | 70 | 29 | 70 | 10 | 34 | 110 | M6 | 12 | 14.5 |
| RACH-602 | 60 | 50 | 84.7 | 423 | 251 | 301 | 180 | 130 | 100 | 61 | 100 | 12 | 54 | 160 | M6 | 12 | 16.2 |
| RACH-604 | 60 | 100 | 84.7 | 847 | 315 | 415 | 180 | 130 | 100 | 61 | 100 | 12 | 54 | 160 | M6 | 12 | 19.5 |
| RACH-606 | 60 | 150 | 84.7 | 1270 | 380 | 530 | 180 | 130 | 100 | 61 | 100 | 12 | 54 | 160 | M6 | 12 | 25.6 |
| RACH-608 | 60 | 200 | 84.7 | 1694 | 445 | 645 | 180 | 130 | 100 | 61 | 100 | 12 | 54 | 160 | M6 | 12 | 26 |
| RACH-6010 | 60 | 250 | 84.7 | 2117 | 510 | 760 | 180 | 130 | 100 | 61 | 100 | 12 | 54 | 160 | M6 | 12 | 29.6 |
| RACH-1002 | 100 | 50 | 164.6 | 823 | 258 | 308 | 250 | 185 | 145 | 61 | 145 | 14 | 79 | 220 | M10 | 12 | 33.8 |
| RACH-1004 | 100 | 100 | 164.6 | 1646 | 325 | 425 | 250 | 185 | 145 | 61 | 145 | 14 | 79 | 220 | M10 | 12 | 39.8 |
| RACH-1006 | 100 | 150 | 164.6 | 2487 | 391 | 541 | 250 | 185 | 145 | 61 | 145 | 14 | 79 | 220 | M10 | 12 | 46.2 |
| RACH-1008 | 100 | 200 | 164.6 | 3291 | 459 | 659 | 250 | 185 | 145 | 61 | 145 | 14 | 79 | 220 | M10 | 12 | 52.2 |
| RACH-10010 | 100 | 250 | 164.6 | 4114 | 527 | 777 | 250 | 185 | 145 | 61 | 145 | 14 | 79 | 220 | M10 | 12 | 58.8 |
| RACH-1502 | 150 | 50 | 225.8 | 1129 | 280 | 330 | 275 | 205 | 150 | 61 | 145 | 14 | 79 | 245 | M10 | 12 | 48.9 |
| RACH-1504 | 150 | 100 | 225.8 | 2258 | 360 | 460 | 275 | 205 | 150 | 61 | 145 | 14 | 79 | 245 | M10 | 12 | 55.7 |
| RACH-1506 | 150 | 150 | 225.8 | 3387 | 430 | 580 | 275 | 205 | 150 | 61 | 145 | 14 | 79 | 245 | M10 | 12 | 63 |
| RACH-1508 | 150 | 200 | 225.8 | 4517 | 500 | 700 | 275 | 205 | 150 | 61 | 145 | 14 | 79 | 245 | M10 | 12 | 70.1 |
| RACH-15010 | 150 | 250 | 225.8 | 5646 | 570 | 820 | 275 | 205 | 150 | 61 | 145 | 14 | 79 | 245 | M10 | 12 | 77.2 |