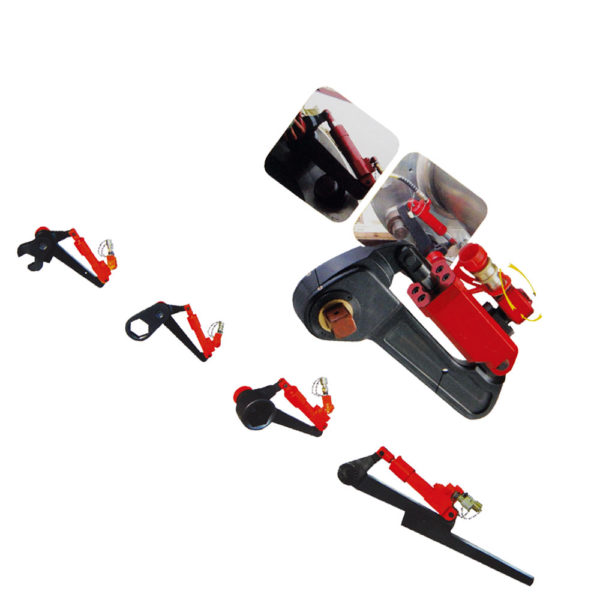 Big Power Hydraulic Torque Wrench
Pullertop big power hydraulic torque wrenches are made of high-strength Aluminum-Titan alloy, strong and durable. Our high torque hydraulic wrenches come with a max torque up to 180000 Nm.
Product Description
Product Lines: Hydraulic Torque Wrench
700bar maximum working pressure,repeat accuracy ±3%.
360° multi-positional swivel quick release couplings.
Aluminum-titanium alloy body,high resistance and lightweight.
Super big torque design allow 180000Nm torque.
Think Safety

Manufacturer's rating of load and stroke are maximum safe limits. Good practice encourages using only 80% of these ratings!
Dimesnion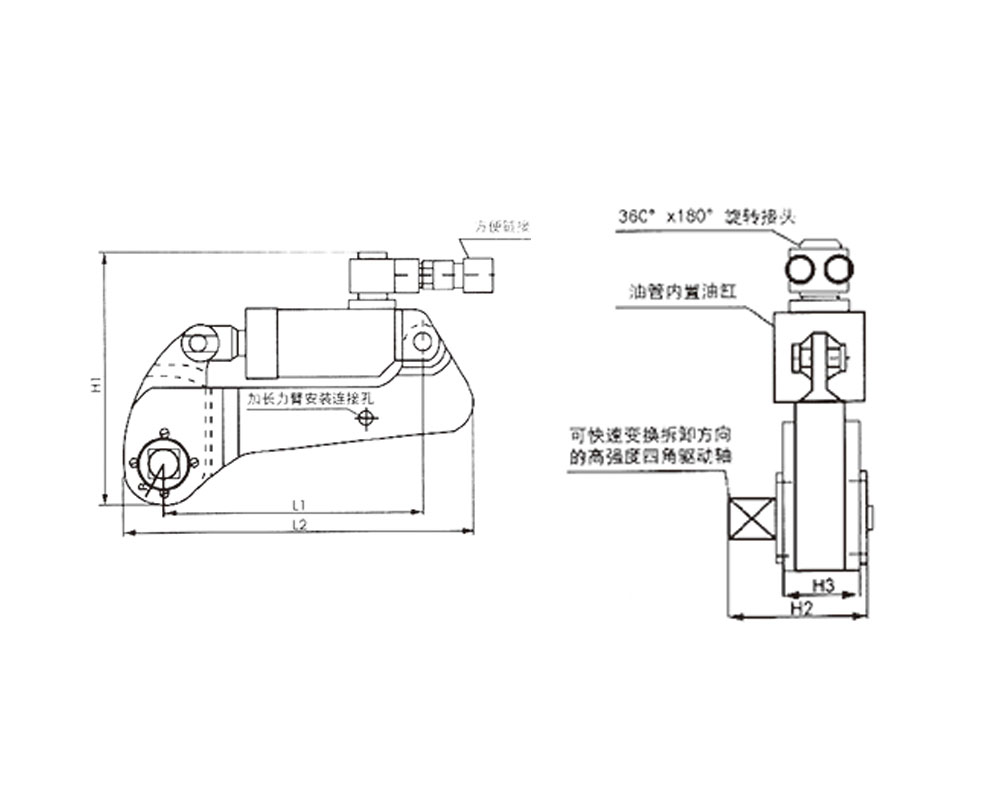 Series Comparison
| Model | Max. Torque Range (Nm) | Min. Torque Range (Nm) | Accuracy | L1 (mm) | L2 (mm) | H1(mm) | H2(mm) | H3(mm) | R(mm) | Square Drive Metric | Square Drive Inch | Weight(Kg) |
| --- | --- | --- | --- | --- | --- | --- | --- | --- | --- | --- | --- | --- |
| 805 | 4992 | 357 | ±5% | 211 | 289 | 204 | 91 | 50 | 35 | 25X25 | 1" | 7 |
| 810 | 11775 | 841 | ±5% | 256 | 355 | 251 | 125 | 69 | 45 | 38X38 | 1 1/2" | 14 |
| 820 | 19413 | 1387 | ±5% | 274 | 389 | 285 | 141 | 78 | 52 | 64X64 | 2 1/2" | 19 |
| 840 | 38100 | 2721 | ±4% | 329 | 473 | 332 | 174 | 96 | 70 | 64X64 | 2 1/2" | 37 |
| 860 | 57488 | 4106 | ±3% | 370 | 542 | 382 | 179 | 101 | 80 | 64X64 | 2 1/2" | 53 |
| 880 | 80224 | 5730 | ±3% | 396 | 583 | 413 | 216 | 118 | 88 | 76X76 | 3" | 55 |
| 8100 | 103670 | 7405 | ±3% | 430 | 624 | 430 | 227 | 124 | 94 | 89X89 | 3 1/2" | 91 |
| 8120 | 120323 | 8595 | ±4% | 447 | 655 | 453 | 240 | 132 | 102 | 89X89 | 3 1/2" | 122 |
| 8180 | 180677 | 12906 | ±3% | 505 | 758 | 513 | 270 | 150 | 124 | 102X102 | 4" | 175 |