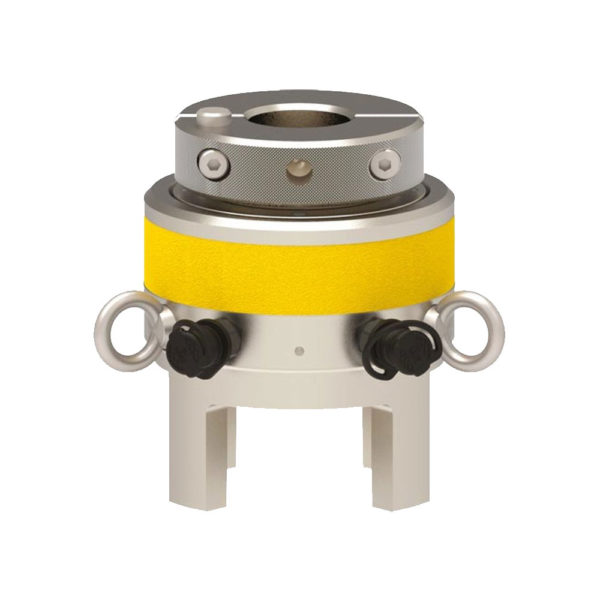 EAJ Series, Subsea Hydraulic Bolt Tensioners
The most cost-effective solution to subsea bolt or stud tightening. Easily positioned in poor visibility conditions, our subsea tensioners feature a compact design and long piston stroke. These tools' unique Split Nut design allows the rapid application to long bolts and damaged threads and fast tool removal.
Product Description
Product Lines: Hydraulic Bolt Tensioners
Compact design
Long piston stroke
Misalignment Compensation
Quick, simple hose connection
Visible piston stroke indication
'No spill' over stroke elimination
Quick fastening or solid reaction nut
Tommy Bar included with Load Cell
Think Safety

Manufacturer's rating of load and stroke are maximum safe limits. Good practice encourages using only 80% of these ratings!
Dimension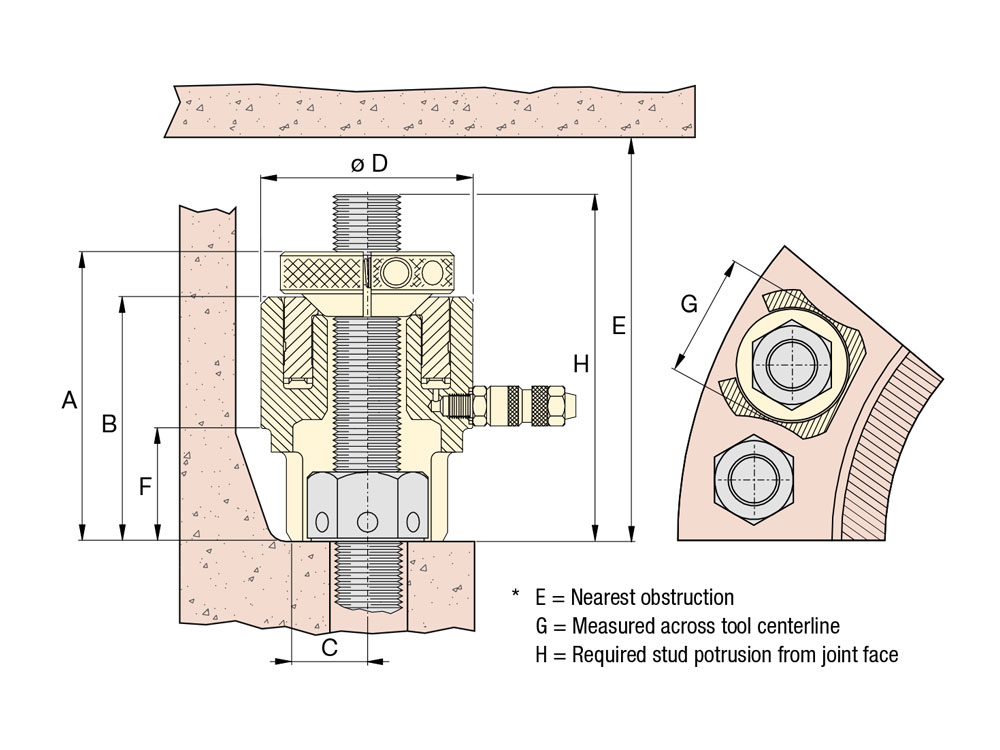 Series Comparison
| Load Cell Model Number | Thread Size | Quick Fastening Nut Model Number | Cylinder Effective Area/mm2 | Maximum Load Capacity/KN | Stroke/mm | Dimension A/mm | Dimension B/mm | Dimension C/mm | Dimension D/mm | Dimension E/mm | Dimension F/mm | Dimension G/mm | Dimension H/mm | Total Weight/Kg |
| --- | --- | --- | --- | --- | --- | --- | --- | --- | --- | --- | --- | --- | --- | --- |
| EAJ1LC | 3/4"-10UN | EAJ1QFN0750U10 | 1008.7 | 151.3 | 20 | 114 | 91 | 19 | 66 | 217 | 35 | 53 | 119 | 1.5 |
| EAJ1LC | 7/8"-9UN | EAJ1QFN0875U09 | 1008.7 | 151.3 | 20 | 114 | 91 | 19 | 66 | 217 | 35 | 53 | 119 | 1.5 |
| EAJ1LC | M20X2.5 | EAJ1QFNM02025 | 1008.7 | 151.3 | 20 | 114 | 91 | 19 | 66 | 217 | 35 | 53 | 119 | 1.5 |
| EAJ1LC | M22X2.5 | EAJ1QFNM02225 | 1008.7 | 151.3 | 20 | 114 | 91 | 19 | 66 | 217 | 35 | 53 | 119 | 1.5 |
| EAJ2LC | 1"-8UN | EAJ2QFN1000U08 | 1658.4 | 248.7 | 30 | 147 | 120 | 25 | 82 | 289 | 50 | 62 | 152 | 3 |
| EAJ2LC | M24X2.5 | EAJ2QFNM02425 | 1658.4 | 248.7 | 30 | 147 | 120 | 25 | 82 | 289 | 50 | 62 | 152 | 3 |
| EAJ2LC | M27X3 | EAJ2QFNM02730 | 1658.4 | 248.7 | 30 | 147 | 120 | 25 | 82 | 289 | 50 | 62 | 152 | 3 |
| EAJ2LC | 1 1/8"-8UN | EAJ2QFN1125U08 | 1658.4 | 248.7 | 30 | 147 | 120 | 25 | 82 | 289 | 50 | 62 | 152 | 3 |
| EAJ2LC | M30X3.5 | EAJ2QFNM03035 | 1658.4 | 248.7 | 30 | 147 | 120 | 25 | 82 | 289 | 50 | 62 | 152 | 3 |
| EAJ3LC | 1 1/4"-8UN | EAJ3QFN1250U08 | 2524.3 | 378.6 | 30 | 158 | 131 | 28 | 98 | 307 | 58 | 78 | 163 | 4.5 |
| EAJ3LC | M33X3.5 | EAJ3QFNM03335 | 2524.3 | 378.6 | 30 | 158 | 131 | 28 | 98 | 307 | 58 | 78 | 163 | 4.5 |
| EAJ3LC | 1 3/8"-8UN | EAJ3QFN1375U08 | 2524.3 | 378.6 | 30 | 158 | 131 | 28 | 98 | 307 | 58 | 78 | 163 | 4.5 |
| EAJ3LC | M36X3.5 | EAJ3QFNM03635 | 2524.3 | 378.6 | 30 | 158 | 131 | 28 | 98 | 307 | 58 | 78 | 163 | 4.5 |
| EAJ4LC | 1 1/2"-8UN | EAJ4QFN1500U08 | 3686.7 | 553 | 30 | 171 | 136 | 33 | 114 | 319 | 63 | 91 | 176 | 6 |
| EAJ4LC | M39X4 | EAJ4QFNM03940 | 3686.7 | 553 | 30 | 171 | 136 | 33 | 114 | 319 | 63 | 91 | 176 | 6 |
| EAJ4LC | 1 5/8"-8UN | EAJ4QFN1625U08 | 3686.7 | 553 | 30 | 171 | 136 | 33 | 114 | 319 | 63 | 91 | 176 | 6 |
| EAJ4LC | M42X4.5 | EAJ4QFNM04245 | 3686.7 | 553 | 30 | 171 | 136 | 33 | 114 | 319 | 63 | 91 | 176 | 6 |
| EAJ5LC | 1 3/4"-8UN | EAJ5QFN1750U08 | 5908.7 | 886.3 | 30 | 184 | 146 | 40 | 139 | 342 | 70 | 114 | 189 | 9 |
| EAJ5LC | M45X4.5 | EAJ5QFNM04545 | 5908.7 | 886.3 | 30 | 184 | 146 | 40 | 139 | 342 | 70 | 114 | 189 | 9 |
| EAJ5LC | 1 7/8"-8UN | EAJ5QFN1875U08 | 5908.7 | 886.3 | 30 | 184 | 146 | 40 | 139 | 342 | 70 | 114 | 189 | 9 |
| EAJ5LC | M48X5 | EAJ5QFNM04850 | 5908.7 | 886.3 | 30 | 184 | 146 | 40 | 139 | 342 | 70 | 114 | 189 | 9 |
| EAJ5LC | 2"-8UN | EAJ5QFN2000U08 | 5908.7 | 886.3 | 30 | 184 | 146 | 40 | 139 | 342 | 70 | 114 | 189 | 9 |
| EAJ5LC | M52X5 | EAJ5QFNM05250 | 5908.7 | 886.3 | 30 | 184 | 146 | 40 | 139 | 342 | 70 | 114 | 189 | 9 |
| EAJ6LC | M56X5.5 | EAJ6QFNM05655 | 8312.8 | 1246.9 | 30 | 201 | 161 | 49 | 164 | 367 | 82 | 138 | 206 | 13 |
| EAJ6LC | 2 1/4"-8UN | EAJ6QFN2250U08 | 8312.8 | 1246.9 | 30 | 201 | 161 | 49 | 164 | 367 | 82 | 138 | 206 | 13 |
| EAJ6LC | M60X5.5 | EAJ6QFNM06055 | 8312.8 | 1246.9 | 30 | 201 | 161 | 49 | 164 | 367 | 82 | 138 | 206 | 13 |
| EAJ6LC | 2 1/2"-8UN | EAJ6QFN2500U08 | 8312.8 | 1246.9 | 30 | 201 | 161 | 49 | 164 | 367 | 82 | 138 | 206 | 13 |
| EAJ6LC | M64X6 | EAJ6QFNM06460 | 8312.8 | 1246.9 | 30 | 201 | 161 | 49 | 164 | 367 | 82 | 138 | 206 | 13 |
| EAJ7LC | M68X6 | EAJ7QFNM06860 | 12369 | 1855.4 | 30 | 230 | 178 | 75 | 192 | 400 | 95 | 154 | 235 | 19 |
| EAJ7LC | 2 3/4"-8UN | EAJ7QFN2750U08 | 12369 | 1855.4 | 30 | 230 | 178 | 75 | 192 | 400 | 95 | 154 | 235 | 19 |
| EAJ7LC | M72X6 | EAJ7QFNM07260 | 12369 | 1855.4 | 30 | 230 | 178 | 75 | 192 | 400 | 95 | 154 | 235 | 19 |
| EAJ7LC | M76X6 | EAJ7QFNM07660 | 12369 | 1855.4 | 30 | 230 | 178 | 75 | 192 | 400 | 95 | 154 | 235 | 19 |
| EAJ7LC | 3"-8UN | EAJ7QFN3000U08 | 12369 | 1855.4 | 30 | 230 | 178 | 75 | 192 | 400 | 95 | 154 | 235 | 19 |
| EAJ8LC | M80X6 | EAJ8QFNM08060 | 15473 | 2320.9 | 30 | 247 | 193 | 68 | 216 | 412 | 109 | 182 | 252 | 24.5 |
| EAJ8LC | 3 1/4"-8UN | EAJ8QFN3250U08 | 15473 | 2320.9 | 30 | 247 | 193 | 68 | 216 | 412 | 109 | 182 | 252 | 24.5 |
| EAJ8LC | M85X6 | EAJ8QFNM08560 | 15473 | 2320.9 | 30 | 247 | 193 | 68 | 216 | 412 | 109 | 182 | 252 | 24.5 |
| EAJ8LC | 3 1/2"-8UN | EAJ8QFN3500U08 | 15473 | 2320.9 | 30 | 247 | 193 | 68 | 216 | 412 | 109 | 182 | 252 | 24.5 |
| EAJ8LC | M90X6 | EAJ8QFNM09060 | 15473 | 2320.9 | 30 | 247 | 193 | 68 | 216 | 412 | 109 | 182 | 252 | 24.5 |