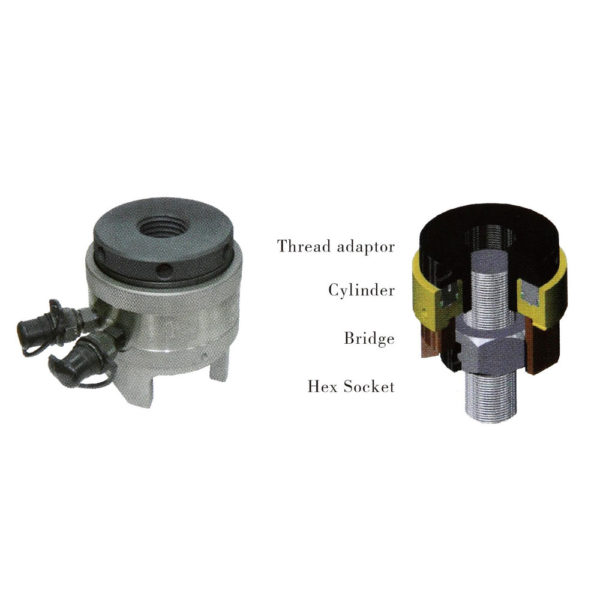 SBT Series,  Hydraulic Bolt Tensioners
Pullertop specializes in the production of bolt tensioners of various specifications, with high precision, long life, and uniform and precise tensioning of bolts. Using high-strength alloy materials, reliable quality, and high precision, Pullertop is your preferred brand of bolt tensioners!
Product Description
Product Lines: Hydraulic Bolt Tensioners
Fit all standard flanges, including ANSI and API flanges.
Lightweight and easy to carry.
Quick-release bridge and hex.
Socket design for fast changeover.
Electroless nickel plating prolongs tool life and reduces on-the-job maintenance.
Improved seal design offer increased reliability.
Simple and easy to maintain.
Think Safety

Manufacturer's rating of load and stroke are maximum safe limits. Good practice encourages using only 80% of these ratings!
Image Gallery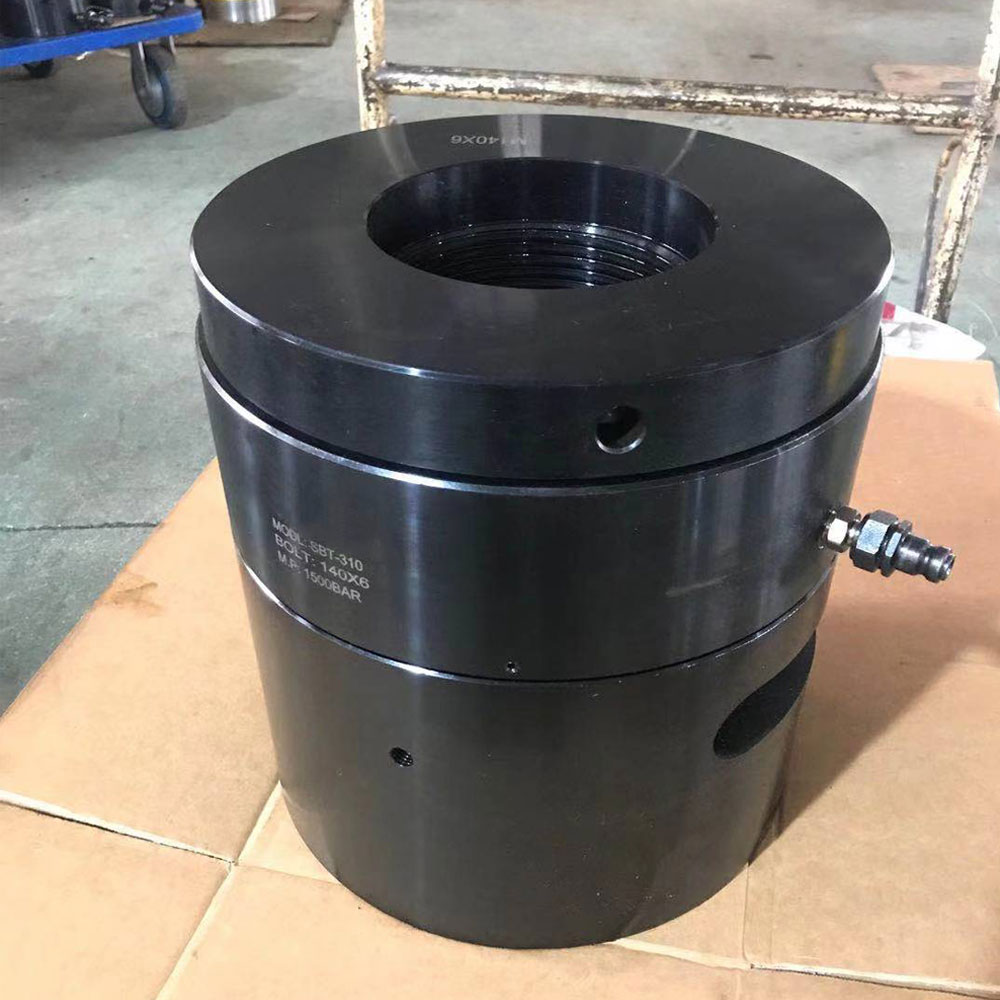 Dimension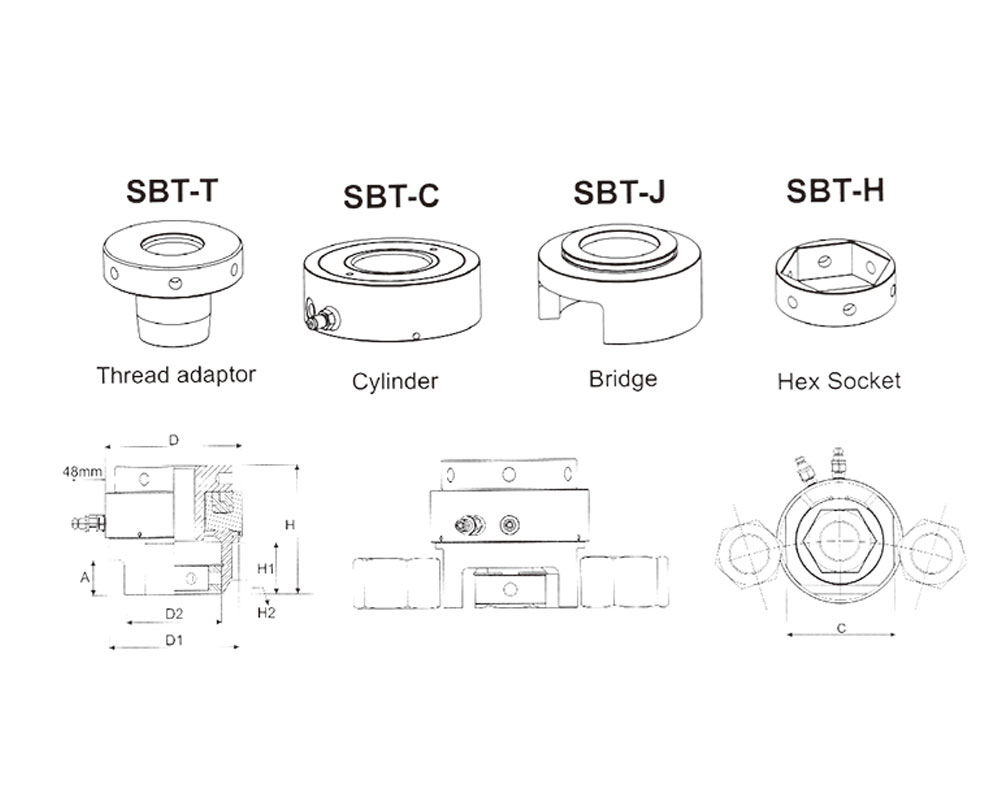 Series Comparison
| Model | SBT-20 | SBT-35 | SBT-50 | SBT-60 | SBT-90 | SBT-130 | SBT-160 | SBT-200 | SBT-250 | SBT-310 |
| --- | --- | --- | --- | --- | --- | --- | --- | --- | --- | --- |
| Bolt Dimension | M20*2.5 | M27*3 | M36*4 | M42*4.5 | M45*4.5 | M60*5.5 | M72*5.5 | M80*6 | M100*6 | M125*6 |
| Bolt Dimension | M22*2.5 | M30*3.5 | M39*4 | M45*4.5 | M48*5 | M64*6 | M76*6 | M85*6 | M110*6 | M130*6 |
| Bolt Dimension | M24*3 | M33*3.5 | M42*4.5 | M48*5 | M52*5 | M68*6 | M80*6 | M90*6 | M120*6 | M140*6 |
| Bolt Dimension | M27*3 | M36*4 | M45*4.5 | M52*5 | M56*5.5 | M72*6 | * | M95*6 | M125*6 | M150*6 |
| Bolt Dimension | * | * | * | * | M60*5.5 | M76*6 | * | M100*6 | * | * |
| Thread/inch | 3/4"-10 | 1"-10 | 1 3/8"-6 | 1 1/2"-6 | 1 3/4"-5 | 2 1/2"-4 | 2 3/4"-4 | 3 1/4"-4 | 3 3/4"-4 | 5"-4 |
| Thread/inch | 7/8"-9 | 1 1/8"-7 | 1 1/2"-6 | 1 3/4"-5 | 2"-4 1/2 | 2 3/4"-4 | 3"-4 | 3 1/2"-4 | 4"-4 | 5 1/4"-4 |
| Thread/inch | 1"-8 | 1 1/4"-7 | 1 3/4"-5 | 2"-4 1/2 | 2 1/4"-4 1/2 | * | * | 3 3/4"-4 | 4 3/4"-4 | 5 1/2"-4 |
| Thread/inch | * | 1 3/8"-6 | * | * | * | * | * | * | 4 1/2"-4 | 5 3/4"-4 |
| Thread/inch | * | * | * | * | * | * | * | * | 4 3/4"-4 | * |
| Max Working Pressure/bar | 1500 | 1500 | 1500 | 1500 | 1500 | 1500 | 1500 | 1500 | 1500 | 1500 |
| Hydraulic Area/cm3 | 20 | 35 | 50 | 60 | 90 | 130 | 160 | 200 | 250 | 310 |
| Max. Hydraulic Load/KN | 300 | 525 | 750 | 900 | 1350 | 1950 | 2400 | 3000 | 3750 | 4650 |
| Piston Stroke/mm | 8 | 8 | 8 | 8 | 8 | 8 | 10 | 10 | 10 | 10 |
| D/mm | 86 | 109 | 128 | 144 | 170 | 198 | 220 | 244 | 300 | 340 |
| D/mm | 105 | 116 | 128 | 140 | 154 | 185 | 190 | 203 | 235 | 268 |
| H1/mm | 25 | 35 | 45 | 54 | 59 | 74 | 74 | 97 | 131 | 156 |
| H2/mm | 5.2 | 5.2 | 10.39 | 10.39 | 13.86 | 22.52 | 22.52 | 22.52 | 22.52 | 32.52 |
| D1/mm | 74 | 97 | 116 | 133 | 154 | 187 | 203 | 232 | 272 | 313 |
| D2/mm | 56 | 73 | 90 | 102 | 114 | 137 | 145 | 180 | 223 | 260 |
| A/mm | 26 | 31 | 38 | 40 | 42 | 50 | 50 | 60 | 73 | 86 |
| C/mm | 66 | 83 | 100 | 118 | 134 | 167 | 175 | 210 | 253 | 293 |
| Weight/Kg | 3 | 4.8 | 7.5 | 11 | 17.3 | 25 | 33 | 39 | 56 | 77 |