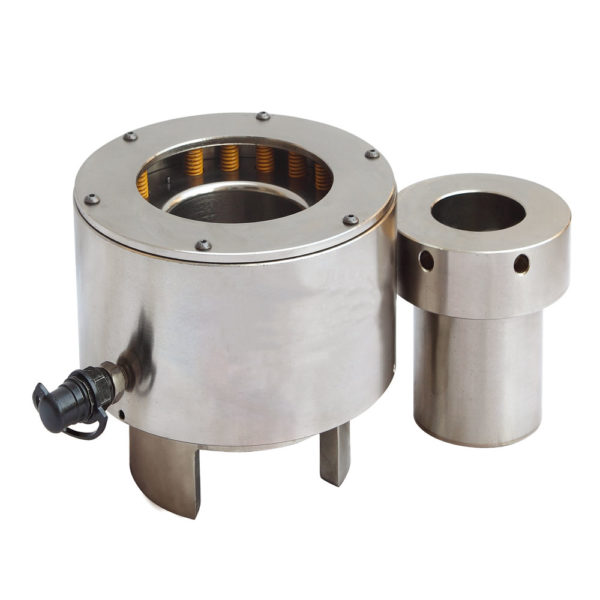 HTS Series,  Hydraulic Bolt Tensioners
Pullertop specializes in the production of bolt tensioners of various specifications, with high precision, long life, and uniform and precise tensioning of bolts. Using high-strength alloy materials, reliable quality, and high precision, Pullertop is your preferred brand of bolt tensioners!
Product Description
Product Lines: Hydraulic Bolt Tensioners
Automatic spring return. There is over-stroke protection to ensure frequent use.
Protect for the stroke over the maximum value, this will reduce the possibility of a broken seal by incorrect operation.
Hold all the functions of other tensioners.
More function operation by one tensioner for many bolts.
Think Safety

Manufacturer's rating of load and stroke are maximum safe limits. Good practice encourages using only 80% of these ratings!
Dimension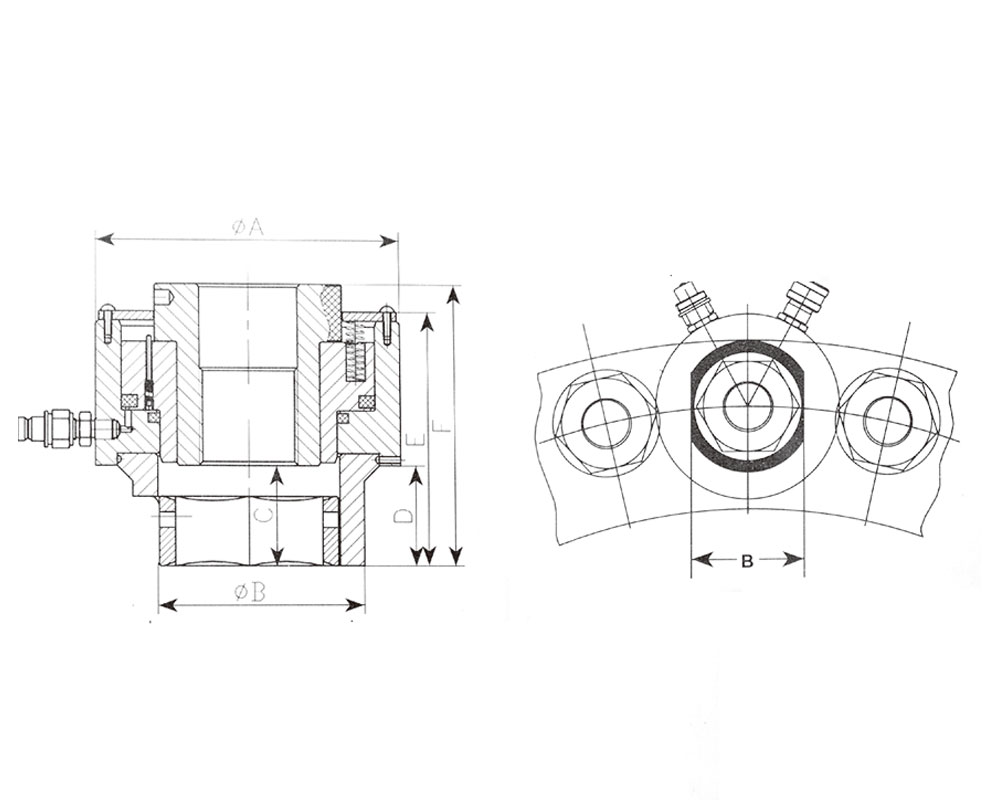 Series Comparison
| Model | Bolt/mm | Max Load/KN |  A/mm | B/mm | C/mm | D/mm | E/mm | F/mm | Stroke/mm | Weight/Kg |
| --- | --- | --- | --- | --- | --- | --- | --- | --- | --- | --- |
| HTS0 | M20 | 307 | 109 | 55 | 23 | 25 | 111 | 128 | 8 | 5 |
| HTS0 | M22 | 307 | 109 | 60 | 25 | 27 | 113 | 130 | 8 | 5 |
| HTS0 | M24 | 307 | 109 | 66 | 27 | 29 | 115 | 132 | 8 | 5 |
| HTS0 | M27 | 307 | 109 | 72 | 30 | 32 | 118 | 135 | 8 | 5 |
| HST1 | M30 | 486 | 109 | 80 | 33 | 35 | 126 | 144 | 8 | 7 |
| HST1 | M33 | 486 | 109 | 85 | 36 | 38 | 129 | 147 | 8 | 7 |
| HST1 | M36 | 486 | 109 | 90 | 39 | 41 | 132 | 150 | 8 | 7 |
| HST2 | M33 | 814 | 132 | 85 | 36 | 44 | 135 | 150 | 8 | 10 |
| HST2 | M36 | 814 | 132 | 96 | 43 | 43 | 134 | 179 | 8 | 10 |
| HST2 | M39 | 814 | 132 | 98 | 42 | 50 | 141 | 156 | 8 | 10 |
| HST2 | M42 | 814 | 132 | 105 | 15 | 53 | 144 | 159 | 8 | 10 |
| HTS3 | M39 | 989 | 150 | 110 | 42 | 42 | 136 | 150 | 10 | 15 |
| HTS3 | M42 | 989 | 150 | 113 | 53 | 56 | 150 | 164 | 10 | 15 |
| HTS3 | M45 | 989 | 150 | 114 | 50 | 50 | 144 | 161 | 10 | 15 |
| HTS3 | M48 | 989 | 150 | 118 | 52 | 52 | 146 | 163 | 10 | 15 |
| HTS4 | M52 | 1413 | 174 | 132 | 55 | 56 | 154 | 174 | 10 | 20 |
| HTS4 | M56 | 1413 | 174 | 135 | 59 | 60 | 158 | 178 | 10 | 20 |
| HTS5 | M56 | 1649 | 198 | 135 | 59 | 60 | 161 | 179 | 12 | 25 |
| HTS5 | M60 | 1649 | 198 | 143 | 64 | 64 | 165 | 183 | 12 | 25 |
| HTS5 | M64 | 1649 | 198 | 150 | 68 | 68 | 169 | 187 | 12 | 25 |
| HTS5 | M68 | 1649 | 198 | 158 | 72 | 72 | 173 | 191 | 12 | 25 |
| HTS6 | M72 | 2131 | 222 | 165 | 76 | 76 | 184 | 207 | 12 | 35 |
| HTS6 | M76 | 2131 | 222 | 170 | 80 | 80 | 188 | 211 | 12 | 35 |
| HTS7 | M76 | 2544 | 252 | 170 | 80 | 80 | 194 | 221 | 12 | 50 |
| HTS7 | M80 | 2544 | 252 | 175 | 85 | 85 | 199 | 226 | 12 | 50 |
| HTS7 | M85 | 2544 | 252 | 190 | 76 | 85 | 199 | 226 | 12 | 50 |
| HTS7 | M90 | 2544 | 252 | 205 | 95 | 95 | 209 | 236 | 12 | 50 |
| HTS8 | M95 | 3101 | 282 | 215 | 100 | 100 | 214 | 243 | 12 | 65 |
| HTS8 | M100 | 3101 | 282 | 235 | 105 | 105 | 219 | 248 | 12 | 65 |
| HTS9 | M105 | 3792 | 318 | 240 | 110 | 110 | 224 | 254 | 12 | 85 |
| HTS9 | M110 | 3792 | 318 | 235 | 115 | 120 | 234 | 264 | 12 | 85 |
| HTS9 | M115 | 3792 | 318 | 260 | 120 | 120 | 243 | 264 | 12 | 85 |
| HTS10 | M115 | 4900 | 360 | 260 | 120 | 120 | 261 | 297 | 12 | 110 |
| HTS10 | M120 | 4900 | 360 | 270 | 125 | 125 | 266 | 302 | 12 | 110 |
| HTS10 | M125 | 4900 | 360 | 286 | 140 | 130 | 271 | 307 | 12 | 110 |
| HTS11 | M130 | 6255 | 408 | 285 | 135 | 135 | 276 | 312 | 12 | 130 |
| HTS11 | M135 | 6255 | 408 | 292 | 140 | 140 | 281 | 317 | 12 | 130 |
| HTS11 | M140 | 6255 | 408 | 300 | 145 | 145 | 286 | 322 | 12 | 130 |
| HTS11 | M145 | 6255 | 408 | 312 | 165 | 155 | 296 | 332 | 12 | 130 |
| HTS12 | M145 | 8423 | 456 | 312 | 150 | 150 | 301 | 337 | 12 | 150 |
| HTS12 | M150 | 8423 | 456 | 320 | 155 | 155 | 306 | 342 | 12 | 150 |
| HTS12 | M160 | 8423 | 456 | 340 | 160 | 165 | 316 | 352 | 12 | 150 |