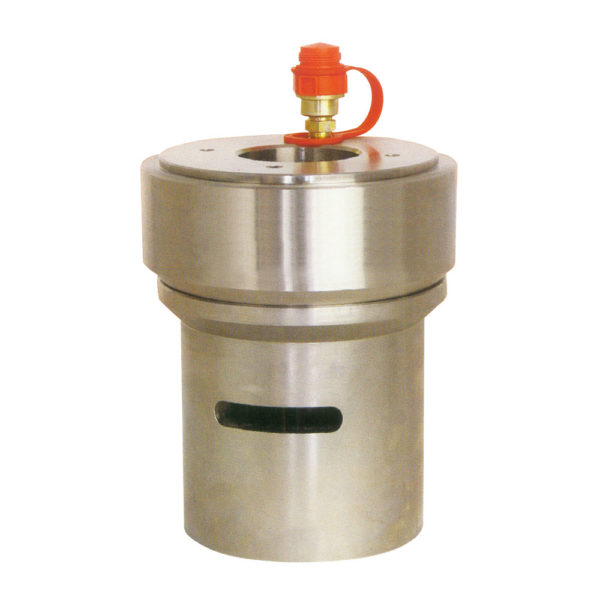 HTA Series, Hydraulic Stud Tensioners
Pullertop specializes in the production of bolt tensioners of various specifications, with high precision, long life, and uniform and precise tensioning of bolts. Using high-strength alloy materials, reliable quality, and high precision, Pullertop is your preferred brand of bolt tensioners!
Product Description
Product Lines: Hydraulic Bolt Tensioners
Compact structure, lightweight, large tension.
Low cost and easy to use.
Suitable for the high-accuracy tension of single-size bolts.
The default maximum working pressure of 1500 bar fits a high-pressure manual pump, high-pressure pneumatic pump, and high-pressure electric pump.
Think Safety

Manufacturer's rating of load and stroke are maximum safe limits. Good practice encourages using only 80% of these ratings!
Image Gallery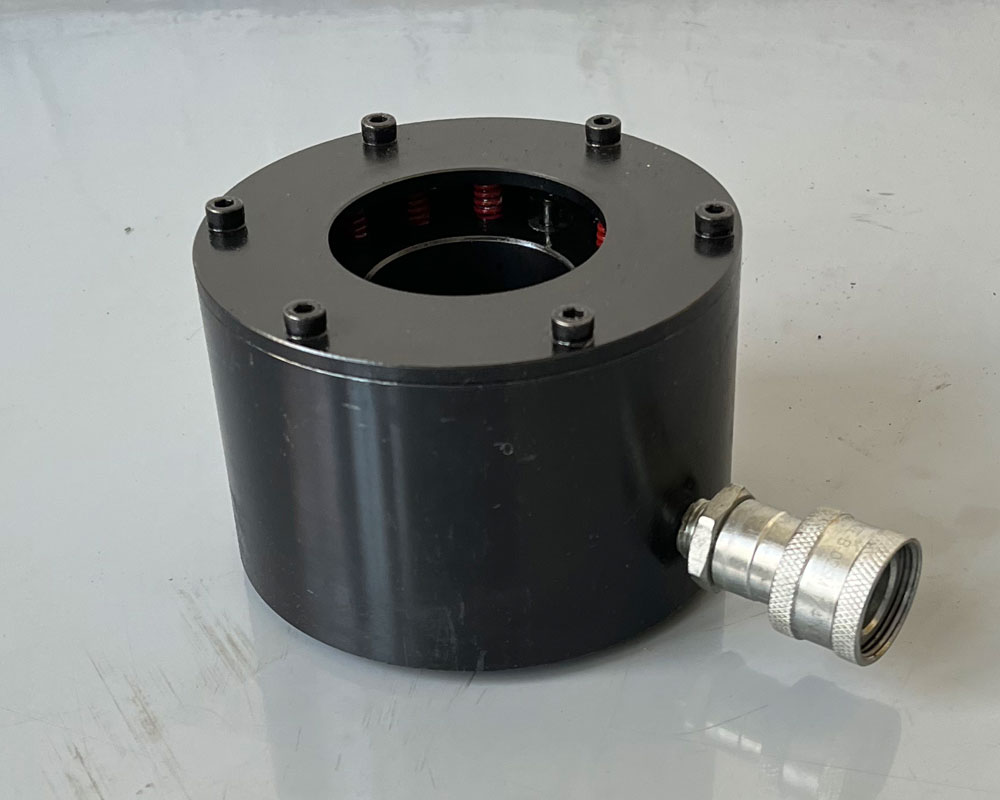 Dimension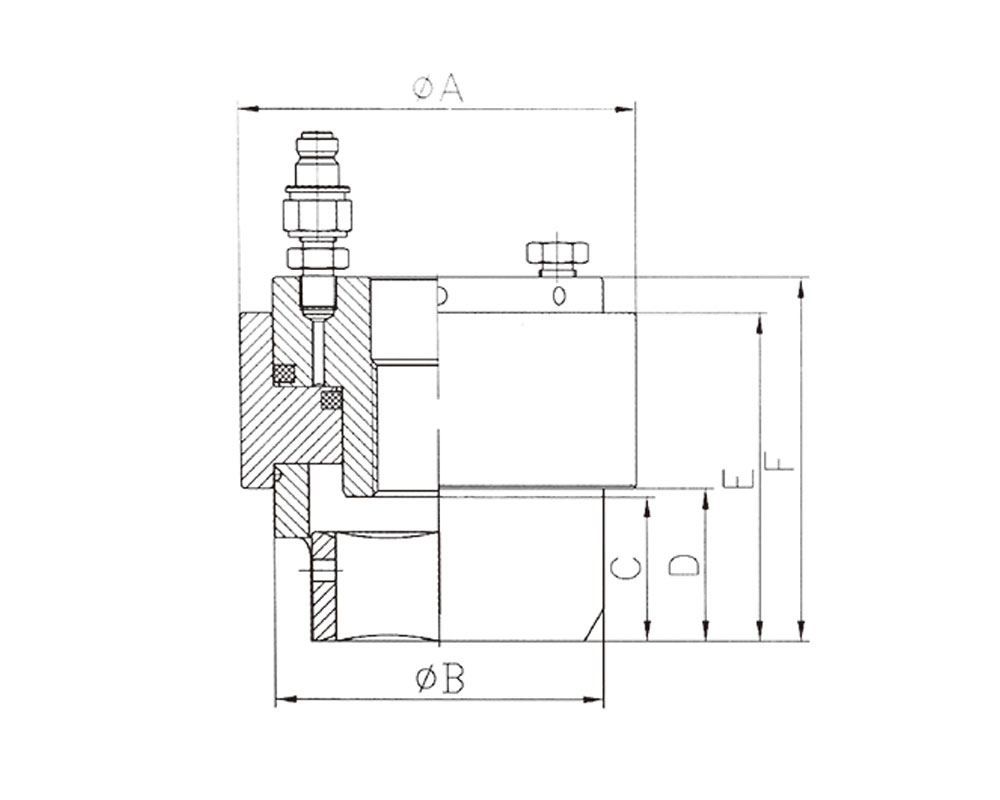 Series Comparison
| Model | Bolt/mm | Max Load/KN | OD A/mm | B/mm | C/mm | D/mm | E/mm | F/mm | Stroke/mm | Weight/Kg |
| --- | --- | --- | --- | --- | --- | --- | --- | --- | --- | --- |
| HTA16 | M16 | 179 | 62 | 48 | 23 | 21 | 67 | 76 | 10 | 1.1 |
| HTA18 | M18 | 202 | 64 | 50 | 21 | 23 | 69 | 78 | 10 | 1.3 |
| HTA20 | M20 | 212 | 66 | 55 | 23 | 25 | 71 | 80 | 10 | 1.5 |
| HTA22 | M22 | 279 | 72 | 59 | 25 | 27 | 75 | 86 | 10 | 1.7 |
| HTA24 | M24 | 327 | 78 | 66 | 27 | 29 | 77 | 88 | 10 | 2.1 |
| HTA27 | M27 | 388 | 84 | 72 | 30 | 31 | 83 | 93 | 10 | 2.5 |
| HTA30 | M30 | 454 | 90 | 73 | 33 | 34 | 86 | 96 | 10 | 3 |
| HTA33 | M33 | 612 | 102 | 86 | 36 | 37 | 91 | 103 | 10 | 4 |
| HTA36 | M36 | 768 | 114 | 84 | 43 | 40 | 98 | 109 | 12 | 5 |
| HTA39 | M39 | 821 | 120 | 98 | 42 | 43 | 101 | 112 | 12 | 5.5 |
| HTA42 | M42 | 874 | 126 | 105 | 45 | 46 | 104 | 116 | 12 | 6.5 |
| HTA45 | M45 | 957 | 132 | 110 | 48 | 49 | 112 | 124 | 12 | 7.5 |
| HTA48 | M48 | 1119 | 144 | 125 | 51 | 52 | 116 | 129 | 12 | 9.5 |
| HTA52 | M52 | 1328 | 156 | 130 | 55 | 56 | 120 | 134 | 12 | 11 |
| HTA56 | M56 | 1393 | 162 | 135 | 59 | 60 | 129 | 145 | 12 | 13 |
| HTA60 | M60 | 1457 | 168 | 144 | 64 | 64 | 136 | 154 | 12 | 15 |
| HTA64 | M64 | 1696 | 180 | 155 | 67 | 61 | 133 | 151 | 12 | 17 |
| HTA68 | M68 | 1837 | 192 | 170 | 72 | 72 | 144 | 162 | 12 | 19.5 |
| HTA72 | M72 | 2226 | 204 | 165 | 76 | 76 | 148 | 166 | 12 | 22.2 |
| HTA76 | M76 | 2518 | 216 | 172 | 80 | 80 | 156 | 174 | 12 | 25.5 |
| HTA80 | M80 | 2827 | 228 | 183 | 81 | 81 | 157 | 175 | 12 | 28.5 |
| HTA85 | M85 | 3254 | 246 | 188 | 90 | 90 | 166 | 189 | 12 | 35 |
| HTA90 | M90 | 3604 | 258 | 208 | 95 | 95 | 175 | 198 | 15 | 42 |
| HTA95 | M95 | 3973 | 270 | 220 | 100 | 100 | 190 | 218 | 15 | 52 |
| HTA100 | M100 | 4476 | 288 | 238 | 105 | 105 | 195 | 223 | 15 | 60 |