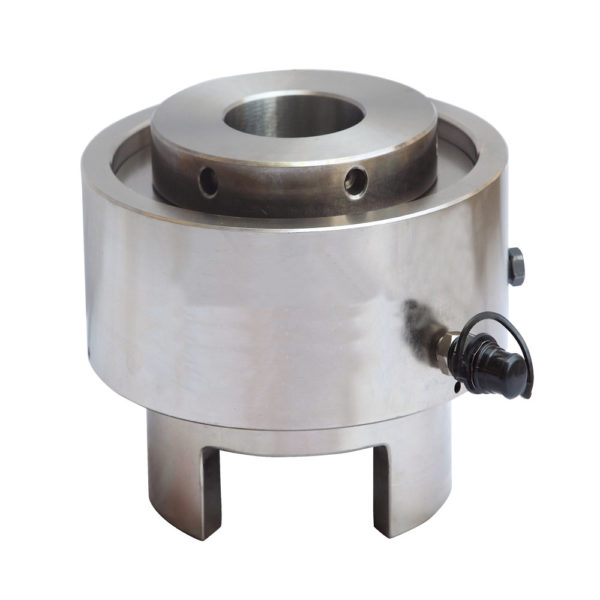 HTB Series,  Hydraulic Nut Tensioners
Pullertop specializes in the production of bolt tensioners of various specifications, with high precision, long life, and uniform and precise tensioning of bolts. Using high-strength alloy materials, reliable quality, and high precision, Pullertop is your preferred brand of bolt tensioners!
Product Description
Product Lines: Hydraulic Bolt Tensioners
High accuracy, quick velocity, and safe applications.
Widely applied, one model suits several specifications.
Suitable for the high-accuracy tension of single-size bolts.
Wide application, is simple and convenient.
Think Safety

Manufacturer's rating of load and stroke are maximum safe limits. Good practice encourages using only 80% of these ratings!
Image Gallery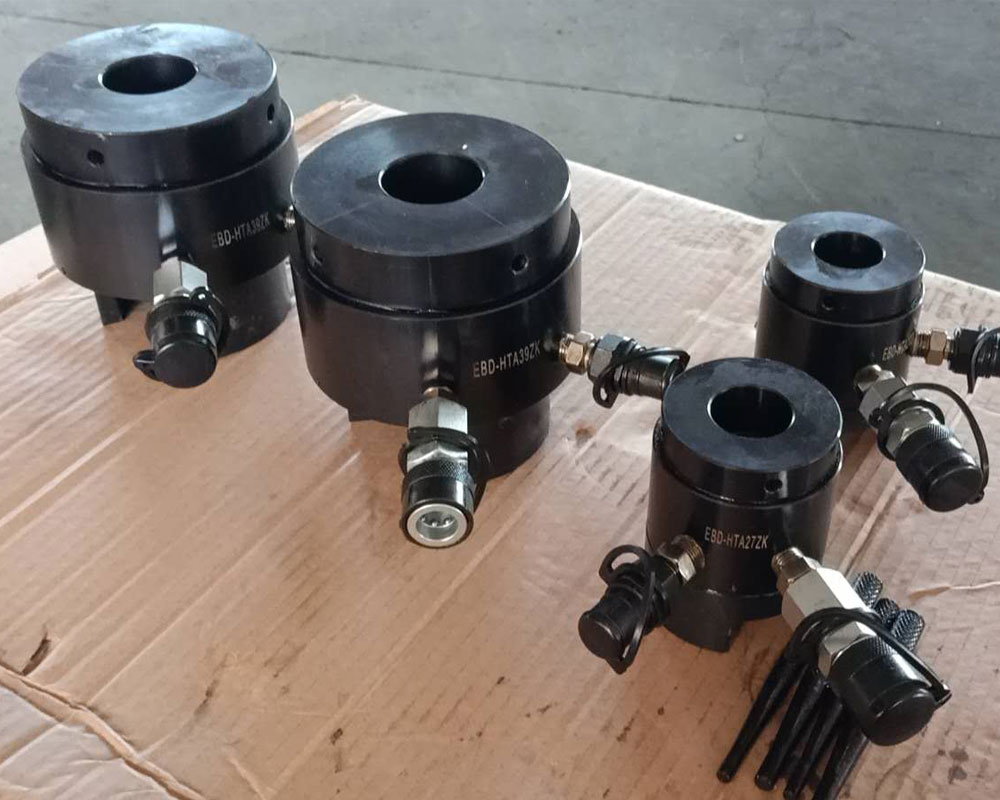 Dimension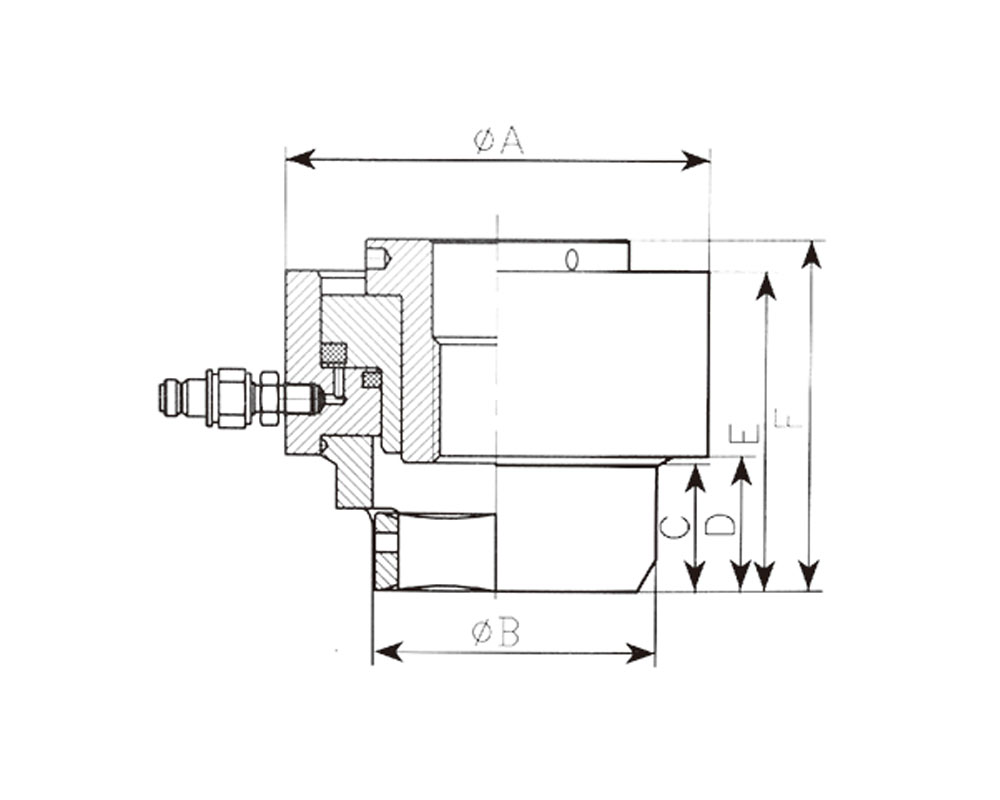 Series Comparison
| Model | Bolt/mm | Max Load/KN | A/mm | B/mm | C/mm | D/mm | E/mm | F/mm | Stroke/mm | Weight/Kg |
| --- | --- | --- | --- | --- | --- | --- | --- | --- | --- | --- |
| HTB1 | M20 | 338 | 85 | 55 | 23 | 25 | 74 | 86 | 8 | 5 |
| HTB1 | M22 | 338 | 85 | 59 | 25 | 27 | 76 | 88 | 8 | 5 |
| HTB1 | M24 | 338 | 85 | 66 | 27 | 29 | 78 | 90 | 8 | 5 |
| HTB2 | M24 | 486 | 109 | 66 | 27 | 29 | 90 | 105 | 8 | 7 |
| HTB2 | M27 | 486 | 109 | 72 | 30 | 32 | 93 | 108 | 8 | 7 |
| HTB2 | M30 | 486 | 109 | 78 | 33 | 35 | 96 | 111 | 8 | 7 |
| HTB2 | M33 | 486 | 109 | 85 | 36 | 38 | 99 | 114 | 8 | 7 |
| HTB2 | M36 | 486 | 109 | 90 | 39 | 41 | 102 | 117 | 8 | 7 |
| HTB3 | M33 | 814 | 133 | 85 | 36 | 44 | 111 | 127 | 8 | 10 |
| HTB3 | M36 | 814 | 133 | 94 | 39 | 47 | 116 | 130 | 8 | 10 |
| HTB3 | M39 | 814 | 133 | 98 | 42 | 50 | 119 | 133 | 8 | 10 |
| HTB3 | M42 | 814 | 133 | 105 | 45 | 53 | 122 | 136 | 8 | 10 |
| HTB4 | M39 | 989 | 150 | 98 | 41 | 51 | 122 | 135 | 10 | 15 |
| HTB4 | M42 | 989 | 150 | 105 | 44 | 54 | 125 | 138 | 10 | 15 |
| HTB4 | M45 | 989 | 150 | 110 | 47 | 57 | 128 | 141 | 10 | 15 |
| HTB4 | M48 | 989 | 150 | 125 | 50 | 60 | 131 | 144 | 10 | 15 |
| HTB5 | M52 | 1413 | 174 | 132 | 53 | 56 | 132 | 145 | 10 | 20 |
| HTB5 | M56 | 1413 | 174 | 135 | 59 | 60 | 136 | 149 | 10 | 20 |
| HTB6 | M56 | 1649 | 198 | 135 | 59 | 60 | 138 | 154 | 12 | 25 |
| HTB6 | M60 | 1649 | 198 | 144 | 63 | 65 | 143 | 159 | 12 | 25 |
| HTB6 | M64 | 1649 | 198 | 150 | 67 | 69 | 147 | 163 | 12 | 25 |
| HTB6 | M68 | 1649 | 198 | 158 | 71 | 74 | 152 | 168 | 12 | 25 |
| HTB7 | M72 | 2131 | 222 | 165 | 75 | 77 | 167 | 185 | 12 | 35 |
| HTB7 | M76 | 2131 | 222 | 170 | 79 | 81 | 175 | 193 | 12 | 35 |
| HTB8 | M76 | 2544 | 252 | 170 | 79 | 81 | 167 | 197 | 12 | 50 |
| HTB8 | M80 | 2544 | 252 | 175 | 83 | 85 | 172 | 201 | 12 | 50 |
| HTB8 | M85 | 2544 | 252 | 185 | 88 | 90 | 176 | 206 | 12 | 50 |
| HTB8 | M90 | 2544 | 252 | 205 | 93 | 95 | 181 | 211 | 12 | 50 |
| HTB9 | M95 | 3101 | 282 | 215 | 98 | 100 | 189 | 224 | 12 | 65 |
| HTB9 | M100 | 3101 | 282 | 235 | 103 | 105 | 194 | 229 | 12 | 65 |
| HTB10 | M105 | 3793 | 318 | 240 | 108 | 110 | 203 | 238 | 12 | 85 |
| HTB10 | M110 | 3793 | 318 | 250 | 113 | 115 | 208 | 243 | 12 | 85 |
| HTB10 | M115 | 3793 | 318 | 260 | 118 | 120 | 213 | 248 | 12 | 85 |