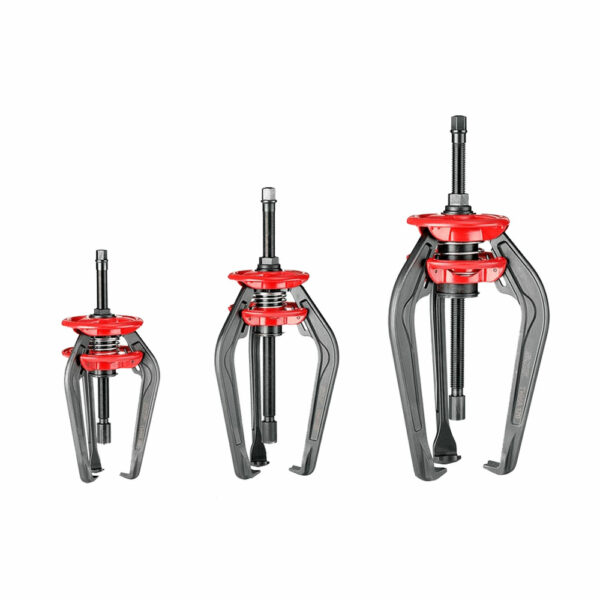 Mechanical jaw pullers
Equipped with spring-operated arms and a solid design, the PullertopTMMP series mechanical bearing puller is one of the most user-friendly and safe tools on the market. Ergonomically designed, the spring-operated arms enable the user to position the puller behind the component with just one movement.
Product Description
Product Lines: Mechanical Puller
Sturdy design allows the dismounting of components even in the tightest application in a safe manner
The unique red ring spring-operated opening mechanism allows the puller to be placed behind the component with one movement of the hands
Self-locking arms help prevent the risk of the puller slipping under the load
Double hexagonal heads allow more accessible application of withdrawal force
Self-centering capability and nosepiece help to avoid damage to the shaft
Efficient use of time due to quick dismounting
Available in three sizes with a withdrawal force of 60, 80, or 120 kN (6.7, 9.0, or 13.5 ton US), enabling easy selection
Hydraulic force generators available as an accessory for the 80 and 120 kN versions
Supplied with a tube of puller spindle grease
Think Safety

Manufacturer's rating of load and stroke are maximum safe limits. Good practice encourages using only 80% of these ratings!
Image Gallery
Series Comparison
| Model | Width of grip external, minimum | Width of grip external, maximum | Effective arm length | Maximum withdrawal force | Total weight | Claw height | Claw length | Claw width | Hexagon on puller or adapter | Hexagon on mechanical spindle | Hexagon on the mechanical spindle | Diameter nose piece | Adapter: possible to upgrade to hydraulic version | ACCESSORIES |
| --- | --- | --- | --- | --- | --- | --- | --- | --- | --- | --- | --- | --- | --- | --- |
| TMMA 60 | 36 mm | 150 mm | 150 mm | 60 kN | 4,0 kg | 7,5 mm | 15 mm | 20 mm | 27 mm | 17 mm | 105 Nm | 24 mm | no | Puller protection blanket,Tri section pulling plate |
| TMMA 80 | 52 mm | 200mm | 200mm | 80 kN | 5.7 Kg | 9,8 mm | 18 mm | 28 mm | 30 mm | 22 mm | 175 Nm | 26 mm | yes | Puller protection blanket,Hydraulic spindle,Tri section pulling plates |
| TMMA 120 | 75 mm | 250 mm | 250 mm | 120 kN | 10,6 kg | 13,8 mm | 24 mm | 40 mm | 32 mm | 24 mm | 265 Nm | 28 mm | yes | Puller protection blanket,Hydraulic spindle,Tri section pulling plates |