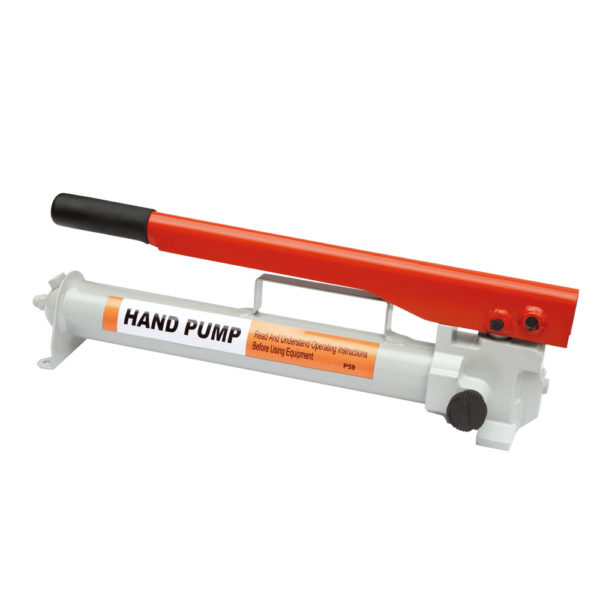 Single Acting Hydraulic Hand Pumps
Pullertop manual pump series are high-pressure two-speed hydraulic hand pumps designed for portability, durability, safety, and ease of use. A large selection of heavy-duty steel-made portable lightweight hydraulic hand pumps makes it easy to find the most effective compact high-pressure pump.
Product Description
Series: P Series
Product Lines: Hydraulic Hand Pump
All metal construction won't burn through in welding environments.
The formed metal handle provides rigidity and reduces operator fatigue with grip.
A convenient fill port enables pumps to be filled in a horizontal or vertical position.
The fill cap seal acts as a safety valve preventing overpressurizing the reservoir.
A large valve knob gives added control for slowly metering loads down.
Think Safety

Manufacturer's rating of load and stroke are maximum safe limits. Good practice encourages using only 80% of these ratings!
Series Specifications
| | |
| --- | --- |
| Oil Capacity: | 7380cm3 |
| Pump Type: | Single Speed/Two Speed |
| Maximum Operating Pressure : | 70Mpa(10,000PSI) |
| Weight: | 9.5-11Kg |
Series Comparison
| Model | Usable Oil Capacity/cm3 | Pump Type | First Stage Pressure/bar | Second Stage Pressure/bar | Max handles Force/Kg | Oil Displacement Per Stroke 1st Stage (cm3) | Oil Displacement Per Stroke 2nd Stage (cm3) | Piston Stroke | Weight/Kg |
| --- | --- | --- | --- | --- | --- | --- | --- | --- | --- |
| P55 | 738 | Single-speed | * | 700 | 66 | * | 1.1 | 20 | 9.5 |
| P59 | 738 | Two-speed | 13 | 700 | 42 | 12.5 | 2.3 | 25.4 | 11 |
| P59F | 738 | Two-speed | 22 | 700 | 55 | 9 | 2.1 | 25.4 | 10 |