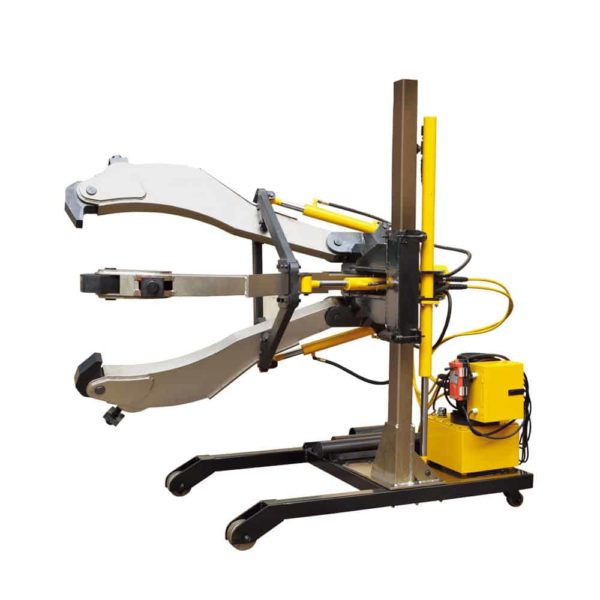 100/200 Ton Safety Cage Hydraulic Puller
Pullertop PH series hydraulic puller systems provide maximum pulling force in applications requiring high-force removal of large gears, pulleys, wheels, sleeves, and other press fit parts. 100 Ton pullers are available in 3-jaw, 2-jaw, or 2/3-jaw combination systems.
Product Description
Product Lines: Trolley Mounted Hydraulic Puller
• 10,000 PSI electric two-stage pump
• Remote jog switch with 3 meters cord
• 100-ton cylinder, 10,000 PSI with spring return(10.25-inch stroke)
• Hydraulic-actuated lift cart extends puller from ground to a height of 1.52 m
• Jaws are hydraulically controlled with cylinders
Multiple pushing adaptors:
(1) 4-in. diameter x 9-in. (102 x 229 mm)
(2) 4-in. diameter x 19-in. (102 x 483 mm)
(3) 4-in. diameter x 29-in. (102 x 737 mm)
Think Safety

Manufacturer's rating of load and stroke are maximum safe limits. Good practice encourages using only 80% of these ratings!
Image Gallery
Series Comparison
| Model | Number of Jaws | Capacity(Ton) | Min. Spread(mm) | Max. Spread(mm) | Max. Reach(mm) | Center Height Adjustment(mm) | Weight(Kg) |
| --- | --- | --- | --- | --- | --- | --- | --- |
| PH-123T | 2/3 | 100 | 191 | 1778 | 1219 | 676-1690 | 908 |
| PH-100T | 3 | 100 | 191 | 1778 | 1219 | 676-1690 | 855 |
| PH-102T | 2 | 100 | 191 | 1778 | 1219 | 676-1690 | 772 |
| PH-200T | 2 | 200 | 203 | 1334 | 1219 | 800-2134 | 1560 |