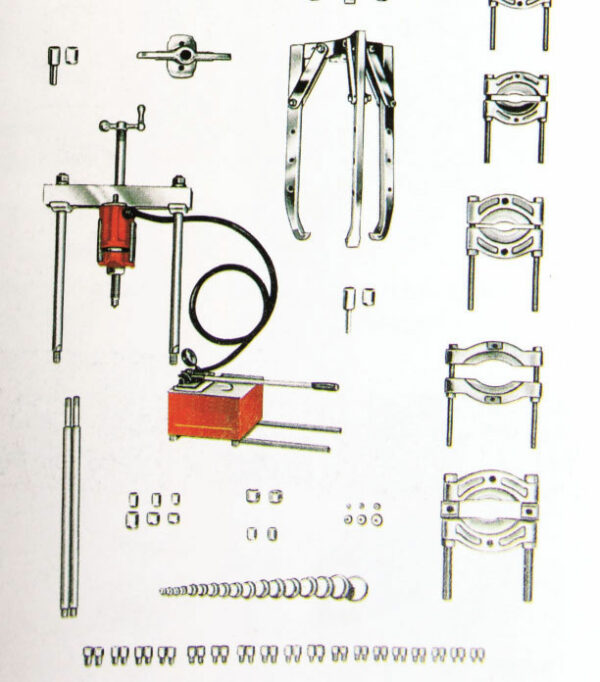 IPS5317 INDUSTRIAL PULLER SET
Here's the ultimate in industrial puller sets!You'll find a puller for just about every job.Include in this "master puller set" are 17 1/2,30 and 50 ton hydraulics,along with an extensive assortment of pullers,attachment and adapters.
Product Description
Product Lines: Hydraulic Pullers Sets
17 1/2, 30 and 50 ton capacity hydraulic puller set. Includes hydraulics, pullers, wooden storage box and accessories. 
Think Safety

Manufacturer's rating of load and stroke are maximum safe limits. Good practice encourages using only 80% of these ratings!
Series Comparison
| Contents | Hydraulics | Contents | Pullers | Contents | Accessories |
| --- | --- | --- | --- | --- | --- |
| P55 | Single stage hyd. hand pump assembly | 1107 | 114mm legs for 1062 | 1126 | bearing pulling attachment |
| P460 | Two stage hyd. hand pump w/ 3-way control valve | 1109 | 203mm legs for 1070 | 1127 | bearing pulling attachment |
| RT172 | 17 1/2 ton center hole twon cylinder w/threaded insert | 1111 | 711mm legs for 1070 | 1128 | bearing pulling attachment |
| RT302 | 30 ton center hole twon cylinder w/threaded insert | 1113 | 864mm legs for 1070 | 1130 | bearing pulling attachment |
| RT503 | 50 ton center hole twon cylinder w/threaded insert | | Accessories | 34479 | Reducing adapter |
| 9798 | Hose half coupler | 24832 | special puller forcing screw | | Threaded Adapters |
| 9767 | Hydraulic hose 1.8m | 24814 | speed crank | 8005 | 5/8"-18F.X3/8"-16M |
| 9670 | Tee adapter | 27198 | speed crank | 8006 | 5/8"-18F.X1/2"-20M |
| 9059 | pressure gauge | 29595 | speed crank | 8007 | 5/8"-18F.X1/2"-13M |
| | pullers | 28228 | screw cap | 8010 | 5/8"-18F.X5/8"-11M |
| 1062 | 17.5 ton hydraulic push-puller w/419mm legs | 28229 | screw cap | 8012 | 1"-14F.X5/8"-18M |
| 1070 | 30 ton hydraulic push-puller w/457mm legs | 28230 | screw cap | 8013 | 5/8"-18F.X3/4"-16M |
| 1076 | 50 ton hydraulic push-puller w/610mm legs | 32118 | adjusting screw | 8015 | 5/8"-18F.X3/4"-10M |
| 1066 | 17.5 ton 3 jaw hydraulic puller | 32698 | adjusting screw | 8017 | 5/8"-18F.X7/8"-14M |
| 1074 | 30 ton 3 jaw hydraulic puller | 34758 | adjusting screw | 8018 | 5/8"-18F.X7/8"-9M |
| 1080 | 50 ton 3 jaw hydraulic puller | 34510 | pushing adapter | 8019 | 5/8"-18F.X1"-14M |
| 41224 | 17.5 ton 2 jaw puller head | 34755 | pushing adapter | 8020 | 1"-8F.X5/8"-18M |
| 41226 | 30 ton 2 jaw puller head | 201923 | pushing adapter | 8021 | 1"-8F.X5/8"-14M |
| 50449 | 50 ton 2 jaw puller head | 8075 | step plate adapter set | 8023 | 1 1/4"-12F.X1"-14M |
| 1027 | Combination 2/3 jaw puller | 8076 | step plate adapter set | 8024 | 1 1/4"-12F.X1 3/4"-12M |
| 1037 | Combination 2/3 jaw puller | 8056 | shaft protector set | 8025 | 1 1/4"-7F.X5/8"-18M |
| 1041 | Combination 2/3 jaw puller | 679 | pullery pulling attachment | 8027 | 1 1/4"-7F.X1"-14M |
| 43892 | Long jaws(3) for 1037 | 680 | pullery pulling attachment | 8028 | 1 5/8"-5 1/2F.X1"-8M |
| 30902 | Long jaws(3) for 1041 | 1154 | bearing cup pulling attachment | 8029 | 1 5/8"-5 1/2F.X1"-14, |
| 31136 | Long jaws(3) for 1154 | 1166 | bearing cup pulling attachment | 8036 | 1"-14F.X1"-14M |
| 1105 | 572mm legs for 1062 | 1122 | bearing pulling attachment | 8038 | 5/8"-18F.X3/4"-16M |
| 1106 | 241mm legs for 1062 | 1123 | bearing pulling attachment | 8044 | Female Threaded Adapter set |