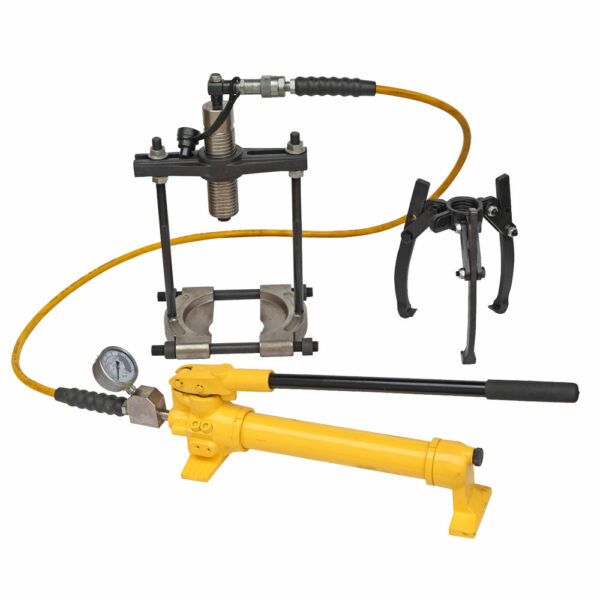 Split Type Hydraulic Puller Combination Set
Pullertop split-type hydraulic pullers combination set consists of a three-jaw grip puller, a hand pump, split-type hydraulic pullers, and a bearing puller, are ideal tools for dismounting bearings and shafts.
Product Description
Product Lines: Hydraulic Pullers Sets
360° rotary coupler design for safe operation.
Grip puller combinate bearing puller easy to dismantle bearing and wheels.
Universal bearing attachments: forged of high-strength steel alloy.
Heat-treated, chrome plated for a rust-proof and durable life.
Think Safety

Manufacturer's rating of load and stroke are maximum safe limits. Good practice encourages using only 80% of these ratings!
Series Comparison
| Model | Tons | Reach/mm | Spread C/mm | Spread D/mm | Stroke/mm | Weight/Kg |
| --- | --- | --- | --- | --- | --- | --- |
| UKS-4 | 4 | 185/250 | 55 | 225/110 | 60 | 4.5/8.5 |
| UKS-6 | 6 | 220/270 | 95 | 330/180 | 70 | 5.5/11.5 |
| UKS-8 | 8 | 230/270 | 95 | 350/220 | 85 | 6.5/12.6 |
| UKS-12 | 12 | 270/380 | 225 | 375/290 | 85 | 8.0/18.0 |