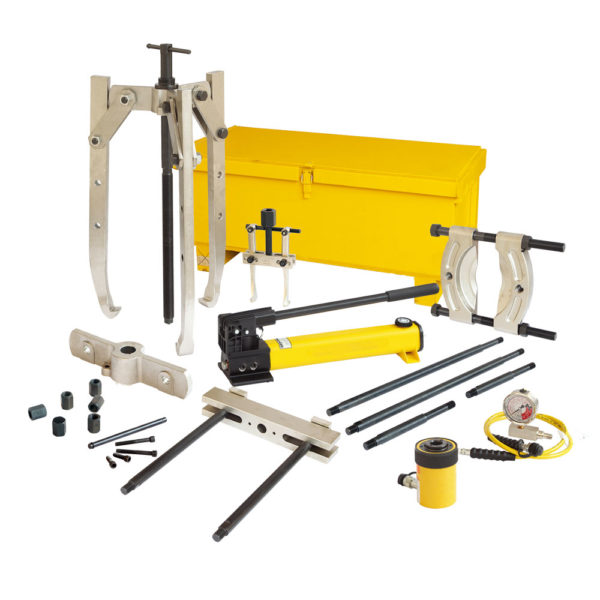 BHP Series, Hydraulic Master Puller Set with Hand Pump
Hydraulic puller sets include detachable hydraulic cylinders and a choice of pump options, along with a gauge assembly and hose for safe monitoring of applied pulling forces.
Product Description
Product Lines: Bearing Puller Set
All master puller sets include a grip puller, a cross-bearing puller, a bearing cup puller, and a bearing puller attachment, which can be ordered separately.
Supplied with a fully hydraulic set including pump, hose, cylinder, gauge, gauge adaptor, and wooden case.
High-quality, forged steel components provide superior reliability and service.
Sets include a speed crank and adjusting screw for fast contact to work before hydraulics are applied
These hydraulic pullers eliminate time-consuming and unsafe hammering, heating, or prying. Damage to parts is minimized through the use of controlled hydraulic power.
Think Safety

Manufacturer's rating of load and stroke are maximum safe limits. Good practice encourages using only 80% of these ratings!
Image Gallery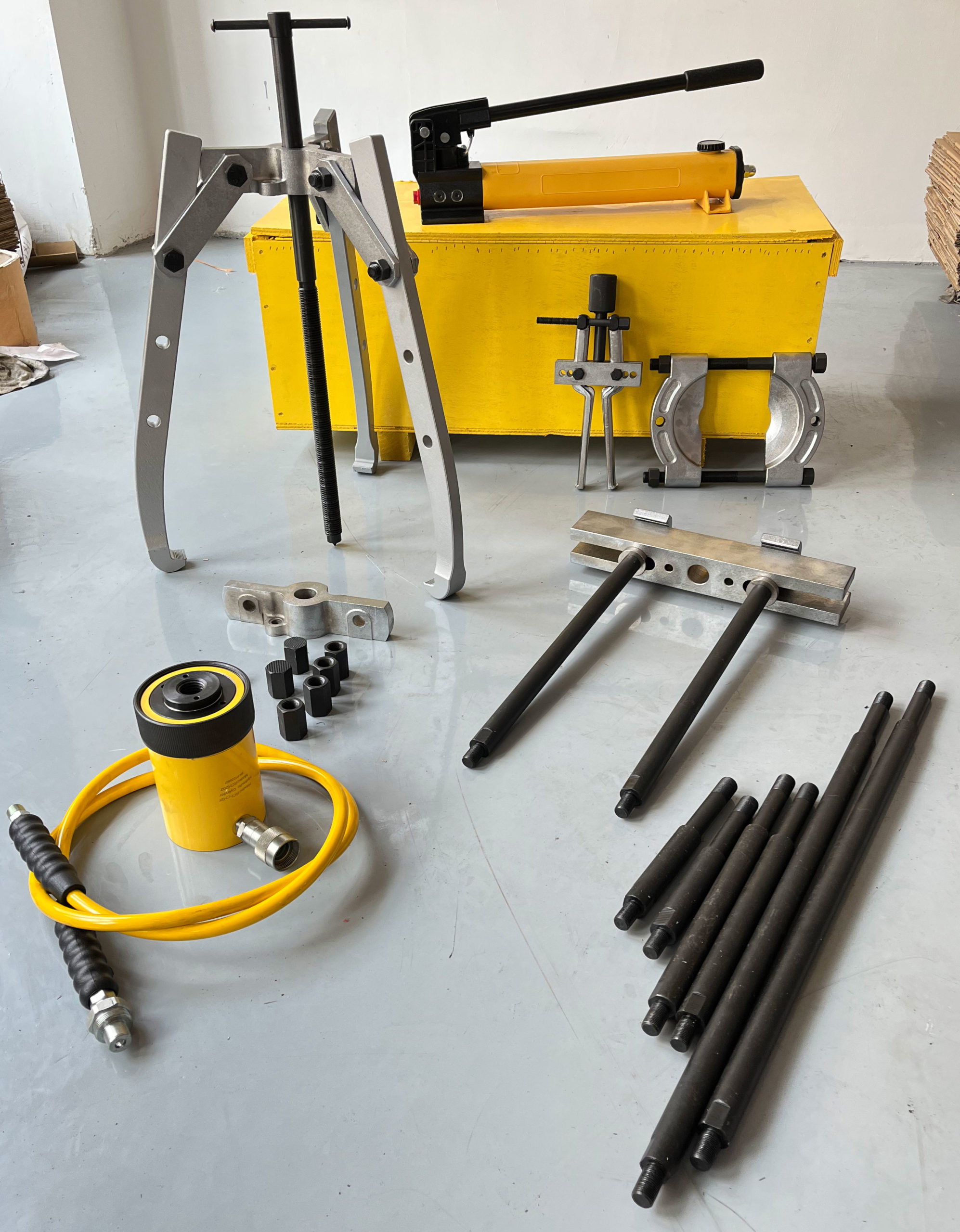 Series Comparison
| Model | Capacity(Ton) | Power Source | Hydraulic Cylinder | Saddle | Hydraulic Hose | Pressure Gauge | Gauge Adapter | Grip Puller | Cross Bearing Puller | Bearing Cup Puller | Bearing Puller | Wooden Box | Weight(Kg) |
| --- | --- | --- | --- | --- | --- | --- | --- | --- | --- | --- | --- | --- | --- |
| BHP-1752 | 14 | P-392 Hydraulic Hand Pump | RCH-1211 | * | HC-7206 | GF120B | GA3 | BHP-1762 | BHP-1772 | BHP-180 | BHP-181 | CM-6 | 37 |
| BHP-2751G | 20 | P-392 Hydraulic Hand Pump | RCH-202 | HP-2015 | HC-7206 | GF813B | GA3 | BHP-252 | BHP-262 | BHP-280 | BHP-282 | CW-350 | 90 |
| BHP-3751G | 30 | P-392 Hydraulic Hand Pump | RCH-302 | HP-3015 | HC-7206 | GF813B | GA3 | BHP-352 | BHP-362 | BHP-380 | BHP-382 | CW-350 | 172 |
| BHP-5751G | 50 | P-80 Hydraulic Hand Pump | RCH-603 | HP-5016 | HC-7206 | GF813B | GA3 | BHP-552 | BHP-562 | BHP-580 | BHP-582 | CW-750 | 298 |