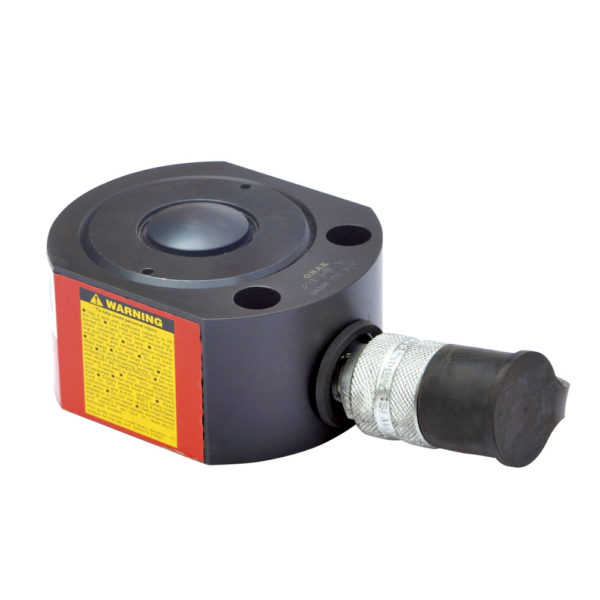 RLS Series, Low Profile Hydraulic Cylinders
Pullertop RLS hydraulic flat jack comes with a capacity range from 5 tons to 150 tons and is an ideal tool for lifting operations in narrow spaces.
Product Description
Series: RLS Series
Product Lines: Low Height Hydraulic Cylinders
The standard domed piston rod(5-3 tons) or swivel cap(50-150 tons) minimizes the effects of side load.
Couplers on all cylinders, except RLS50, are angled upward for extra clearance.
Cylinder body, piston, and gland nut coated for corrosion and abrasion resistance.
Think Safety

Manufacturer's rating of load and stroke are maximum safe limits. Good practice encourages using only 80% of these ratings!
Product Picture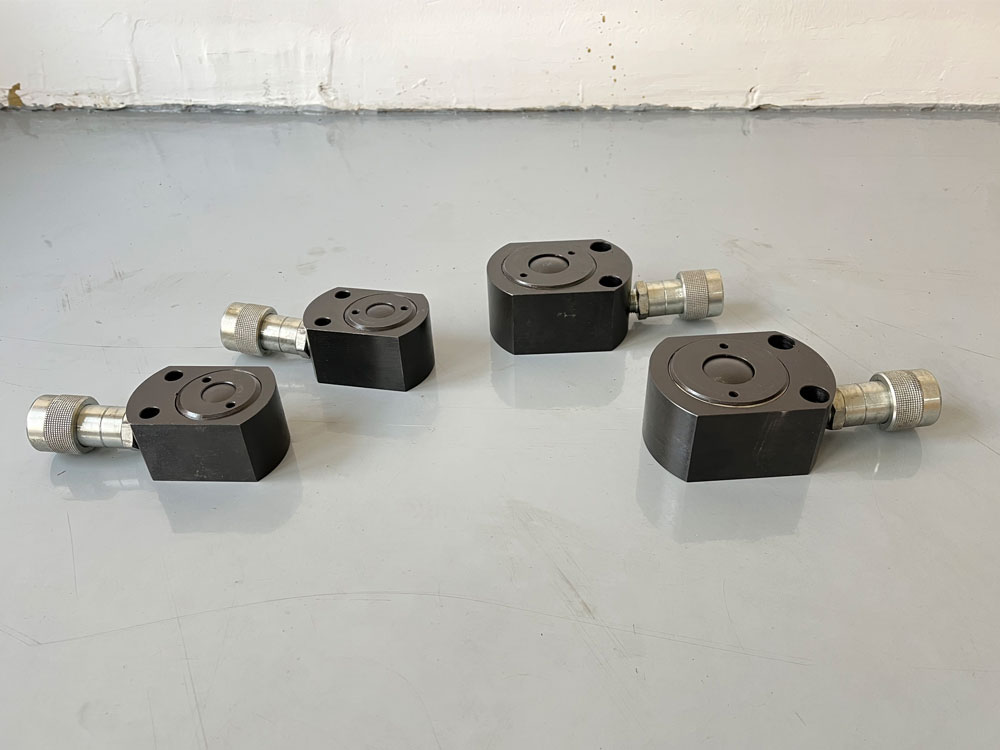 Series Specifications
| | |
| --- | --- |
| Capacity: | 5-150 Ton |
| Stroke: | 11.1-15.9mm |
| Collapsed Height: | 41.3-101.6mm |
| Maximum Operating Pressure : | 70Mpa |
| Weight: | 1-23.8Kg |
Series Comparison
| Model Number | Capacity/Ton | Stroke/mm | Collapsed Height/mm | Cylinder Dia/mm | Piston Dia/mm | Oil Capacity/cm3 | Weight/Kg |
| --- | --- | --- | --- | --- | --- | --- | --- |
| RLS50 | 5 | 14.3 | 41.3 | 41.3*65.1 | 15.9 | 10 | 1 |
| RLS100 | 10 | 11.1 | 44.5 | 55.6*82.6 | 19.1 | 17 | 1.5 |
| RLS200 | 20 | 11.1 | 50.8 | 76.2*101.6 | 28.6 | 33 | 2.5 |
| RLS300 | 30 | 12.7 | 58.7 | 95.3*114.3 | 34.9 | 53 | 3.9 |
| RLS500S | 50 | 15.9 | 66.7 | 114.3*139.7 | 44.5 | 99 | 6.3 |
| RLS750S | 75 | 15.9 | 79.4 | 140.5*165.1 | 54 | 163 | 10.6 |
| RLS1000S | 100 | 15.9 | 85.7 | 152.4*177.8 | 63.5 | 202 | 13.6 |
| RLS1500S | 150 | 14.3 | 101.6 | 190.5*215.9 | 76.2 | 282 | 23.8 |