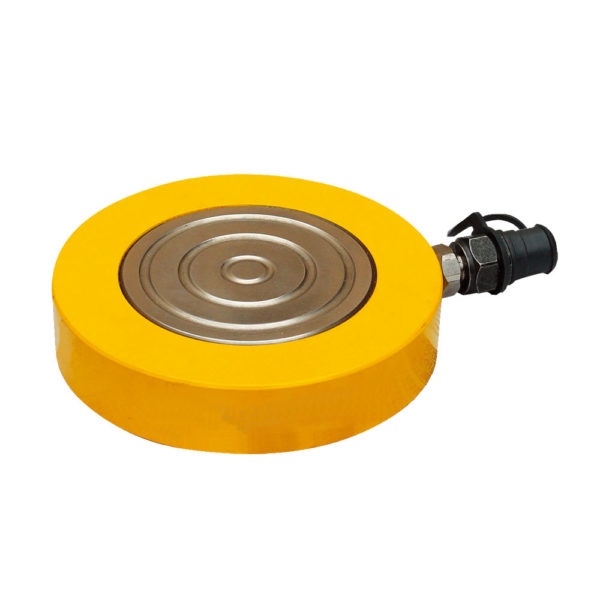 RTC Series, Ultra Thin Hydraulic Cylinders
Ultra high-pressure ultra-low height hydraulic cylinder mainly used in space is very limited occasions, for example, Shipbuilding plant host adjustment, lifting of steam turbine maintenance in power plant, and so on occasions.
Product Description
Series: RTC
Product Lines: Hydraulic Cylinders
The top end is provided with an elastic sealing piece to avoid the impurity in the cylinder, extending cylinder life.
Top finite overflow port, when the plunger over stroke, automatic overflow, safe and convenient.
The overload test pressure is 1.5 times higher than the rated working pressure.
Compared with the same kind of cylinder, the same closed height, there is a longer lift stroke.
G1/4" coupler and dust cap included on all models.
Ultra-high working pressure of 150Mpa.
Suitable for use in confined spaces
Single-acting, load return
Think Safety

Manufacturer's rating of load and stroke are maximum safe limits. Good practice encourages using only 80% of these ratings!
Series Specifications
| | |
| --- | --- |
| Capacity | 5-200 Ton |
| Max Working Pressure | 150Mpa |
| Collapsed Height | 30-35mm |
| Stroke | 10mm |
| Extended Height | 40-45mm |
| Couplers | G1/4" |
| Return Type | Single Acting, Load Return |
| Surface Treatment | Baked enamel finish |
Product Picture
Dimension Drawing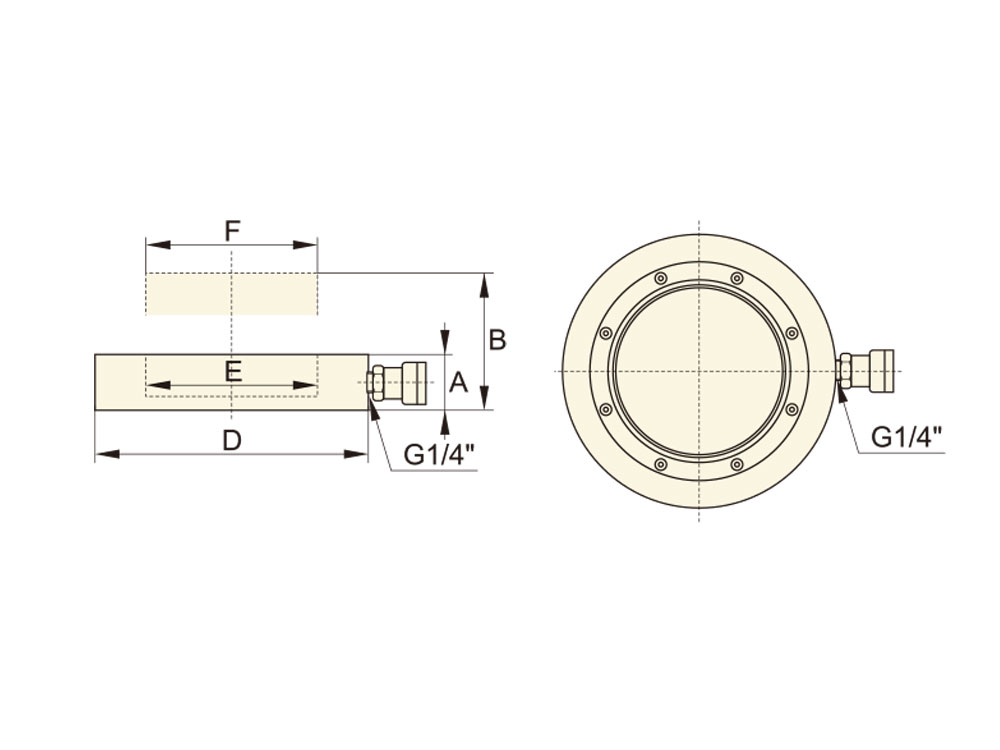 Series Comparison
| Model | Capacity(Ton) | Max. Working Pressure(Mpa) | Stroke(mm) | Oil Capacity(cm3) | Effective Area(cm2) | Collapsed Height A(mm) | Outside Diameter D(mm) | Plunger Diameter F(mm) | Coupler Height(mm) | Coupler Size | Weight/Kg) |
| --- | --- | --- | --- | --- | --- | --- | --- | --- | --- | --- | --- |
| STC-0510 | 5 | 150 | 10 | 3.5 | 3.46 | 30 | 60 | 21 | 14 | G1/4" | 0.17 |
| STC-01010 | 10 | 150 | 10 | 7.1 | 7.06 | 30 | 70 | 30 | 14 | G1/4" | 1.1 |
| STC-02510 | 25 | 150 | 10 | 17.3 | 17.34 | 30 | 90 | 47 | 14 | G1/4" | 1.5 |
| STC-05010 | 50 | 150 | 10 | 38.5 | 38.46 | 30 | 118 | 70 | 14 | G1/4" | 2.6 |
| STC-10010 | 100 | 150 | 10 | 69.4 | 69.36 | 33 | 152 | 94 | 14 | G1/4" | 4.3 |
| STC-15010 | 150 | 150 | 10 | 105.6 | 105.62 | 34 | 180 | 116 | 14 | G1/4" | 6.8 |
| STC-20010 | 200 | 150 | 10 | 136.8 | 136.77 | 35 | 204 | 132 | 14 | G1/4" | 9 |