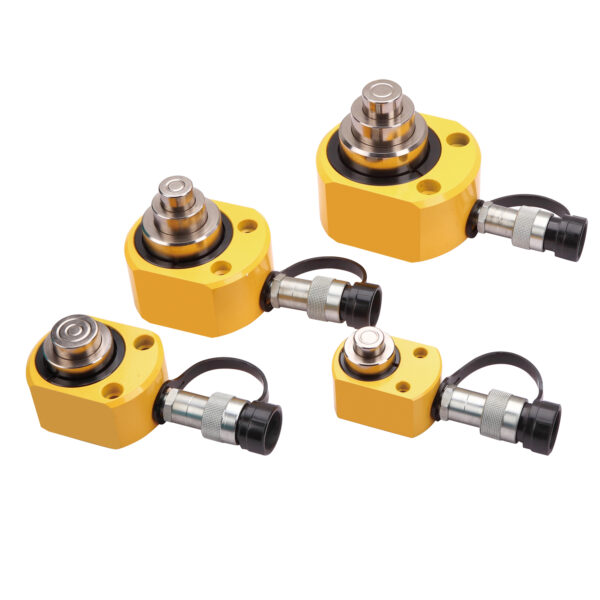 RLT Series, Low Height Telescopic Hydraulic Cylinder
Pullertop RLT hydraulic flat jack comes with a capacity range from 5 tons to 75 tons and is an ideal tool for lifting operations in narrow spaces.
Product Description
Series: RLT Series
Product Lines: Low Height Hydraulic Cylinders
Single-Acting, load return,up to 3% side-load of maximum capacity
1st Stage: maximum load capacity at lower stroke.
2nd Stage: extended stroke with lower capacity than the 1st stage.
Final Stage: maximum stroke extension with lowest capacity.
Think Safety

Manufacturer's rating of load and stroke are maximum safe limits. Good practice encourages using only 80% of these ratings!
Series Specifications
| | |
| --- | --- |
| Capacity: | 5-75 Ton |
| Stroke: | 17-40mm |
| Collapsed Height: | 45-114mm |
| Maximum Operating Pressure : | 70Mpa |
| Weight: | 1.8-30.4Kg |
Series Comparison
| Model No. | Capacity / Ton | Max Stroke / mm | Ram Qty. | Min.H / mm | Cylinder Dia. / mm | Oil Capacity / cm³ | Piston Dia./ mm | Weight / kg |
| --- | --- | --- | --- | --- | --- | --- | --- | --- |
| RLT-40 | 5T | 17 | 2 | 45 | 83×56 | 21 | 25 | 1.8 |
| RLT-41 | 5T | 23 | 3 | 54 | 102×80 | 51 | 25 | 3.1 |
| RLT-110 | 12T | 18 | 2 | 54.5 | 102×80 | 48 | 38 | 3 |
| RLT-111 | 12T | 40 | 3 | 89 | 165×140 | 241 | 38 | 13.1 |
| RLT-230 | 25T | 27 | 2 | 75 | 140×114 | 150 | 57 | 4.6 |
| RLT-231 | 25T | 32 | 3 | 96 | 178×162 | 303 | 57 | 17.3 |
| RLT-311 | 35T | 29 | 2 | 89 | 165×140 | 224 | 60 | 13 |
| RLT-501 | 50T | 26 | 2 | 96 | 178×162 | 283 | 78 | 17.3 |
| RLT-741 | 75T | 26 | 2 | 114 | 216×196 | 426 | 95 | 30.4 |