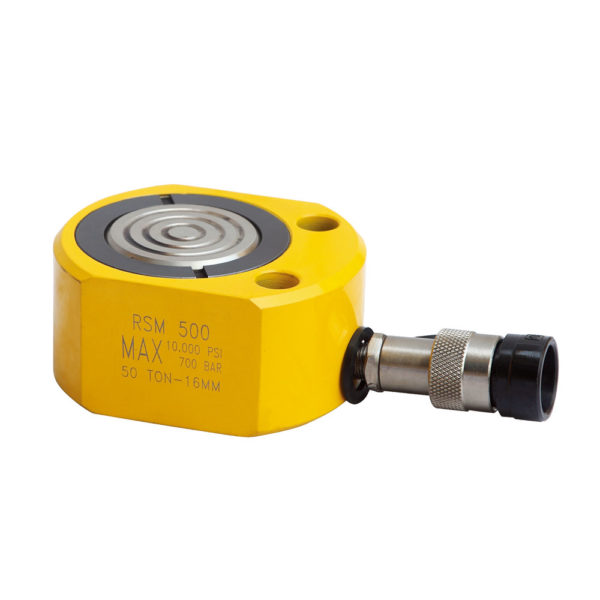 RSM Series, Hydraulic Flat Jacks
Pullertop RSM hydraulic flat jack comes with a capacity range from 5 tons to 200 tons and is an ideal tool for lifting operations in narrow spaces.
Product Description
Series: RSM Series
Product Lines: Low Height Hydraulic Cylinders
Compact, flat design for use where other cylinders will not fit.
High capacity has a handle for easy carrying.
Single-acting, spring return.
Think Safety

Manufacturer's rating of load and stroke are maximum safe limits. Good practice encourages using only 80% of these ratings!
Series Specifications
| | |
| --- | --- |
| Capacity: | 5-200 Ton |
| Stroke: | 6-30mm |
| Collapsed Height: | 32-127mm |
| Maximum Operating Pressure : | 70Mpa |
| Weight: | 1-51Kg |
Dimension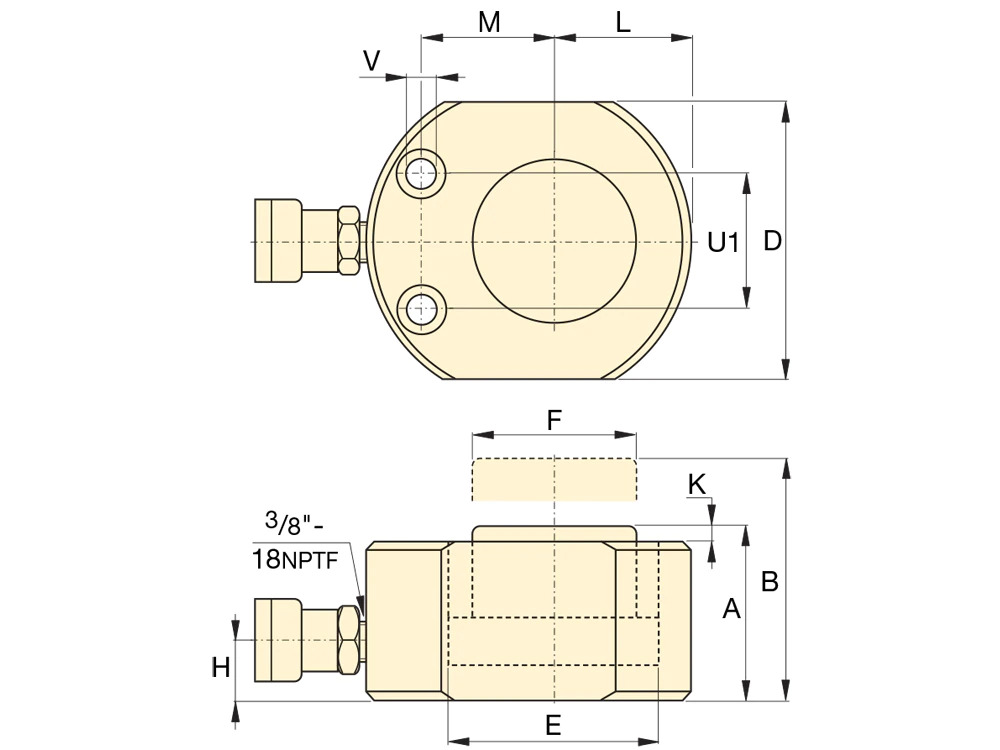 Series Comparison
| Model Number | Capacity/Ton | Stroke/mm | Collapsed Height/mm | Cylinder Dia/mm | Piston Dia/mm | Oil Capacity/cm3 | Weight/Kg |
| --- | --- | --- | --- | --- | --- | --- | --- |
| RSM50 | 5 | 6 | 32 | 58*41 | 25.4 | 4 | 1 |
| RSM100 | 10 | 12 | 42 | 82*55 | 38.1 | 18 | 1.4 |
| RSM200 | 20 | 11 | 51 | 101*76 | 50.8 | 32 | 3.1 |
| RSM300 | 30 | 13 | 58 | 117*95 | 63.4 | 55 | 4.5 |
| RSM500 | 50 | 16 | 66 | 140*114 | 69.8 | 99 | 6.8 |
| RSM750 | 75 | 16 | 79 | 165*139 | 82.6 | 164 | 11.3 |
| RSM1000 | 100 | 16 | 85 | 178*153 | 92.2 | 203 | 14.5 |
| RSM1500 | 150 | 16 | 100 | 215*190 | 114.3 | 317 | 26.3 |
| RSM2000 | 200 | 30 | 127 | 280*245 | 150 | 900 | 51 |