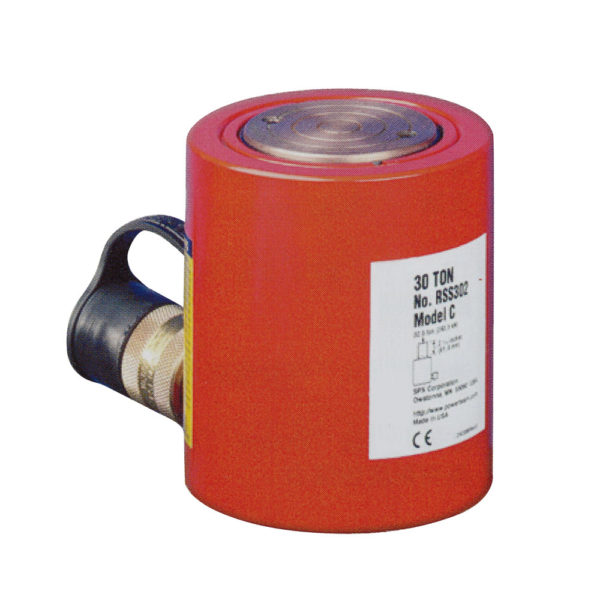 RSS Series, Single Acting Spring Return Hydraulic Cylinders
Pullertop RCS series hydraulic cylinders are a single-acting spring return design and come with a capacity range from 10 tons to 250 tons .
Product Description
Series: RSS Series
Product Lines: Low Height Hydraulic Cylinders
The grooved piston top keeps the load from sliding.
Cylinders can be "dead-ended" at full capacity.
Removable carrying handles on 100 and 250-ton models.
Cribbing blocks are used on RSS302, RSS502, and RSS1002, for expanding stroke.
Double acting for RSS1002D+
Think Safety

Manufacturer's rating of load and stroke are maximum safe limits. Good practice encourages using only 80% of these ratings!
Series Specifications
| | |
| --- | --- |
| Capacity: | 10-250 Ton |
| Stroke: | 38.1-76.2mm |
| Collapsed Height: | 88.9-290.5mm |
| Maximum Operating Pressure : | 70Mpa |
| Weight: | 2.7-99.7Kg |
Series Comparison
| Model Number | Capacity/Ton | Stroke/mm | Collapsed Height/mm | Cylinder Dia/mm | Piston Dia/mm | Oil Capacity Push/cm3 | Weight/Kg |
| --- | --- | --- | --- | --- | --- | --- | --- |
| RSS101 | 10 | 38.1 | 88.9 | 69.9 | 25 | 56 | 2.7 |
| RSS202 | 20 | 44.5 | 95.3 | 90.5 | 38.1 | 126 | 4.5 |
| RSS302 | 30 | 61.9 | 117.5 | 101.6 | 50.8 | 259 | 6.7 |
| RSS502 | 50 | 60.3 | 127 | 123.8 | 66.5 | 374 | 10.5 |
| RSS1002 | 100 | 57.2 | 139.7 | 168.3 | 69.8 | 725 | 21.4 |
| RSS1002D+ | 100 | 38.1 | 144.5 | 174.6 | 92.2 | 482 | 24.7 |
| RSS2503 | 250 | 76.2 | 290.5 | 250.8 | 114 | 2469 | 99.7 |