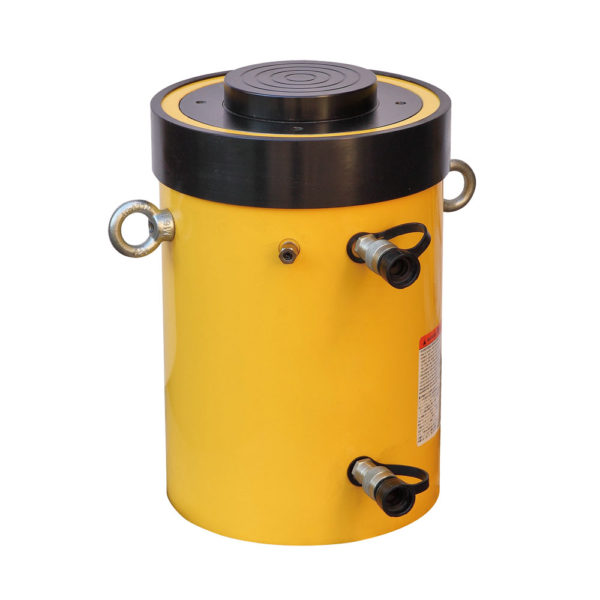 Long Stroke Hydraulic Cylinders
Pullertop RR-Series double-acting high-tonnage industrial cylinders are specifically designed for lifting and maintenance applications. All models are supplied with a tilting saddle to reduce the risk of damage caused by side loading and an integral stop ring for stroke limitation is fitted as standard.
Product Description
Series: RR Series
Product Lines: Long Stroke Hydraulic Cylinders
Collar threads and plunger threads for easy fixturing
Baked enamel finish for increased corrosion resistance
Removable hardened saddles protect the plunger during lifting and pressing
A built-in safety valve prevents accidental over-pressurization
Plunger wiper reduces contamination, extending cylinder life
The integral stopping ring provides piston blow-out protection
Double-acting, hydraulic return
Hardened and chromed piston reduces wear and corrosion
Hardened alloy steel guide ring eliminates overtravel and provides support to reduce wear from off-center loads
High-strength composite bearing provides support for off-center loads without damaging the cylinder walls
Think Safety

Manufacturer's rating of load and stroke are maximum safe limits. Good practice encourages using only 80% of these ratings!
Product Picture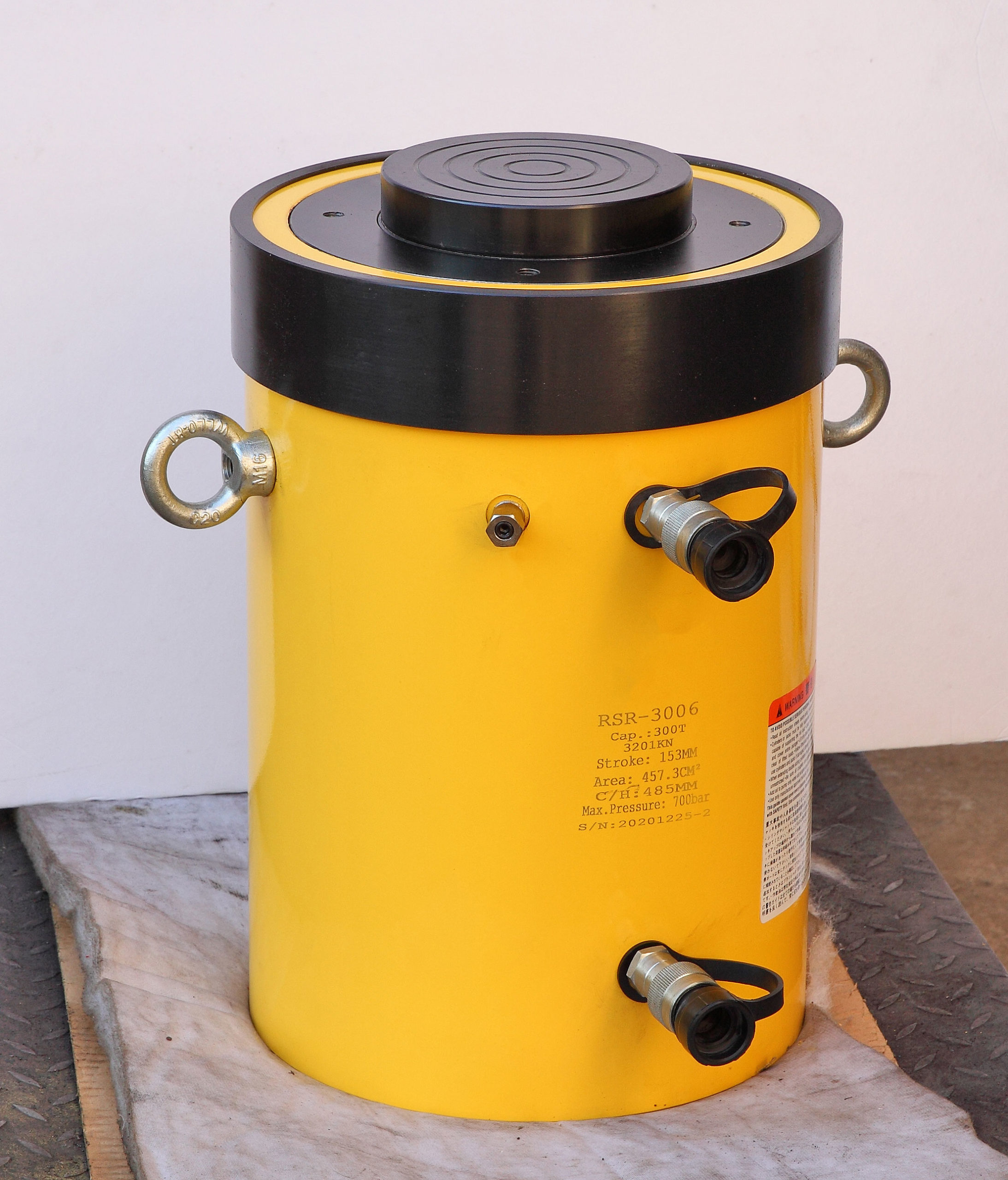 Series Specifications
| | |
| --- | --- |
| Capacity: | 10-520 Ton |
| Stroke: | 50.8-304.8mm |
| Collapsed Height: | 57-1219mm |
| Maximum Operating Pressure : | 70Mpa |
| Weight: | 12-1224Kg |
Product Picture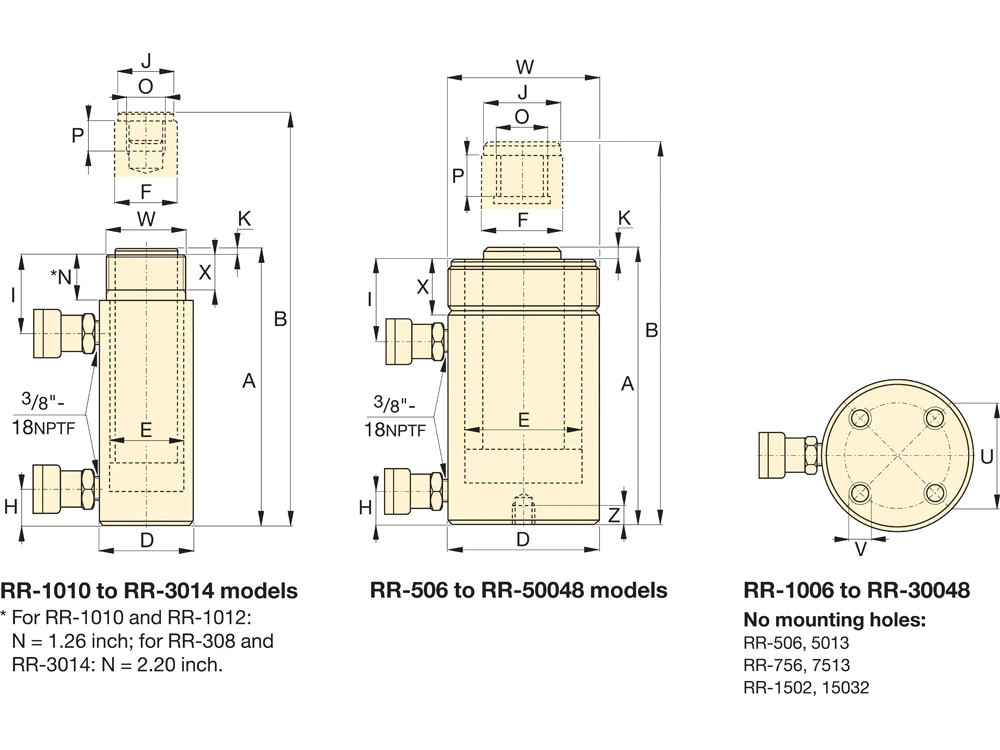 Series Comparison
| Model Number | Capacity/Ton | Stroke/mm | Advance Cylinder Effective Area/cm2 | Retract Cylinder Effective Area/cm2 | Push Oil Capacity/cm3 | Pull Oil Capacity/cm3 | Collapsed Height/mm(A) | Extended Height/mm(B) | Outside Dia/mm(D) | Cylinder Bore Dia/mm(E) | Plunger Dia/mm(F) | Base To Advance Port/mm(H) | Top To Retract Port/mm(I) | Saddle Dia/mm(J) | Saddle Protr. fr. Plgr./mm(K) | Plunger Internal Thread(O) | Plunger Thread Length/mm(P) | Base Mounting Holes Bolt Circle/mm(U) | Base Mounting Holes Thread(V) | Base Mounting Holes Thread Depth/mm(Z) | Collar Thread(W) | Collar Thread Length/mm(X) | Weight/Kg |
| --- | --- | --- | --- | --- | --- | --- | --- | --- | --- | --- | --- | --- | --- | --- | --- | --- | --- | --- | --- | --- | --- | --- | --- |
| RR-1010 | 10 | 254 | 14.5 | 4.8 | 368 | 122 | 409 | 663 | 73 | 42.9 | 34.9 | 36 | 57 | 35 | 6 | 1"-8 | 25 | * | * | * | 2 1/4"-14 | 26 | 12 |
| RR-1012 | 10 | 305 | 14.5 | 4.8 | 442 | 147 | 457 | 762 | 73 | 42.9 | 34.9 | 36 | 57 | 35 | 6 | 1"-8 | 25 | * | * | * | 2 1/4"-14 | 26 | 14 |
| RR-308 | 30 | 209 | 42.1 | 19.1 | 879 | 400 | 395 | 604 | 101 | 73.2 | 54.1 | 39 | 81 | 50 | 10 | 1 1/2"-16 | 25 | * | * | * | 3 5/16"-12 | 49 | 18 |
| RR-3014 | 30 | 368 | 42.1 | 19.1 | 1549 | 703 | 549 | 917 | 101 | 73.2 | 54.1 | 39 | 81 | 50 | 10 | 1 1/2"-16 | 25 | * | * | * | 3 5/16"-12 | 49 | 29 |
| RR-506 | 50 | 156 | 71.2 | 21.5 | 1111 | 335 | 331 | 487 | 127 | 95.2 | 79.5 | 28 | 76 | 71 | 2 | 1"-12 | 25 | * | * | * | 5"-12 | 44 | 30 |
| RR-5013 | 50 | 334 | 71.2 | 21.5 | 2378 | 718 | 509 | 843 | 127 | 95.2 | 79.5 | 28 | 76 | 71 | 2 | 1"-12 | 25 | * | * | * | 5"-12 | 44 | 52 |
| RR-5020 | 50 | 511 | 71.2 | 21.5 | 3638 | 1099 | 733 | 1244 | 127 | 95.2 | 79.5 | 57 | 76 | 71 | 2 | 1"-12 | 25 | 76 | 1/2"-13 | 25 | 5"-12 | 44 | 68 |
| RR-756 | 75 | 156 | 102.6 | 31.4 | 1601 | 490 | 347 | 503 | 146 | 114.3 | 95.2 | 30 | 76 | 71 | 6 | 1"-12 | 38 | * | * | * | 5 3/4"-12 | 38 | 41 |
| RR-7513 | 75 | 333 | 102.6 | 31.4 | 3417 | 1046 | 525 | 858 | 146 | 114.3 | 95.2 | 30 | 81 | 71 | 6 | 1"-12 | 38 | * | * | * | 5 3/4"-12 | 38 | 68 |
| RR-1006 | 95 | 168 | 133.3 | 62.2 | 2238 | 1045 | 357 | 525 | 177 | 130.3 | 95.2 | 38 | 71 | 76 | 3 | 1 3/4"-12 | 35 | 139 | 3/4"-10 | 25 | 6 7/8"-12 | 50 | 61 |
| RR-10013 | 95 | 333 | 133.3 | 62.2 | 4439 | 2071 | 524 | 857 | 177 | 130.3 | 95.2 | 38 | 71 | 76 | 3 | 1 3/4"-12 | 35 | 139 | 3/4"-10 | 25 | 6 7/8"-12 | 50 | 93 |
| RR-10018 | 95 | 460 | 133.3 | 62.2 | 6132 | 2861 | 687 | 1147 | 177 | 130.3 | 95.2 | 41 | 92 | 76 | 3 | 1 3/4"-12 | 35 | 139 | 3/4"-10 | 25 | 6 7/8"-12 | 50 | 117 |
| RR-1502 | 140 | 57 | 198.1 | 95.4 | 1129 | 544 | 196 | 253 | 203 | 158.8 | 114.3 | 22 | 66 | 95 | 19 | * | * | * | * | * | * | * | 49 |
| RR-1506 | 140 | 156 | 198.1 | 95.4 | 3090 | 1488 | 385 | 541 | 203 | 158.8 | 114.3 | 49 | 84 | 114 | 19 | 3 3/8"-16 | 35 | 158 | 3/4"-16 | 28 | 8"-12 | 55 | 93 |
| RR-15013 | 140 | 333 | 198.1 | 95.4 | 6597 | 3177 | 582 | 915 | 203 | 158.8 | 114.3 | 49 | 84 | 114 | 19 | 3 3/8"-16 | 35 | 158 | 3/4"-16 | 28 | 8"-12 | 55 | 124 |
| RR-15032 | 140 | 815 | 198.1 | 95.4 | 16145 | 7775 | 1116 | 1931 | 203 | 158.8 | 114.3 | 76 | 88 | 114 | 19 | 3 3/8"-16 | 35 | * | * | * | 8"-12 | 55 | 238 |
| RR-2006 | 200 | 152 | 285 | 145.3 | 4332 | 2209 | 430 | 582 | 247 | 190.5 | 133.4 | 57 | 96 | 133 | 22 | * | * | 127 | 1"-8 | 25 | * | * | 147 |
| RR-20013 | 200 | 330 | 285 | 145.3 | 9405 | 4795 | 608 | 938 | 247 | 190.5 | 133.4 | 57 | 96 | 133 | 22 | 2 1/2"-12 | 63 | 127 | 1"-8 | 25 | 9 3/4"-12 | 54 | 199 |
| RR-20018 | 200 | 457 | 285 | 145.3 | 13025 | 6640 | 765 | 1222 | 247 | 190.5 | 133.4 | 85 | 101 | 133 | 22 | 2 1/2"-12 | 63 | 127 | 1"-8 | 25 | 9 3/4"-12 | 54 | 204 |
| RR-20024 | 200 | 610 | 285 | 145.3 | 17385 | 8863 | 917 | 1527 | 247 | 190.5 | 133.4 | 85 | 101 | 133 | 22 | 2 1/2"-12 | 63 | 127 | 1"-8 | 25 | 9 3/4"-12 | 54 | 279 |
| RR-20036 | 200 | 914 | 285 | 145.3 | 26049 | 13280 | 1222 | 2136 | 247 | 190.5 | 133.4 | 85 | 101 | 133 | 22 | 2 1/2"-12 | 63 | 127 | 1"-8 | 25 | 9 3/4"-12 | 54 | 383 |
| RR-20048 | 200 | 1219 | 285 | 145.3 | 34741 | 17712 | 1527 | 2746 | 247 | 190.5 | 133.4 | 85 | 101 | 133 | 22 | 2 1/2"-12 | 63 | 127 | 1"-8 | 25 | 9 3/4"-12 | 54 | 483 |
| RR-3006 | 325 | 153 | 457.3 | 243.2 | 6997 | 3721 | 485 | 638 | 311 | 241.3 | 165.1 | 88 | 114 | 165 | 28 | 2 1/2"-12 | 82 | 158 | 1 1/4"-7 | 44 | 12 1/4"-12 | 58 | 200 |
| RR-30012 | 325 | 305 | 457.3 | 243.2 | 13947 | 7418 | 638 | 943 | 311 | 241.3 | 165.1 | 88 | 114 | 165 | 28 | 2 1/2"-12 | 82 | 158 | 1 1/4"-7 | 44 | 12 1/4"-12 | 58 | 312 |
| RR-30018 | 325 | 457 | 457.3 | 243.2 | 20889 | 11114 | 790 | 1247 | 311 | 241.3 | 165.1 | 88 | 114 | 165 | 28 | 2 1/2"-12 | 82 | 158 | 1 1/4"-7 | 44 | 12 1/4"-12 | 58 | 385 |
| RR-30024 | 325 | 609 | 457.3 | 243.2 | 27850 | 14811 | 943 | 1552 | 311 | 241.3 | 165.1 | 88 | 114 | 165 | 28 | 2 1/2"-12 | 82 | 158 | 1 1/4"-7 | 44 | 12 1/4"-12 | 58 | 469 |
| RR-30036 | 325 | 915 | 457.3 | 243.2 | 41843 | 22253 | 1247 | 2162 | 311 | 241.3 | 165.1 | 88 | 114 | 165 | 28 | 2 1/2"-12 | 82 | 158 | 1 1/4"-7 | 44 | 12 1/4"-12 | 58 | 628 |
| RR-30048 | 325 | 1219 | 457.3 | 243.2 | 55745 | 29646 | 1552 | 2771 | 311 | 241.3 | 165.1 | 88 | 114 | 165 | 28 | 2 1/2"-12 | 82 | 158 | 1 1/4"-7 | 44 | 12 1/4"-12 | 58 | 780 |
| RR-4006 | 440 | 152 | 613.1 | 328.1 | 9319 | 4987 | 538 | 690 | 358 | 279.4 | 190.5 | 108 | 133 | 190 | 28 | 3"-12 | 95 | 203 | 1 1/2"-6 | 50 | 14 1/8"-8 | 65 | 303 |
| RR-40012 | 440 | 305 | 613.1 | 328.1 | 18700 | 10007 | 690 | 995 | 358 | 279.4 | 190.5 | 108 | 133 | 190 | 28 | 3"-12 | 95 | 203 | 1 1/2"-6 | 50 | 14 1/8"-8 | 65 | 399 |
| RR-40018 | 440 | 457 | 613.1 | 328.1 | 28018 | 14995 | 843 | 1300 | 358 | 279.4 | 190.5 | 108 | 133 | 190 | 28 | 3"-12 | 95 | 203 | 1 1/2"-6 | 50 | 14 1/8"-8 | 65 | 453 |
| RR-40024 | 440 | 610 | 613.1 | 328.1 | 37400 | 20014 | 995 | 1605 | 358 | 279.4 | 190.5 | 108 | 133 | 190 | 28 | 3"-12 | 95 | 203 | 1 1/2"-6 | 50 | 14 1/8"-8 | 65 | 597 |
| RR-40036 | 440 | 914 | 613.1 | 328.1 | 56037 | 29988 | 1300 | 2214 | 358 | 279.4 | 190.5 | 108 | 133 | 190 | 28 | 3"-12 | 95 | 203 | 1 1/2"-6 | 50 | 14 1/8"-8 | 65 | 792 |
| RR-40048 | 440 | 1219 | 613.1 | 328.1 | 74737 | 39996 | 1605 | 2824 | 358 | 279.4 | 190.5 | 108 | 133 | 190 | 28 | 3"-12 | 95 | 203 | 1 1/2"-6 | 50 | 14 1/8"-8 | 65 | 980 |
| RR-5006 | 520 | 153 | 729.7 | 405.4 | 1164 | 6203 | 577 | 730 | 397 | 304.8 | 203.2 | 120 | 152 | 203 | 28 | 3 1/4"-12 | 108 | 203 | 1 3/4"-5 | 57 | 15 5/8"-8 | 79 | 432 |
| RR-50012 | 520 | 305 | 729.7 | 405.4 | 22256 | 12365 | 730 | 1035 | 397 | 304.8 | 203.2 | 120 | 152 | 203 | 28 | 3 1/4"-12 | 108 | 203 | 1 3/4"-5 | 57 | 15 5/8"-8 | 79 | 589 |
| RR-50018 | 520 | 457 | 729.7 | 405.4 | 33347 | 18526 | 882 | 1339 | 397 | 304.8 | 203.2 | 120 | 152 | 203 | 28 | 3 1/4"-12 | 108 | 203 | 1 3/4"-5 | 57 | 15 5/8"-8 | 79 | 680 |
| RR-50024 | 520 | 609 | 729.7 | 405.4 | 44440 | 24689 | 1035 | 1644 | 397 | 304.8 | 203.2 | 120 | 152 | 203 | 28 | 3 1/4"-12 | 108 | 203 | 1 3/4"-5 | 57 | 15 5/8"-8 | 79 | 816 |
| RR-50036 | 520 | 915 | 729.7 | 405.4 | 66768 | 36973 | 1339 | 2254 | 397 | 304.8 | 203.2 | 120 | 152 | 203 | 28 | 3 1/4"-12 | 108 | 203 | 1 3/4"-5 | 57 | 15 5/8"-8 | 79 | 1002 |
| RR-50048 | 520 | 1219 | 729.7 | 405.4 | 88951 | 49418 | 1644 | 2863 | 397 | 304.8 | 203.2 | 120 | 152 | 203 | 28 | 3 1/4"-12 | 108 | 203 | 1 3/4"-5 | 57 | 15 5/8"-8 | 79 | 1224 |